Album Review: tUnE-yArDs, 'Nikki Nack'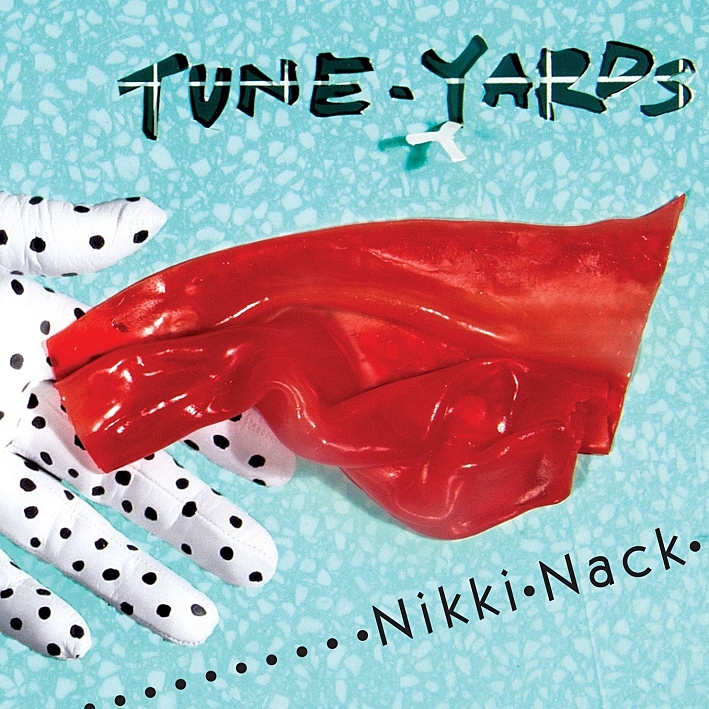 My kids were the ones who gave me a new perspective on Tune-Yards from the first release of the new single, "Water Fountain." When we heard it on The Current one evening, my two-year-old daughter was particularly delighted to hear a song about a water fountain. But as we listened, she started to pay close attention to the recurring lyrical motifs: no water in the water fountain, no wood in the Woodstock, no side in the sidewalk. After hearing the song once or twice, my daughter was coining her own variations on the theme, such as "no trees in the treehouse," etc.
Not only did Merrill Garbus create a hook so interesting that even a two-year-old can appreciate it, but she also essentially coined a new snowclone; in this case, "No X in the XY." At its base level, her music sounds simple, but even a cursory listen immediately reveals new patterns, en route to a world that's distinctly her own.
Tune-Yards' new album Nikki Nack consistently blurs the line between silliness and seriousness: these are gravely serious nursery rhymes. The album title is derived from the chorus of "This Old Man," a bunch of seemingly nonsense syllables that I've sung a hundred times without even really thinking about. The front cover depicts what appears to be a Fruit Roll-Up (a wonderful indulgence even as an adult) and the lyrics are rife with subtle invocation of childhood songs and mantras. You'll hear echoes of "The Bear Went Over the Mountain" in "Time of Dark," counting chants in "Hey Life," and assorted references to Pop-Tarts and sippy cups. The brief "Rocking Chair," near the album's end, sounds like a bizarre lullaby, with the fitting refrain, "Rock me to sleep." Even the interlude "Why Do We Dine on the Tots?" sounds like eavesdropping on a pair of kids making up a story as they go along.
Behind the wackiness, the subject matter isn't quite as G-rated. Garbus addresses weighty issues ranging from domestic abuse, 21st-century masculinity, the verbiage of consent, and racist sports nicknames. As with Tune-Yards' previous record, Whokill, there's a pervasive, underlying gravitas to the topics of Garbus' songs; it's clearly discernible, but never overwhelming. Whenever the proceedings feel like they *might* start to seem ponderous, a song will shift its focus in another creative direction. There's a lot to dissect here, but it's also possible to enjoy the record without the need to dive into Thinkpiece Trench.
On "Left Behind," Garbus invokes another musician known for his sense of playfulness, as she repeatedly hollers, "Let's go crazy!" In reading between the lines of Nikki Nack, it's clear to see that there's a surfeit of evidence that our entire world is indeed progressing on a path to insanity. But one needn't focus on that to still enjoy this album for its twists and turns, and that sense of adventure that many of us may not have felt since we were kids ourselves.
Have you heard the album? What do you think of it? Share your thoughts in the comments section below.
Resources
Related Stories
---
comments powered by

Disqus