Interview: Lizzo on joining the Rock the Garden lineup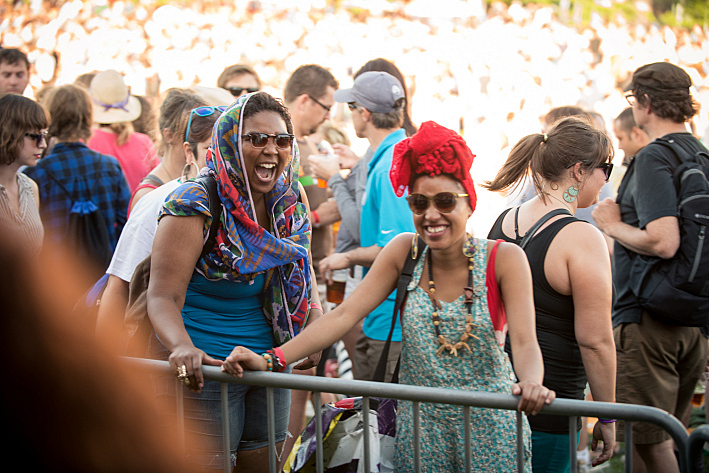 After a whirlwind weekend, with performances at Memory Lanes Block Party and Soundset, Lizzo stopped by The Current's studio to talk with The Morning Show about joining the 2014 Rock the Garden lineup.
She spoke with The Current's Morning Show about her recent European travels, and how excited she is to take the stage on June 21.
"Two years ago, [Sophia Eris and I] watched Doomtree and tUnE-yArDs and it was super cool, and we were like, 'ONE DAY...!'"
"It just makes me giddy that you guys are like 'This is our special surprise guest' — all those words are so sweet — I feel like a gift-wrapped package with glitter coming out of the top."
Lizzo will kick off Rock The Garden, the two-day concert event, that The Current co-presents with Walker Art Center. Tickets are available for both days.
Related Stories
Rock the Garden 2014 Rock the Garden has come and gone, but after ten bands, thousands of people and countless smiles, we can say that the Garden has officially been rocked. Find all the coverage here, and tune in this weekend to hear our Rock the Garden broadcast.
Watch Har Mar Superstar, Lizzo, Caroline Smith and more performing at The Current's 9th Birthday Parties On Jan. 24, 2014 at 9:01 a.m., The Current turned nine years old and that night we kicked off the first of two back-to-back birthday party celebrations with all local lineups. It's our Member Drive, and we want to thank all that have made these nine years possible with a few videos from the festivities.
Lizzo performs for The Local Show There is perhaps no greater local success story over the past year than that of Lizzo's. A transplant from Houston and Detroit, she made a splash in the Twin Cities first with her band Lizzo and The Larva Ink, and then as a member of The Chalice and GRRRL PRTY. All of these bands have grown her profile substantially, and a slew of guest spots on other local records from the likes of Caroline Smith, as well as her connection with the Totally Gross National Product and Doomtree crews has only helped in that growth.
1 Photo
Lizzo

(Cameron Wittig

)
---
comments powered by

Disqus