Why I Love Spoon and Why You Should, Too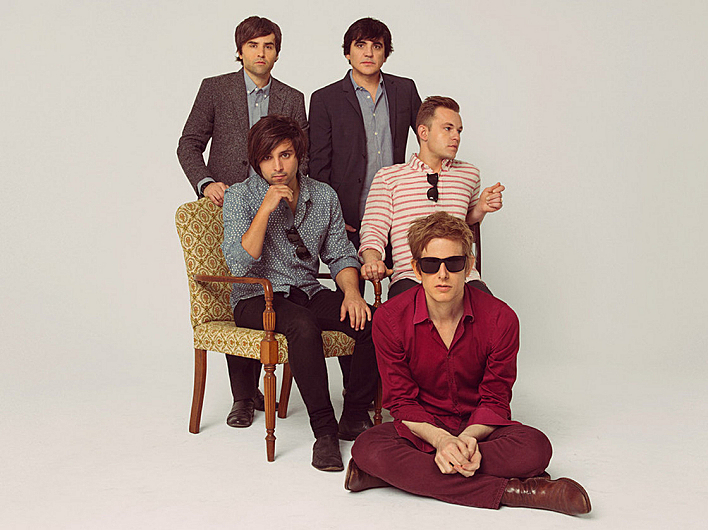 I've been a rabid Spoon fan for roughly 16 years of their 18-year career, and I owe some of that to geography: I grew up in south Texas. My best friend, Heather, and I spent much of the late 90s trying to catch Spoon wherever we could. From the sweaty crush of Emo's, to a near-empty bar in Albuquerque, to First Ave, I've seen Spoon play to a handful of people and to thousands.
I wasn't technically a Spoon groupie, but there were, in my 20s, a few awkward attempts to endear myself to Britt Daniel. Only one was successful. My friend Eric and I approached him after a Superchunk show in Austin. We asked if Spoon had any plans to play in our hometown of San Antonio again. Daniel said they had no desire to, given that they'd been mostly ignored by the smattering of patrons at the last venue they'd played there. So we made a deal with him that night: Eric and I would find Spoon a different venue, and we'd pack it to the gills. I wasn't in radio then; I didn't have much for connections. Eric and I were merely fans who'd wanted to prove to Spoon that other people would love them as much as we did. (And they did! The show, a few months later, sold out.)
Flash forward to the present: I'm a DJ at The Current and Spoon are still first in my heart. They're one of the few bands who can turn both me and Mary Lucia into giddy fangirls. This Sunday, I'll see them headline night two of Rock the Garden at the Walker Art Center. (And, yes, my aforementioned BFF is flying in for it. We're nearly incapable of seeing Spoon without one another.)
Not many bands age well over nearly two decades, but Spoon have, partly because their sound has always felt grown up. Out of the era that gave us the quirk and snark of Weezer and Pavement (not that those are bad things), Spoon emerged fully formed, with music that was cerebral, spare and muscular. They sounded both foreign and familiar, with echoes of Pixies, Wire, The Cure and The Cars' brand of hand-clap pop. As a frontman, Britt Daniel punched the songs through with his Ric Ocasek-esque vocals and sexy Texas swagger. (Did I say sexy? I meant to say SEXY.) Over the years, as Spoon matured, more influences began to show through their sparse sound: the stutter of dub/reggae, hints of Prince's funk, Motown, and I'll even be damned if one song didn't have the FM-radio echoes of The Pointer Sisters' "Slow Hand."
Which brings me to another reason I love Spoon: this is serious, precise musicianship from guys with a hearty sense of play. From songs about fitted shirts to field recordings to found-objects-as-percussion, Spoon always seem to be having fun. This is not self-serious art-rock, it's rock-and-roll as an art form.
Here's a career-spanning Spotify playlist of my favorite Spoon songs to get you ready to Rock the Garden with them — and me — Sunday night:
Will you be there? Which songs are you hoping Spoon will play Sunday night?
Resources
Related Stories
---
comments powered by

Disqus