Weekend Arts Roundup: Dance, Plus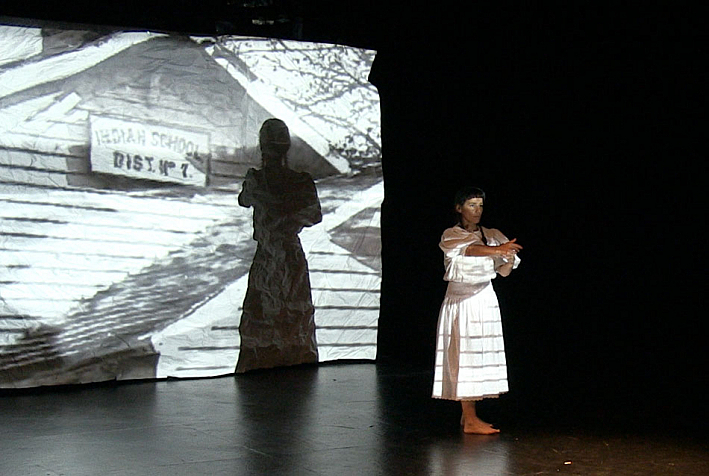 MPR News Arts Reporter Marianne Combs joins Steve Seel and Jill Riley to talk about arts events that incorporate dance or are based on dance and then push the limits and boundaries of the art form even further.
The Beast — This production is a tragic tale of Northern Minnesota that blends dance and physical theatre. The Beast details the events leading up to the fictional "Run River Massacre", in which the township of Run River, Minn., shot and killed all members of an immigrant family known for violence in the community. Created by Ryan Underbakke and the ensemble, The Beast stages at Bedlam Theatre in St. Paul on June 19, 20 and 21.
We Wait in the Darkness — Local choreographer and dancer Rosy Simas will be in residence at the All My Relations Gallery in Minneapolis from June 15 to 29, 2014, to present We Wait In The Darkness, an art installation and series of performances and presentations inspired by the lives of the Seneca women of Simas's family. A journey of displacement and homecoming, We Wait In The Darkness incorporates paper, film, maps, artifacts and sound, created in collaboration with composer François Richomme. A reception and social gathering is scheduled for Thursday, June 19, starting at 5 p.m.; the schedule of events is posted on the All My Relations Gallery website.
SHORE at the Northrop Auditorium — SHORE is Emily Johnson/Catalyst's new dance work. It is the third in a trilogy of works that began with The Thank-you Bar, and continued with Niicugni, SHORE is a multi-day performance installation of dance, story, volunteering and feasting. It celebrates places where people meet and merge: land and water, performer and audience, art and community, past, present and future. MPR News Arts Reporter Euan Kerr interviewed Emily Johnson this week; the SHORE performances at the Northrop happen on Friday and Saturday, June 20 and 21.
Marianne Combs joins The Current's Morning Show for the Weekend Arts Roundup every Thursday at 8:30 a.m. Read about all the latest arts news at the State of the Arts blog at mprnews.org.
Resources
Related Stories
---
comments powered by

Disqus