Kaiser Chiefs perform in The Current's studio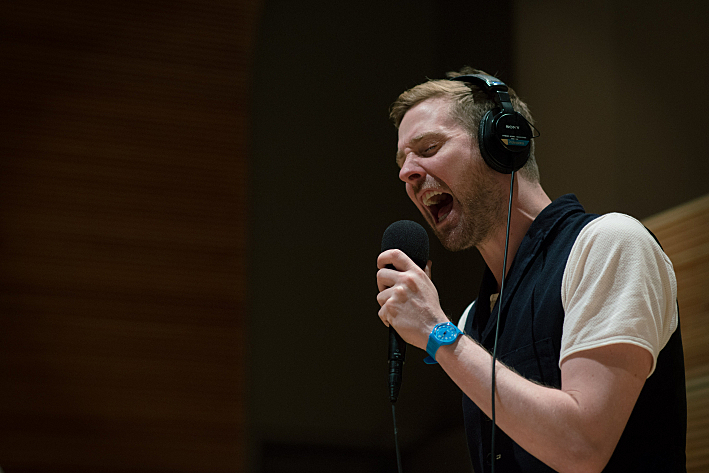 Listen Feature audio

Jun 20, 2014 Listen to all 4 tracks:
Kaiser Chiefs perform in The Current Studio (full interview)
Kaiser Chiefs, 'Going Home' performed at The Current
Kaiser Chiefs, 'Meanwhile Up In Heaven' performed at The Current
Kaiser Chiefs, 'I Predict A Riot' (Acoustic) performed at The Current
"If you can do it, you should do it." That's a mantra repeated by Kaiser Chiefs' front man Ricky Wilson during the band's in-studio session at The Current, their first visit to the station. The can-do Kaiser Chiefs are enjoying their 10th year together and are now touring in support of their fifth studio album, Education, Education, Education & War.
Kaiser Chiefs played a few songs and had a long and entertaining chat with The Current's Steve Seel. Among the topics discussed were the political origins of the album's name and how the band members knew thematically and musically what they were going to do when they set about recording the album. Wilson also describes how growing older means maturing as an artist, but it also means being freed up to be silly.
The members of Kaiser Chiefs shed some light on the inter-band feuding that goes on in the British music press, maintaining they've never said anything bad about other artists. In the end, Kaiser Chiefs suggest such posturing is mere entertainment. "I laugh my head off at it until it's about me," Wilson says.
Listen to the complete interview to hear about Wilson's experience as a judge on the U.K. edition of The Voice and how the band members felt about performing at the closing ceremonies of the 2012 London Olympics.
Songs Performed
"Coming Home"
"Meanwhile Up in Heaven"
"I Predict a Riot"
The first two songs are off Kaiser Chiefs' new album, Education, Education, Education & War, out now on ATO Records. "I Predict a Riot" off Kaiser Chiefs' 2005 release, Employment, on B-Unique Records.
Hosted by Steve Seel
Produced by Jade
Engineered by Michael DeMark and Andrew Danielsson
Guests
Resources
7 Photos
Ricky Wilson of Kaiser Chiefs

(MPR photo/Nate Ryan

)

Kaiser Chiefs perform in The Current's studio.

(MPR photo/Nate Ryan

)

Simon Rix of Kaiser Chiefs

(MPR photo/Nate Ryan

)

Kaiser Chiefs drummer Vijay Mistry.

(MPR photo/Nate Ryan

)

Kaiser Chiefs' Simon Rix and Ricky Wilson

(MPR photo/Nate Ryan

)

Kaiser Chiefs' Ricky Wilson and Nick 'Peanut' Baines

(MPR photo/Nate Ryan

)

Andrew White of Kaiser Chiefs

(MPR photo/Nate Ryan

)
View 6 more photos
---
comments powered by

Disqus