Weekend Arts Roundup: Pride, Biennial and Shakespeare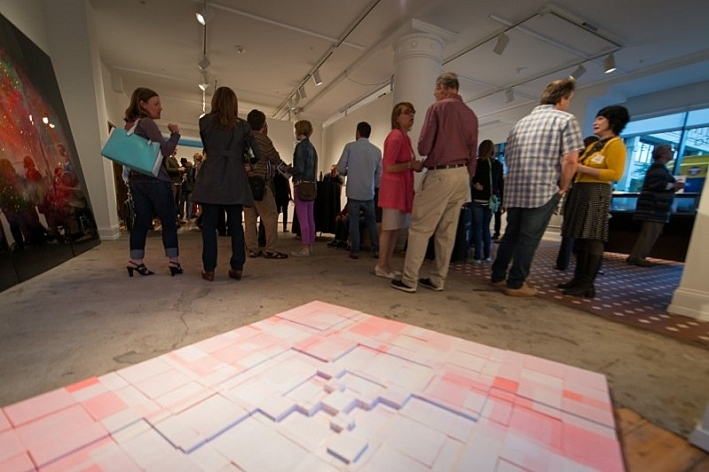 MPR News Arts Reporter Marianne Combs joins Steve Seel and Jill Riley to talk about a production that celebrates Pride Weekend, about the Minnesota Museum of American Art's 2014 Biennial, and how to catch a Shakespeare play in a park.
Queertopia: A Cabaret Celebration of Queer Love — Presented by Bedlam Theatre, this production features local GLBT artists in an eclectic evening of performance designed to fit the spirit of love and celebration of Pride Weekend. Participating artists include Chitra Vairavan, Chris Garza, Chrys Carroll and Tantrum Art Collective, Deja Stowers, Emily Zimmer and Jim Domenick, Katie Burgess and many others. Queertopia opened on Wednesday night, and shows continue Thursday to Saturday, all at 7:30 p.m., at Intermedia Arts in Minneapolis.
Biennial Exhibition at Minnesota Museum of American Art — Through an open call process, three jurors — MMAA curator of engagement Christina Chang; artist and Minnesota State University, Mankato professor Brian Frink; and Meredith Lynn, director of Nemeth Art Center and the Rourke Museum — selected the 36 artworks in this exhibition from the submissions of 377 Minnesota artists. The 2014 Minnesota Biennial includes a mixture of paintings, photography, sculpture, installation, ceramics, and other forms. The exhibition is open at the Minnesota Museum of American Art in St. Paul until Aug. 3; a selection of works from the Biennial will travel to the Lanesboro Arts Center in southeast Minnesota, where they will be on view from August 16 to October 12, 2014.
Love's Labours Lost — The Classical Actors Ensemble, a company dedicated to performing plays of the English Renaissance in the spirit of their original format, present Shakespeare's comedy of manners in a number of parks in Minneapolis and St. Paul (and one in Edina). Plays are staged weekends running Friday, June 27, until Sunday, July 13 (with some Thursday shows); there is no admission fee. A complete schedule and list of locations is published on the Classical Actors Ensemble's website.
Marianne Combs joins The Current's Morning Show for the Weekend Arts Roundup every Thursday at 8:30 a.m. Read about all the latest arts news at the State of the Arts blog at mprnews.org.
Resources
Related Stories
State of the Arts blog Where creativity makes news, State of the Arts blog is a look at what's happening across the Minnesota arts scene.
Send us your Pride Anthems To celebrate Pride this weekend, were asking you to send in your favorite Pride anthems, and this weekend we'll play the best suggestions to make your soundtrack for Twin Cities Pride.
From driveways to Chinese restaurants, Minn. theaters hit the road In coming weeks a number of Minnesota theater groups are hitting the road, taking shows far and wide in what likely will be big payoffs for little theaters on the routes. They'll be stopping everywhere from driveways to Chinese restaurants.
---
comments powered by

Disqus