5 Current Artists who've made their way to A Prairie Home Companion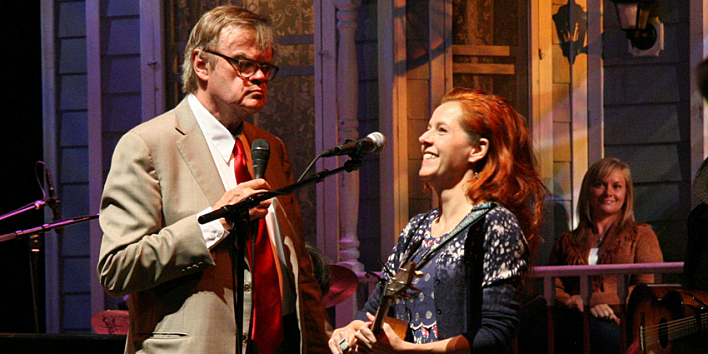 It's a gross understatement to say that A Prairie Home Companion is a public radio institution. Whether loved or lampooned, Garrison Keillor's popular Saturday program has seeped into the consciousness of America and has become a part of Minnesota's collective identity.
There's not a lot of cross over between The Current and A Prairie Home Companion, but good music is universal, so there have to be a couple of intersections here and there. And since Keillor and Co. are airing their final show with Keillor at the helm this weekend, we wanted to highlight the five best "Current" artists heard on APHC.
Neko Case
Neko Case first appeared at the Fitzgerald Theater on October 10, 2009, touring in support of Middle Cyclone. She performed "People Got a Lotta Nerve," "Middle Cyclone" and " That Teenage Feeling." She came back in February 2014, and knocked it out of the park with this rendition of "Calling Cards."
Wilco
Most of the time, the show's producers, with GK's input of course, reach out to talented artists to arrange for them to be on the show. Wilco are one of the few bands who have taken a more proactive approach and pitched an appearance on A Prairie Home Companion to play songs from Sky Blue Sky in 2007.
Jeff Tweedy and the boys must have made a good impression, because they came back in 2009 in support of Wilco (the album). They only played "Deeper Down" and "You Never Know" from that release and catered to longtime fans by playing "One by One" from Mermaid Avenue and "Passenger Side" from A.M. Keillor made an apt comment on their name too, by pointing out that in radiospeak, Wilco means "Will Comply," which is kind of a weird thing for a rock and roll band to name themselves.
Cactus Blossoms
Fresh from their appearance at The Current's 9th Birthday Party, local country favorites The Cactus Blossoms talked about their Turf Club residency and live album and performed "Stoplight Kisses" on the March 8, 2014 show.
Trampled by Turtles
On a tour stop in February of 2012, Prairie Home played at the Duluth Entertainment and Convention Center. The Lake Wobegon gang invited Trampled by Turtles to preview songs from their album Stars and Satellites a couple months before its release date.
Brandi Carlile
For a show in March, 2010, Brandi Carlile wowed the audience with her hit "Dreams" and a cover of Johnny Cash's "Folsom Prison Blues." Garrison Keillor and the Guy's All Star Shoe Band liked Carlile so much, she was on the show again the very next week.
Listen to the final A Prairie Home Companion with Garrison Keillor on Saturday, July 3 at prairiehome.org or our sibling stations MPR News 91.1 FM and Classical MPR 99.5 FM.
Resources