Hamilton Leithauser performs in The Current studio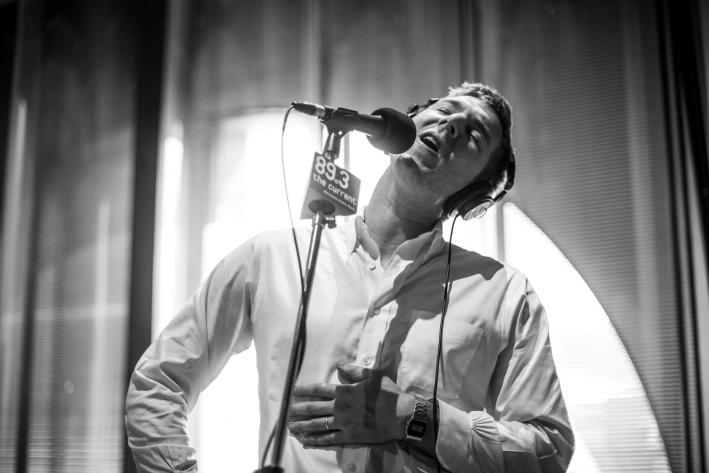 It's been a whirlwind of a year for Hamilton Leithauser. After announcing the demise of the Walkmen back in November 2013, the band played their final final show at the NBA All-Star game early this year. Shortly thereafter, Leithauser revealed he would be releasing his solo debut, Black Hours.
In town to open for Ray LaMontagne in the newly renovated Northrop Auditorium, Hamilton Leithauser stopped by The Current studios to chat with host Mac Wilson and to play tracks off Black Hours.
With a slew of collaborators, Black Hours is a must-hear. Vampire Weekend's Rostam Batmanglij worked with Leithauser on "Alexandra" and "I Retired," multi-instrumentalist Morgan Henderson (Fleet Foxes, Blood Brothers) is featured on the record and Amber Coffman of Dirty Projectors lends her vocals to give Black Hours its distinct, rounded sound.
On the road, Leithauser is joined by his two brothers-in-law: Hugh McIntosh on drums and Nick Stumpf on piano. Guitarist Paul Maroon and bassist Kevin Barker, who also appear on Black Hours, also join the former Walkmen frontmen on stage. In case you were wondering, no Walkmen songs will be performed on Leithauser's solo tours. Hamilton confirmed those songs will be laid to rest for the time being.
Listen to the whole in-studio session to hear Hamilton chat with host Mac Wilson about Frank Sinatra's influence on Black Hours, how the Walkmen's "Heaven" was chosen to be on the series finale of How I Met Your Mother and how he's connected to Matt Bonner of the San Antonio Spurs.
Songs Performed
"Alexandra"
"I Retired"
"Self Pity"
All songs off Hamilton Leithauser's solo debut, Black Hours, out now on Ribbon Music.
Hosted by Mac Wilson
Produced by Mac Wilson and Lindsay Kimball
Engineered by Corey Schreppel
Resources
Related Stories
---
comments powered by

Disqus