The Top 25 Paul McCartney songs according to you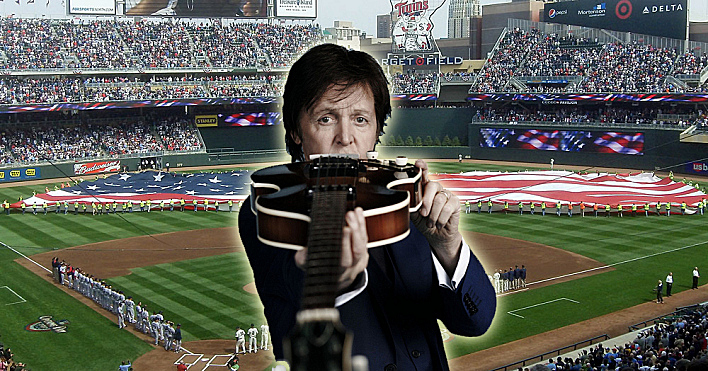 Sir Paul McCartney is rolling into town this Saturday, so we're rolling out the red carpet for him. Starting on Friday morning, you'll hear some of our favorite — and even some rare — McCartney tracks, and on Saturday we'll count down the Top 25 Paul McCartney songs according to you, as voted below.
Blackbird
Maybe I'm Amazed
Hey Jude
Let It Be
Band on the Run
Yesterday
Eleanor Rigby
A Day in the Life
Live and Let Die
Jet
I Saw Her Standing There
I've Just Seen a Face
Oh! Darling
Uncle Albert/Admiral Halsey
Can't Buy Me Love
Penny Lane
Got To Get You Into My Life
Helter Skelter
Lady Madonna
Get Back
I Want to Hold Your Hand
Back in the USSR
All My Loving
And I Love Her
Here, There, and Everywhere
The Long and Winding Road
When I'm Sixty-Four
Paperback Writer
Golden Slumbers
Rocky Raccoon
Sgt Pepper's Lonely Hearts Club Band
Good Day Sunshine
Carry That Weight
Lovely Rita
Eight Days a Week
We Can Work It Out
I'll Follow The Sun
She Came In Through the Bathroom Window
The Fool On the Hill
You Never Give Me Your Money
Ob-La-Di, Ob-La-Da
I Will
I'm Looking Through You
Two of Us
For No One
Silly Love Songs
Drive My Car
Fixing a Hole
Michelle
She Loves You
Resources
Related Stories
Interview: Paul McCartney Paul McCartney has released a new single, the appropriately titled "New," and it's coming out ahead of his upcoming album, which is set to release in the U.S. on Oct. 15.
1 Photo
Paul McCartney performs during the first U.S concert of his "Out There" tour, in Orlando, Fla.

(AP Photo/John Raoux

)