Bill DeVille reviews 'Get On Up'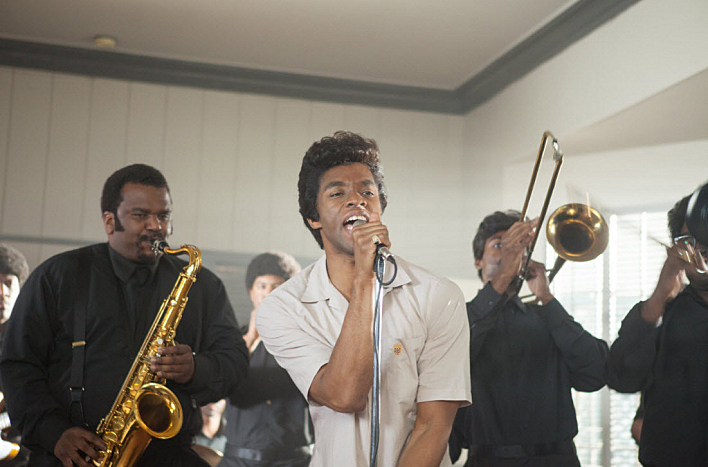 At a special preview screening this week at the Southdale AMC Theater, I saw the James Brown film, Get On Up. It's a biopic, and it's produced by Mick Jagger of the Rolling Stones (I'll talk a little more on that later). The director is Tate Taylor, whose previous work includes The Help.
Playing James Brown is the actor Chadwick Boseman, who previously appeared in the role of Jackie Robinson in the film 42. Boseman doesn't sing the songs in Get On Up — actual James Brown recordings were used, and I think I like it better that way.
The film starts with the infamous car chase, in which James Brown was under the influence of drugs, and the car chase ends up at this business he had in Augusta, Ga., and he comes in with a rifle and gets arrested. This really happened — this was right before James ended up in prison for three years in the late '80s.
From there, the film flashes back through his childhood. James Brown's whole story is really tragic; his childhood was a mess. He was kind of given up by both his mother and father and was raised by an aunt. Later, his mother tried to get back into his life, but James didn't want anything to do with it.
One of the disappointments for me about the film — which I actually did like — was it kind of jumps all over the place, to the point it's a bit hard to follow at times.
If someone goes into this film without knowing a lot about James Brown, it's almost a benefit. If you know James Brown's story, you notice things that are missing. For example, I was a little disappointed by the fact the film skimps a bit on the show he did in Boston on the day Dr. Martin Luther King was killed. The mayor of Boston wanted to cancel the show for fear of a riot, but James talked him into letting the concert go ahead, and it did. At the show, things got a bit heated and it seemed a riot was starting to happen, but James calmed the storm. It's such an amazing moment in his life, and I wished the film could have included some of the live tapes of that concert because I've read that this was a fantastic, off-the-hook James Brown show, and it became about so much more than music.
One thing you'll see is the famous T.A.M.I. Show from 1964 where, at the last second, James Brown got bumped to an earlier slot in order to make the Rolling Stones the headliners. Instead of walking away and saying "I'm not going to play," James just goes out onstage and nails it. The film cuts to a shot of the Stones at the side of the stage being in awe of the performance because James is just phenomenal and the crowd is totally into it. And I think it's some kind of a payback that Mick produced the film — and it's interesting that "The Big Payback" is also a song by James Brown!
Some people say the dialogue in Get on Up is a bit hard to understand, but I think that is kind of by design because that's the way James Brown spoke — he spoke fast; he was a pretty intense guy. Boseman does that speech pattern very well and is pretty believable as James Brown. As for the dance steps, that is kind of tricky, but Boseman is actually pretty good. Fabulous? No. But you could say the same thing about his work in the film 42 — you don't expect him to be able to hit a 90-mile-an-hour fastball like Jackie Robinson did, but he convinces me on screen that he's Jackie Robinson. Same with his role as James Brown. I don't know if it's an Oscar-winning performance, but I thought he was solid.
The music is great, and I think it was a good choice to use the original tapes rather than to have the actor sing. By comparison, in the film Ray with Jamie Foxx, it worked for Foxx to do the songs when he played Ray Charles because Foxx is a really good singer, even though there's only one Ray Charles.
The other side of the coin would be Joaquin Phoenix in Walk the Line, who sounded like a karaoke singer; I still liked that film, but you almost wished they used the real Johnny Cash voice because there's only one Cash.
Just like there's only one James Brown.
'Get on Up' is rated PG-13 for sexual content, drug use, some strong language and violent situations. It is playing in theaters everywhere.
Official Trailer:
Have you seen the film? What do you think of it? Share your thoughts in the comments section below.
Resources
Related Stories
The Night that James Brown Saved Boston Following the tragic assassination of Martin Luther King Jr. on April 4, 1968, there was widespread turmoil throughout the nation's urban centers. On the night of April 5th, James Brown brought the city of Boston together and kept the riots at bay. But it wasn't easy.
Cube Critic: 'Guardians of the Galaxy' MPR News Arts Reporter and Cube Critic Euan Kerr joins Steve Seel and Jade (in for Jill Riley) to talk about a new film inspired by Marvel Comics characters.
Teenage Kicks: Music from Movies In honor of the 30th anniversary of 'Purple Rain', Jim McGuinn (filling in for Jacquie Fuller) hosts an entire Teenage Kicks of songs used in movies -- with cuts from films like 'Pump Up the Volume', 'Empire Records', 'Breakfast Club', 'Singles', 'Trainspotting' and many more. Check out these trailers and clips.
---
comments powered by

Disqus