Weekend Arts Roundup: peak of summer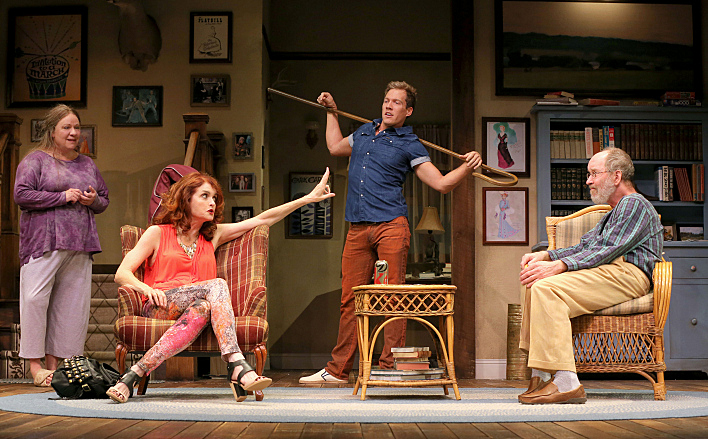 MPR News Arts Reporter Marianne Combs joins Jill Riley and Sean McPherson (in for Steve Seel) to talk about arts events going on during early August.
Cocktails at the Cabin — At the American Swedish Institute in Minneapolis, the event series Cocktails at the Castle takes on an "up north" feel at the Turnblad Mansion. With music by Martin Devaney, Aallotar (violin and accordion duo) and a DJ set by The Current's Bill DeVille, Cocktails at the Cabin features a number of summer-at-the-lake activities: building boat oars with Urban Boatbuilders, visiting the sauna (bathing suits required), outdoor lumberjack activities, crafts with Textile Center and the Weavers Guild of Minnesota, a hike-inspired scavenger hunt, plus a menu from FIKA. Find the complete event info at the American Swedish Institute website.
Hammer, Anvil, and Stirrup — At Open Eye Figure Theatre in Minneapolis, storyteller Kevin Kling works with his collaborators Jacqueline Ultan, and Michelle Kinney and director Michael Sommers to create Hammer, Anvil and Stirrup, named for the tiny powerful bones of our inner ear. Using stories and music, this production explores the science of waves in sound, light, water and emotion. Hammer, Anvil, and Stirrup runs Aug. 6 to 11; find complete show listings at the Open Eye Figure Theatre website.
Vanya and Sonia and Masha and Spike — In this comedy of ill manners, the 2013 Tony Award winner for Best Play, Vanya and his adopted sister Sonia are living a quiet life in the Pennsylvania farmhouse where they grew up, while their sister Masha travels the world as a movie star. Just as their cleaning woman issues a warning about terrible events in their future, Masha returns for an unannounced visit with her 20-something boy toy Spike in tow — and so begins a weekend that builds to a fever pitch of rivalry, regret and racket. This play mixes Anton Chekhov's sensibilities with today's cringe-inducing comedy of awkward moments. This play stages at the Guthrie Theater in Minneapolis until Aug. 31.
And let's not forget: The Fringe Festival is still going on!
Marianne Combs joins The Current's Morning Show for the Weekend Arts Roundup every Thursday at 8:30 a.m. Read about all the latest arts news at the State of the Arts blog at mprnews.org.
Resources
Related Stories
A Chekhov-flavored treat at the Guthrie As most of the title suggests, V&S&M&S is a Chekhov-flavored piece in which modern characters give voice to, or merely make mention of, the Russian playwright's themes and insights - sometimes in seemingly straight homage, and other times with nothing more than a clever turn of dialogue.
---
comments powered by

Disqus