The Baseball Project perform in The Current studio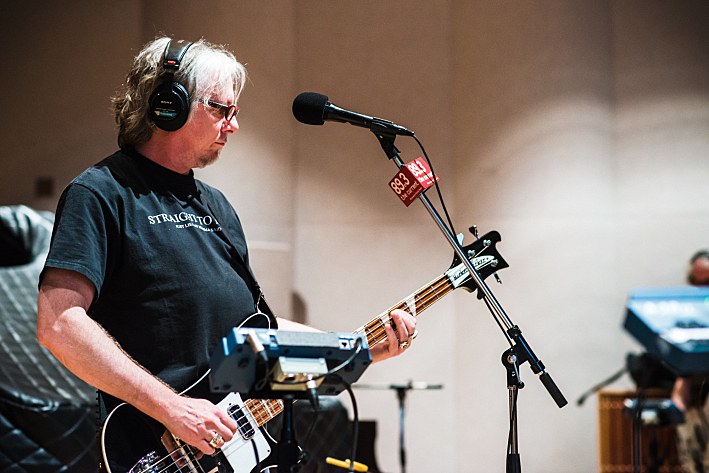 Listen Feature audio

Aug 11, 2014 Listen to all 4 tracks:
The Baseball Project perform in The Current studio (full session + interview)
The Baseball Project, 'The Babe' performed at The Current
The Baseball Project, 'Hola America!' performed at The Current
The Baseball Project, 'Pascual on the Perimeter' performed at The Current
Some band names are cause for bemusement. Architecture in Helsinki, for example, aren't Finnish; they're Australian. Of Montreal are actually "of" Athens, Ga.
But there's nothing ironic about The Baseball Project. These rock 'n' rollers love music — and they love, love, love baseball.
In town for a show at the Cedar Cultural Center, The Baseball Project — Scott McCaughey, Mike Mills, Linda Pitmon and Steve Wynn — stopped into the studio to play some songs and to talk baseball with a fellow superfan, The Current's Mac Wilson.
Always mining baseball's rich treasure trove of stories for song ideas, the Baseball Project's Steve Wynn describes how the band's songwriting sessions resemble an editorial meeting at a magazine. "We try to find the angle, the good story," he says.
In their discussion with Mac, The Baseball Project reveal who else in the rock world are hardcore baseball fans; how they try to get to Major League games while on tour; and which are some of their favorite baseball stats of all time. They also talk about the stories that inspired the songs in today's session.
Songs Performed
"The Babe"
"Hola America!"
"Pascual On The Perimeter"
All songs off The Baseball Project's album, 3rd, out now on Yep Roc Records.
Hosted by Mac Wilson
Produced by Lindsay Kimball
Engineered by Michael DeMark
Web feature by Luke Taylor
Resources
Related Stories
The Baseball Project perform live in The Current studio In 1992 Scott McCaughey and Steve Wynn were nothing but two buddies bonded over a love of baseball. Fast forward almost twenty years with the addition of drummer Linda Pitmon and R.E.M's Peter Buck and this supergroup is now known for their original songs about America's favorite pastime in an alternative rock and roots fashion.
8 Photos
Linda Pitmon of The Baseball Project performs in The Current studio.

(MPR photo/Nate Ryan

)

Linda Pitmon of The Baseball Project performs in The Current studio, wearing a "Please don't call them Twinkies" t-shirt.

(MPR photo/Nate Ryan

)

Steve Wynn of The Baseball Project performs in The Current studio.

(MPR photo/Nate Ryan

)

Steve Wynn of The Baseball Project performs in The Current studio.

(MPR photo/Nate Ryan

)

Mike Mills of The Baseball Project

(MPR photo/Nate Ryan

)

The Baseball Project perform in The Current studio.

(MPR photo/Nate Ryan

)

Scott McCaughey of The Baseball Project performs in The Current studio.

(MPR photo/Nate Ryan

)

Scott McCaughey of The Baseball Project in The Current studio.

(MPR photo/Nate Ryan

)
View 7 more photos
---
comments powered by

Disqus