OK Go perform live in The Current studio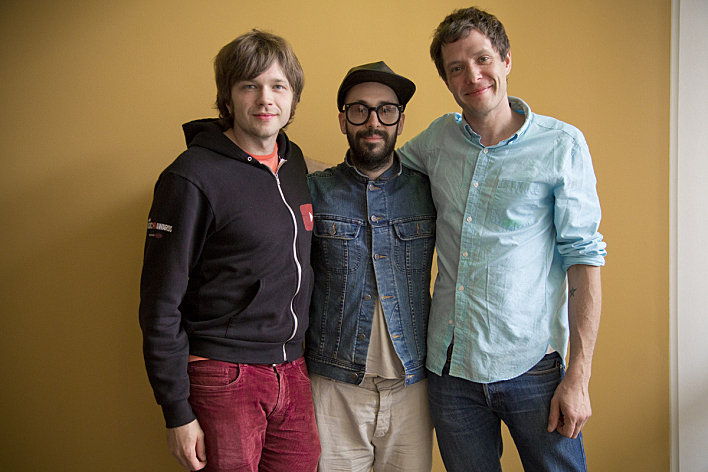 OK Go are one of the bands of the new Millennium who have figured it out. These guys have worked out how to make their band run even though records don't sell like they did back in the 70s and 80s.
The morning after playing a sold-out gig at the Fine Line Music Cafe in Minneapolis, OK Go stopped in to The Current's studio to talk to me and to play an acoustic set.
In some ways, OK Go are like a diversified corporation. When I asked them what took so long with the album, they maintain that they're on an every three-and-a-half-year cycle because they do so many other creative projects, including tons of video and video-game work. In fact, after the session, lead singer Damian Kulash was flying to Tokyo to do some more video work and then the rest of the guys, after a brief stop somewhere else, were going to meet up with Damian in Tokyo.
Despite their busy schedule, we had a great chat. They were in a really good mood and really happy to be here. Damian and bassist Tim Nordwind talked about their longtime friendship; we talked about why OK Go are playing smaller venues even though they could sell out larger spaces; and we also discussed the type of music all the band members enjoy in common.
And the last words I heard Damian say as he walked away were really cool. He kept complimenting us on the facility and how much fun the session was. Then he said, "You know, you work for the best radio station in the country."
Then he pauses and says again, "No, no, really — you work for the best radio station in the country."
Songs Performed
"This Too Shall Pass"
"The One Moment"
"The Writing's On the Wall"
"This Too Shall Pass" is off OK Go's 2010 album Of the Blue Colour of the Sky. "The One Moment" is off their upcoming release, Hungry Ghosts, out Oct. 24, 2014 on Paracadute.
Hosted by Bill DeVille
Produced by Derrick Stevens
Engineered by Michael DeMark
Guests
5 Photos
OK Go with Bill DeVille in The Current studio.

(MPR / Leah Garaas

)

OK Go's Damian Kulash performing live in The Current studio.

(MPR / Leah Garaas

)

OK Go's Tim Nordwind performing live in The Current studio.

(MPR / Leah Garaas

)

Tim Nordwind and Andy Ross of OK Go performing "This Too Shall Pass" live in The Current studio.

(MPR / Leah Garaas

)

Damnian Kulash and Tim Nordwind chat about their new record, Hungry Ghosts, live in The Current studio.

(MPR / Leah Garaas

)
View 4 more photos
---
comments powered by

Disqus