Strand of Oaks perform live in The Current studio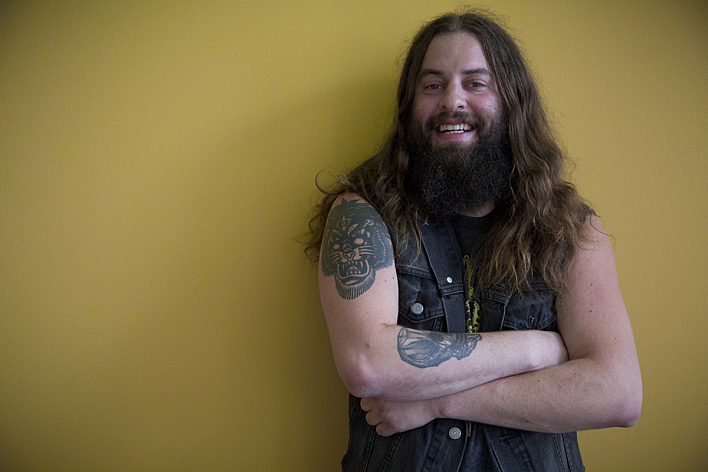 Listen Feature audio

Aug 20, 2014 Listen to all 4 tracks:
Strand of Oaks perform in The Current studio (full session + interview)
Strand of Oaks, 'Woke Up to the Light' performed live at The Current
Strand of Oaks, 'Shut In' performed live at The Current
Strand of Oaks, 'Goshen 97' performed live at The Current
According to Tim Showalter, the tunes on Strand of Oaks' album HEAL are songs that "needed to be written."
"I didn't think about them, they just happened," says Showalter, the hirsute, tattooed and introspective songwriter behind Strand of Oaks. "The main mission statement of the record is music … the saving power of music."
In town to play a gig at the 7th Street Entry, Strand of Oaks stopped by The Current studio to play songs off HEAL and to talk to Mark Wheat.
Notable about the album title is its all-caps treatment. "The record isn't about a soft healing," Showalter explains. "We accept life is complicated."
Showalter provides details about the inspiration behind the songs, including "Goshen '97", a song The Current's listeners have come to know this year. It turns out Goshen is the town in Indiana where Showalter grew up, and the song was motivated by Showalter's return to the town after forging ahead in his music career. "It was kind of like the end of a Jimmy Stewart movie," he says of the experience.
Listen to the complete interview to hear more about how Showalter blends his introvert and extrovert qualities; about the role Jason Molina's music played in his life; and what he thinks about people such as St. Vincent, Kristian Matsson aka The Tallest Man on Earth — and Alan Partridge, the unforgettable character created by Steve Coogan.
Songs Performed
"Woke Up to the Light"
"Shut In"
"Goshen '97"
All songs off Strand of Oaks release, HEAL, out now on Dead Oceans.
Hosted by Mark Wheat
Produced by Derrick Stevens
Engineered by Cameron Wiley
Web feature by Luke Taylor
Resources
4 Photos
Timothy Showalter of Strand of Oaks performing live in The Current studio.

(MPR / Leah Garaas

)

Timothy Showalter of Strand of Oaks with pianist and vocalist Eliza Hardy Jones live in The Current studio.

(MPR / Leah Garaas

)

Bassist Deven Craige performing live with Strand of Oaks in The Current studio.

(MPR / Leah Garaas

)

Strand of Oaks' Timothy Showalter soundchecking in The Current studio.

(MPR / Leah Garaas

)
View 3 more photos
---
comments powered by

Disqus