Nikki Lane, joined by Frankie Lee, performs at the State Fair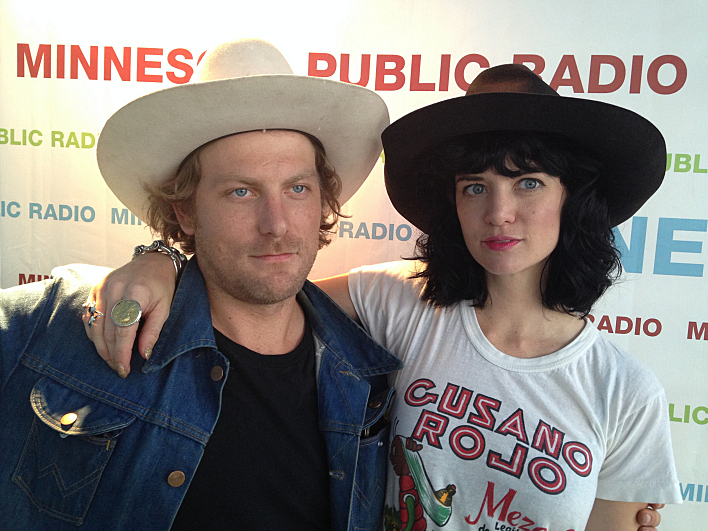 Listen Feature audio

Aug 25, 2014 Listen to all 4 tracks:
Nikki Lane performs at the State Fair (full session + interview)
Nikki Lane with Frankie Lee, 'Love's On Fire', performed at the State Fair
Nikki Lane with Frankie Lee, 'Right Time', performed at the State Fair
Nikki Lane with Frankie Lee, 'You Can't Talk to Me Like That', performed at the State Fair
Stopping by the MPR booth at the Minnesota State Fair on Saturday, Aug. 23, Nashville singer-songwriter Nikki Lane, along with local musician Frankie Lee, performed a live set and chatted with The Current's Barb Abney.
In her discussion with Barb, Nikki talked about her move to Nashville; about her "spelunking" — the word she uses to describe her thrift-store fashion quests; and how she came to meet and work with Dan Auerbach, and what it was like to collaborate with him on her most recent album, All or Nothin'.
Listen to the complete audio to hear the full session set against the lively backdrop of the Minnesota State Fair.
Songs Performed
"Love's On Fire"
"Right Time"
"You Can't Talk to Me Like That"
All songs off Nikki Lane's album, All or Nothin', available on New West Records.
Hosted by Barb Abney
Produced by Kelsey Brannan
Engineered by Cameron Wiley and Michael DeMark
Social Media
This is gonna be cool....@frankieleemusic is playing with @nikkilanemusic at @TheCurrent booth. pic.twitter.com/V4x5VMl4XF

— Chris Trautman (@ctrauty) August 23, 2014
Getting ready to play live on @TheCurrent: @nikkilanemusic with guest @frankieleemusic! Tune in or get here. pic.twitter.com/luwLOF1VTe

— Ali Lozoff (@AliLozoff) August 23, 2014
5 minutes into her @TheCurrent appearance at the Fair, I'm already won over by @nikkilanemusic.

— Mac Wilson (@cinatyte) August 23, 2014
White hats and black hats on stage at @TheCurrent at @mnstatefair. With @nikkilanemusic and @frankieleemusic pic.twitter.com/gHBFRAcFw2

— Ali Lozoff (@AliLozoff) August 23, 2014
. @frankieleemusic taking guitar solo duties with @nikkilanemusic on @TheCurrent pic.twitter.com/slz4wGoPOQ

— Luke Taylor (@LukeTaylor_MN) August 23, 2014
Here's @nikkilanemusic singing "Wild One" to my son after her set on @TheCurrent. Cool moment for all. Thanks, Nikki! pic.twitter.com/J21PH7mkbC

— Chris Trautman (@ctrauty) August 24, 2014
A post-show mini-concert by @nikkilanemusic for a young fan @TheCurrent @mnstatefair pic.twitter.com/M8OlbOJhTS

— Ann Treacy (@AnnT) August 24, 2014
.@nikkilanemusic playing a private show for her littlest fans. #NewIdol pic.twitter.com/m7Zv5m31ku

— Maddi Frick (@maddifrick) August 23, 2014
Resources
Related Stories
Bill DeVille's State Fair Music Preview The Current's Bill DeVille loves music and he loves the State Fair. He shares his thoughts about some of the music acts appearing on stages throughout the 2014 Minnesota State Fair.
First Listen: 'Take the Last Train to Midway' Celebrating their final season at Midway Stadium, the Saint Paul Saints will give away this vinyl album to the first 1,000 fans in attendance at Saturday's game. Get a preview of the album by streaming these tracks by local artists.
Frankie Lee performs live at the MN State Fair (2013) Host Mary Lucia welcomed Minneapolis' own Frankie Lee as he made the trek to the MPR booth at the Minnesota State Fair to perform a three song set on one of the hottest days of the summer.
1 Photo
Barb Abney interviews Nikki Lane and Frankie Lee at the MPR booth at the Minnesota State Fair on Saturday, Aug. 23, 2014.

(MPR photo/Luke Taylor

)
---
comments powered by

Disqus