The Jayhawks perform live in The Current studio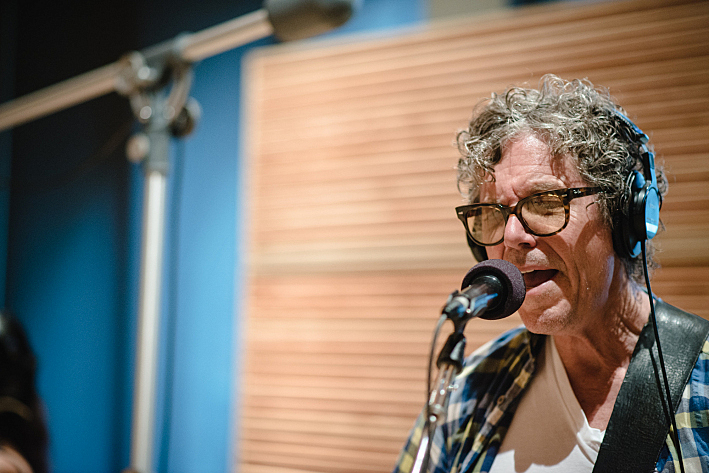 Gary Louris isn't worried about writing new music right now. "We're celebrating the reissues," Louris says. "Nothing more."
It turns out "nothing more" is plenty. The Jayhawks — comprising Louris (vocals/guitar), Karen Grotberg (keyboards), Tim O'Reagan (drums/vocals), Marc Perlman (bass), Kraig Johnson (guitar) and Jessy Greene (violin) — have reissued three albums, Sound of Lies (1997), Smile (2000) and Rainy Day Music (2003), and they're playing three consecutive nights of shows in the Twin Cities, starting with a sold-out gig tonight at the Turf Club in St. Paul before moving to First Avenue in Minneapolis on Friday and Saturday.
Despite the busy schedule, the Jayhawks spent the better part of an afternoon in The Current's studio, playing songs and catching up with host Mary Lucia.
Louris shares some of his songwriting insights, including his mystification at having such an easy time at writing bridges — often the bane of songwriters. He also describes what it was like to work with storied producer Rick Rubin, and whether he prefers daytime festival gigs or nighttime club shows.
The Jayhawks play a total of four songs, including the one Mary told the Star Tribune's Chris Riemenschneider is her favorite. As an added bonus, Louris plays a generous chunk of the first song he ever wrote, a tune called "Weekend Girls."
Listen to the complete session to hear all of this and ["nothing"] more.
Songs Performed
"The Man Who Loved Life"
"Queen of the World"
"Stumbling Through The Dark"
"Tailspin"
The first song is off the Jayhawks' Sound of Lies album, originally released in 1997; the second song if off Smile, originally released in 2000; and the third and fourth songs are off Rainy Day Music from 2003. All have been re-released on American Recordings.
Hosted by Mary Lucia
Produced by Jade
Engineered by Michael DeMark
Web feature by Luke Taylor
Resources
Related Stories
The Jayhawks perform at the Fitzgerald Theater The Jayhawks have been a staple of the alt-country scene since their debut 25 years ago, right up until they went on hiatus in the mid-'00s. The band reunited recently, and joined 89.3 The Current for an invite-only performance at the historic Fitzgerald Theater before the release of their new album.
The Jayhawks perform live in The Current studio With a three-night stand at First Avenue and a re-issue of their debut self-titled album, also known as The Bunkhouse Record, alt-country rockers The Jayhawks know how to celebrate their 25th year as a band and Twin Cities legends.
9 Photos
Violinist Jessey Green warms up as the Jayhawks' Gary Louris, Jon Jackson and Marc Perlman chat in The Current studio.

(MPR / Nate Ryan

)

Gary Louris, Marc Perlman and John Jackson of the Jayhawks in The Current studio.

(MPR / Nate Ryan

)

The Jayhawks' Gary Louris and Karen Grotberg in The Current studio.

(MPR / Nate Ryan

)

Gary Louris tunes his guitar before performing live in The Current studio with the Jayhawks.

(MPR / Nate Ryan

)

Pianist Karen Grotberg performing live in The Current studio with the Jayhawks.

(MPR / Nate Ryan

)

Gary Louris hangs out before performing live in The Current studio with the Jayhawks.

(MPR / Nate Ryan

)

Violinist Jessy Green performing with the Jayhawks live in The Current studio.

(MPR / Nate Ryan

)

Kraig Johnson performing live in The Current studio with the Jayhawks.

(MPR / Nate Ryan

)

Drummer Tim O'Reagan in The Current studio with the Jayhawks.

(MPR / Nate Ryan

)
View 8 more photos
---
comments powered by

Disqus