Stereo Confession perform in The Current studio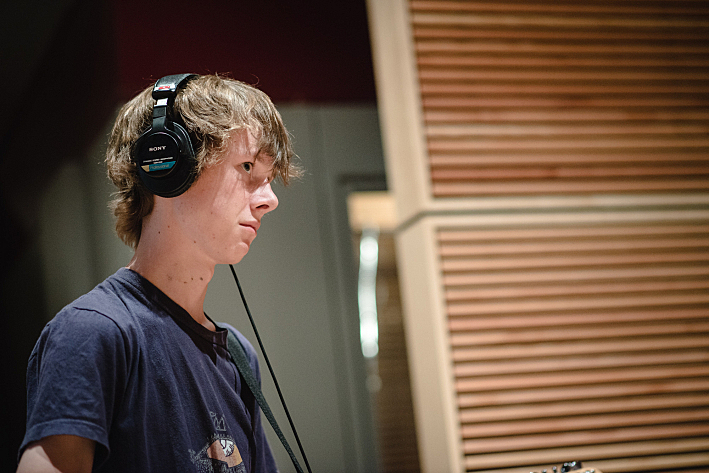 On a special back-to-school edition of The Local Show, Minneapolis rock band Stereo Confession stop into The Current's studio to play some songs and to talk to host David Campbell.
A version of Stereo Confession has existed for three years — a very long time considering most of the band members are 17 years old. Stereo Confession's most recent single, "Video Games," has enjoyed a lot of airplay on The Current, and the band have a new album, No Coast, scheduled for release on Oct. 14, with an album-release party set for Sunday, Oct. 12, at the 7th Street Entry. It's an all-ages show, of course.
Listen to the full interview to hear Stereo Confession describe the secret to their longevity as a band; what inspires them in the landlocked Midwest to write surf-rock songs; how they came to cover a not-nameable-for-broadcast Replacements' tune; and the grade they'd give themselves on this, their first radio interview.
Stereo Confession also talk about how the school year has gone so far, and they reveal their post-graduation plans.
Songs Performed
"Video Games"
"Hang Ten"
"Getting Out"
All songs from Stereo Confession's forthcoming album, No Coast, scheduled for release on Oct. 14, 2014.
Hosted and produced by David Campbell
Engineered by Michael DeMark
Web feature by Luke Taylor
Guests
Resources
Related Stories
Friday Five: March 21, 2014 Speaking of Howler and their garage rock-loving friends, this new song from Stereo Confession sounds like it would fit nicely on a mixtape alongside the Rough Trade phenoms and Forged Artifacts bands like France Camp, Nice Purse, and Prissy Clerks. The kids are alright...
10 Photos
Stereo Confession perform in The Current studio.

(MPR photo/Nate Ryan

)

Stereo Confession perform in The Current studio.

(MPR photo/Nate Ryan

)

Stereo Confession perform in The Current studio.

(MPR photo/Nate Ryan

)

Stereo Confession perform in The Current studio.

(MPR photo/Nate Ryan

)

Stereo Confession perform in The Current studio.

(MPR photo/Nate Ryan

)

Stereo Confession perform in The Current studio.

(MPR photo/Nate Ryan

)

Stereo Confession perform in The Current studio.

(MPR photo/Nate Ryan

)

Stereo Confession perform in The Current studio.

(MPR photo/Nate Ryan

)

Stereo Confession perform in The Current studio.

(MPR photo/Nate Ryan

)

Stereo Confession perform in The Current studio.

(MPR photo/Nate Ryan

)
View 9 more photos
---
comments powered by

Disqus