The War on Drugs perform live in The Current studio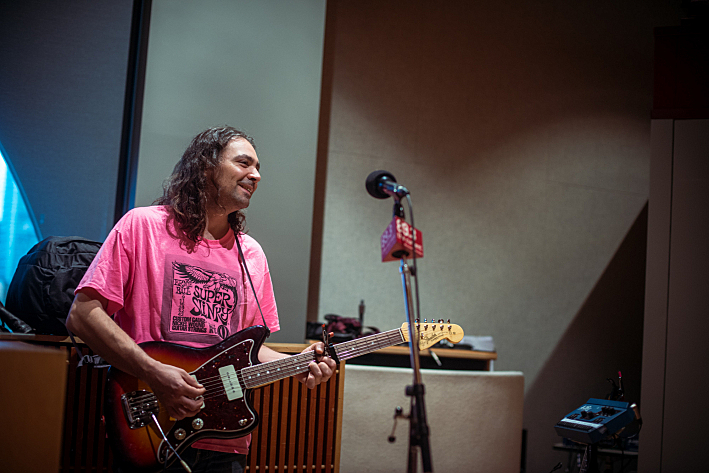 Listen Feature audio

Sep 24, 2014 Listen to all 4 tracks:
The War on Drugs In-Studio (full session and interview)
The War on Drugs - An Ocean in Between the Waves (Live on 89.3 The Current)
The War on Drugs - Eyes to the Wind (Live on 89.3 The Current)
The War on Drugs - Tangled Up in Blue (Bob Dylan cover) (Live on 89.3 The Current)
There was a lot of Bob talk going on when the War on Drugs stopped by The Current studio between their two-night stand in the First Avenue mainroom. Frontman Adam Granduciel, whose fridge is plastered in Dylan magnets, was excited to be in Minneapolis, home of Sound 80, the studio where Bob Dylan recorded Blood on the Tracks (the second time around).
Being in Minnesota, it was fitting that Adam Granduciel and company — Charlie Hall, drums; Dave Hartley, bass; Robbie Bennett, piano; John Natchez, saxophone and Hammond M3; Anthony LaMarca, guitar — covered Bob Dylan's "Born in Time" in their opening night encore at First Avenue. And as the War on Drugs loaded their equipment into The Current's studio, the band decided to give "Tangled Up in Blue" a shot, one of the tracks Bob Dylan re-cut for Blood on the Tracks in the historic Minneapolis recording studio.
Listen to the full session to hear Adam Granduciel chat with Jill Riley of The Current's Morning Show about his past Minneapolis performance experiences at the 7th St. Entry and at the Cedar Cultural Center, what the Philadelphia music scene is like and about the significance of the War on Drugs' album title Lost in the Dream.
Songs Performed
"An Ocean in Between the Waves"
"Eyes to the Wind"
"Tangled Up in Blue" (Bob Dylan cover)
"Eyes to the Wind" and "An Ocean Between the Waves" are off the War on Drugs' latest record, Lost in the Dream, out now on Secretly Canadian.
Hosted by Jill Riley
Engineered by Mike DeMark
Produced by Jade
Web feature by Leah Garaas
Guests
Resources
Related Stories
First Listen: The War On Drugs, 'Lost In The Dream' Highly emotional rock that reads as low-stakes at first, Lost in the Dream is evocative and pleasant if you let it float by in the background. But it's made with hooks that sink in deep.
Kurt Vile performs in The Current studio Philly rocker Kurt Vile has been a psych-rock and folk-influenced racket for the better part of a decade now, both as a founding member of the indie-rock band The War on Drugs (which he left in 2008) and also as a solo artist.
12 Photos
The War on Drugs' Adam Granduciel with guitarist Anthony LaMarca performing live in The Current studio.

(MPR / Nate Ryan

)

Adam Granduciel of the War on Drugs performing live in The Current studio.

(MPR / Nate Ryan

)

John Natchez plays saxophone with the War on Drugs in The Current studio.

(MPR / Nate Ryan

)

Charlie Hall and Dave Hartley of the War on Drugs soundchecking in The Current studio.

(MPR / Nate Ryan

)

Adam Granduciel of the War on Drugs warms up on the Steinway in The Current studio.

(MPR / Nate Ryan

)

Guitarist Anthony LaMarca playing with the War on Drugs in The Current studio.

(MPR / Nate Ryan

)

Guitarist Anthony LaMarca soundchecking with the War on Drugs in The Current studio.

(MPR / Nate Ryan

)

The War on Drugs' Adam Granduciel prepares for a cover of Bob Dylan's "Tangled Up in Blue" in The Current studio.

(MPR / Nate Ryan

)

The War on Drugs' Adam Granduciel and Anthony LaMarca performing live in The Current studio.

(MPR / Nate Ryan

)

Charlie Hall of the War on Drugs performing live in The Current studio.

(MPR / Nate Ryan

)

John Natchez performing live in The Current studio with the War on Drugs.

(MPR / Nate Ryan

)

Dave Hartley of the War on Drugs performing live in The Current studio.

(MPR / Nate Ryan

)
View 11 more photos
---
comments powered by

Disqus