The Rural Alberta Advantage perform in The Current studio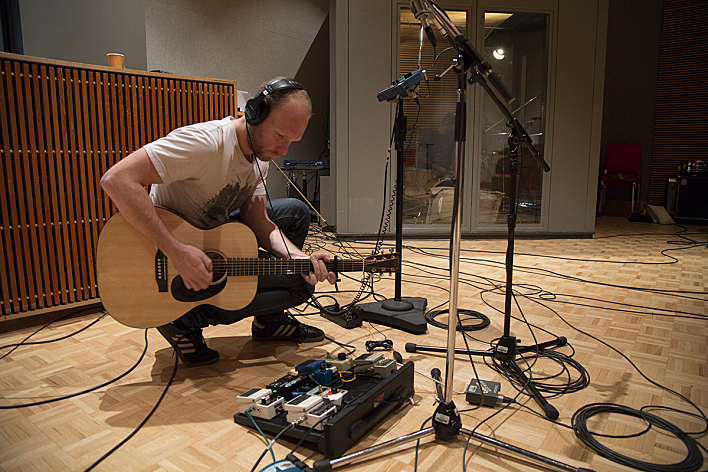 Listen Feature audio

Oct 17, 2014 Listen to all 4 tracks:
The Rural Alberta Advantage In-studio (full session + interview)
The Rural Alberta Advantage - Runners in the Night (Live on 89.3 The Current)
The Rural Alberta Advantage - On the Rocks (Live on 89.3 The Current)
The Rural Alberta Advantage - Terrified (Live on 89.3 The Current)
While the Alberta provincial motto, the "Alberta Advantage," was done away with a few years ago, Canadian indie-rockers The Rural Alberta Advantage are still going strong. On Sept. 30, the band — Nils Edenloff, Amy Cole and Paul Banwatt — released their third album, Mended With Gold.
The title of the album (as well as the cover art) refers to the Japanese art of fixing broken pottery with gold, known as Kintsugi. It focuses on overcoming loss, fear, and as Edenloff points out, "dealing with the unknown." Looking at the track listing further exemplifies these ideas, with titles like "Terrified," "...On the Run," and "To Be Scared."
The band stopped by The Current studio before Friday night's show at First Avenue to talk with Mark Wheat about Mended With Gold. They also performed three tracks from the album, highlighted by a stripped down version of "On the Rocks."
Listen to the full interview to learn about the origins of their name, thoughts on the album, and their stint as an in-house band on a TV show.
Songs Performed
"Runners in the Night"
"On the Rocks"
"Terrified"
All songs off the album, Mended with Gold, out now from Saddle Creek Records.
Hosted by Mark Wheat
Produced by Lindsay Kimball
Engineered by Michael DeMark
Web feature by Daniel Nass
Guests
The Rural Alberta Advantage
Resources
Related Stories
7 Photos
The Rural Alberta Advantage's Nils Edenloff performing live in The Current studio.

(MPR / Leah Garaas

)

The Rural Alberta Advantage's Nils Edenloff and Paul Banwatt performing live in The Current studio.

(MPR / Leah Garaas

)

Amy Cole of the Rural Alberta Advantage performing live in The Current studio.

(MPR / Leah Garaas

)

Paul Banwatt and Amy Cole of the Rural Alberta Advantage performing live in The Current studio.

(MPR / Leah Garaas

)

Amy Cole of the Rural Alberta Advantage performing live in The Current studio.

(MPR / Leah Garaas

)

The Rural Alberta Advantage's Amy Cole performing live in The Current studio.

(MPR / Leah Garaas

)

Amy Cole of the Rural Alberta Advantage plays the keys live in The Current studio.

(MPR / Leah Garaas

)
View 6 more photos