Angus & Julia Stone perform live in The Current studio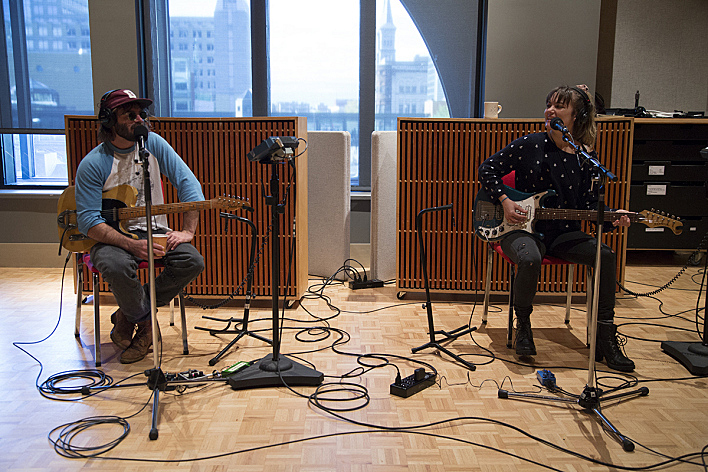 Listen Feature audio

Oct 20, 2014 Listen to all 4 tracks:
Angus & Julia Stone In-studio (full session + interview)
Angus & Julia Stone - A Heartbreak (Live on 89.3 The Current)
Angus & Julia Stone - Grizzly Bear (Live on 89.3 The Current)
Angus & Julia Stone - Heart Beats Slow (Live on 89.3 The Current)
A lot of groundbreaking acts are emerging from Down Under. Just in the last year, The Current has had several Australian acts come through the studio including Courtney Barnett, Chet Faker and most recently the Preatures. Add Angus & Julia Stone to that list, a brother-sister duo out of Sydney.
Touring in support of their third studio release as a brother-sister duo, Angus & Julia Stone stopped by The Current studio with a full band to record tracks off their self-titled album and to chat with host Bill DeVille before their sold out gig at the Cedar Cultural Center.
In the past, it wasn't uncommon for Angus and Julia to record individual albums at multiple studios. They took a much different approach to recording Angus & Julia Stone. This time around, they worked with world-renowned producer Rick Rubin at his Malibu studio Shangri-La. Rubin, who has worked with artists from Lana del Rey to Tom Petty and the Heartbreakers, has a secluded setup. "When you're there [at Rubin's studio Shangri-La] all that exists is the music," explains Julia.
Listen to the full in-studio to hear Angus and Julia chat more with host Bill DeVille about working with Rick Rubin, how they got into the business and yup, Australia's beloved Vegemite.
Songs Performed
"A Heartbreak"
"Grizzly Bear"
"Heart Beats Slow"
All songs off Angus & Julia Stone's self-titled third studio album, out now on Republic Records.
Hosted by Bill DeVille
Produced by Jade
Engineered by Mike DeMark
Web feature by Leah Garaas
Guests
Resources
Related Stories
8 Photos
Angus Stone performing live in The Current studio.

(MPR / Leah Garaas

)

Julia Stone performing live in The Current studio.

(MPR / Leah Garaas

)

Angus Stone performing live in The Current studio.

(MPR / Leah Garaas

)

Angus & Julia Stone performing live with a full band in The Current studio.

(MPR / Leah Garaas

)

Multi-intrumentalist Jon Solo performing with Angus & Julia Stone live in The Current studio.

(MPR / Leah Garaas

)

Bassist Rob Calder performing live with Angus & Julia Stone in The Current studio.

(MPR / Leah Garaas

)

Guitarist Ben Edgar performing live with Angus & Julia Stone in The Current studio.

(MPR / Leah Garaas

)

Angus & Julia Stone's touring drummer performing live in The Current studio.

(MPR / Leah Garaas

)
View 7 more photos