The Barr Brothers perform in The Current studio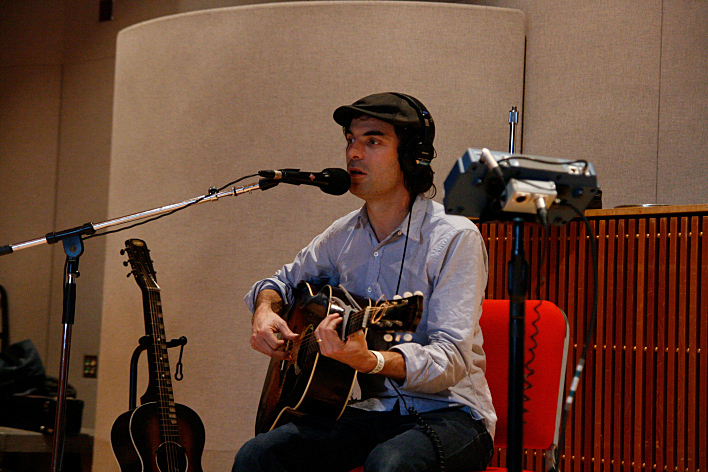 "We're from Montreal, but this is our first snow of the year," says Brad Barr, gazing through the window at the wintry St. Paul landscape outside The Current's Maud Moon Weyerhaeuser studio. Although based in Montreal, The Barr Brothers draw from a world of influences.
For example, the song "Half Crazy" off the Barr Brothers' album, Sleeping Operator, is a swampy blues number. "That song comes from a lot of different directions," Brad says. "We had an uncle who was really into the Delta blues. And growing up in Providence [R.I.], we met a bunch of guys from Mali, West Africa. They needed dental work, and our father was a dentist. We ended up trading dental work for drum lessons."
That's just one of a number of insights the band shared with The Current's Bill DeVille during a live session ahead of their gig at the Cedar Cultural Center in Minneapolis. Here are a few more standout quotes:
On the status of their former band, the Slip:
"It never really officially began, so it never officially ended. It may have a record yet."
On relocating from Providence, R.I., to Montreal:
"About nine years ago, Montreal was going through an awakening … the streets felt alive; they still do."
On whether it's advantageous being a band now based in Canada:
"I would say yes. There's a lot of support for the arts."
On the period of narrowing their songs from 40 to 13 for the album:
"It was a cold time of year, and we lean toward warm material that feels alive yet cozy."
On how Brad Barr met harpist Sarah Pagé:
"There was no band until Sarah and I met … she lived next door when I lived in my first apartment in Montreal, and I would hear her practicing every morning — her practice room was next to my bedroom."
Listen to the full session to hear more from the Barr Brothers, including how a fire at a gig led to their relocation to Montreal, and their thoughts on why the harp is a blues and rock 'n' roll instrument.
Songs Performed
"Even the Darkness Has Arms"
"Half Crazy"
"Little Lover"
All songs off the Barr Brothers album, Sleeping Operator, out now on Secret City Records.
Hosted by Bill DeVille
Produced by Lindsay Kimball
Engineered by Michael DeMark and Henry Ingber
Web feature by Luke Taylor
Guests
Resources
5 Photos
The Barr Brothers perform in The Current studio

(MPR photo/Luke Taylor

)

Sarah Page of the Barr Brothers performs in The Current studio

(MPR photo/Luke Taylor

)

Andrew Barr of the Barr Brothers performs in The Current studio

(MPR photo/Luke Taylor

)

Andres Vial of the Barr Brothers performs in The Current studio

(MPR photo/Luke Taylor

)

Morgan Moore of the Barr Brothers performs in The Current studio

(MPR photo/Luke Taylor

)
View 4 more photos
---
comments powered by

Disqus