We Are the Willows perform live in The Current studio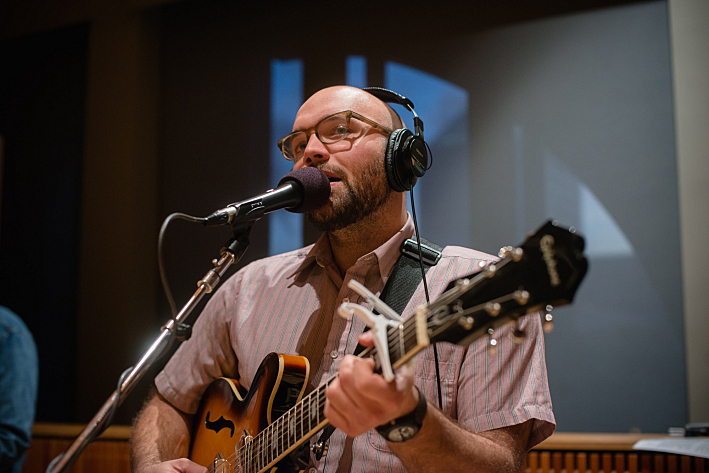 With the recent release of their third album Picture (Portrait), We Are the Willows—comprised of Peter Miller (guitar/lead vocals), Jeremiah Satterthwaite (guitar/banjo), Leah Ottman (violin/voice/keys), Hilary James (cello/voice/keys), Travis Collins (bass), Stephen Lindquist (drums/voice)—stopped by The Current studio to chat with the Local Show's host David Campbell and to perform tracks off the new record.
Picture (Portrait) is a concept album, but it's so much more than that. As an undergrad, We Are the Willows frontman lived with his grandparents and often heard of the 350 odd letters his grandparents exchanged during World War II. It wasn't until after graduating from college that Peter read the letters and was so moved by his grandparents' exchanges that he decided to write songs based on their long-distance love story.
Peter's grandfather died two years ago, but he gave Peter his blessing to pursue the project before he passed. Before its release, Miller's grandmother listened to Picture (Portrait) in its entirety. "One of the things she said that was most affirming was that she felt like she had just walked back through her life," says Peter.
It's nearly impossible to fit more than 350 letters into 10 tracks. Miller reveals that a second album will be released in the coming months and will act as a sister record to Picture (Portrait).
We Are the Willows celebrate the release of Picture (Portrait) at the Turf Club on Saturday, Dec. 13 with S. Carey and Marty Marquis.
Songs Performed
"Picture"
"Dear Ms. Branstner"
"Wedding Song"
All songs off We Are the Willows new albums, Picture (Portrait), out now via Homestead Records.
Hosted by David Campbell
Produced by David Campbell
Engineered by Mike DeMark
Web feature by Leah Garaas
Guests
Related Stories
8 Photos
We Are the Willows cellist Hilary James performing live in The Current studio.

(MPR / Nate Ryan

)

We Are the Willows drummer Stephen Lindquist performing live in The Current studio.

(MPR / Nate Ryan

)

We Are the Willows bassist Travis Collins performing live in The Current studio.

(MPR / Nate Ryan

)

We Are the Willows guitarist (and banjoist) Jeremiah Satterthwaite performing live in The Current studio.

(MPR / Nate Ryan

)

We Are the Willows frontman Peter Miller performing live in The Current studio.

(MPR / Nate Ryan

)

We Are the Willows violinist Leah Ottman performing live in The Current studio.

(MPR / Nate Ryan

)

We Are the Willows' Peter Miller and Hilary James performing live in The Current studio.

(MPR / Nate Ryan

)

We Are the Willows Hilary James and Leah Ottman performing live in The Current studio.

(MPR / Nate Ryan

)
View 7 more photos