Rock the Garden: Thanks for rocking with us!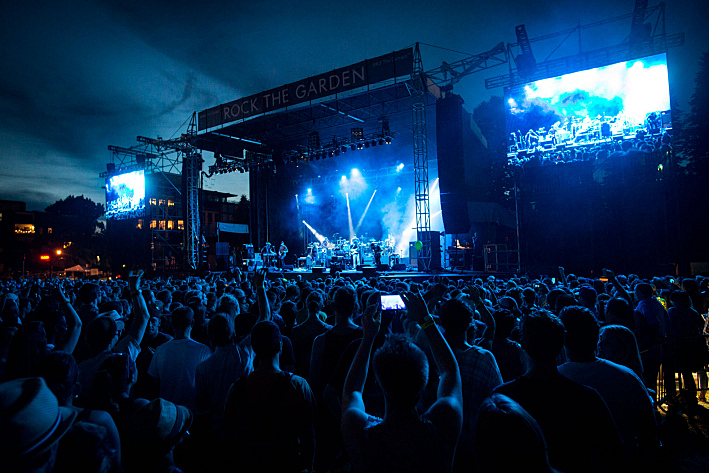 Rock the Garden has come and gone, but after ten bands, thousands of people and countless smiles, we can say that the Garden has officially been rocked. Find all the coverage below, and tune in June 30 and July 1 to hear highlights from the concerts!
Day 1: June 20, 2015
Day 2: June 21, 2015
Walker Art Center's Recap video
---
The two best days of summer are back! The most picturesque festival in the Twin Cities, Rock the Garden returns for two days of great music in the heart of the city. The 2015 lineup features 10 bands ranging from Minnesota punk legends and stars of Afrobeat to scions of rock-and-roll history.
The weekend kicks off on June 20 with buzz-worthy local rap and R&B group thestand4rd, Lucius' luscious pop harmonies, Aussie Courtney Barnett's jangly rock-pop, and folk stalwart Conor Oberst. Wistful Glasgow-based Belle & Sebastian will headline night one.
Day two, June 21, brings Sean Lennon leading the Ghost of a Saber Tooth Tiger's psych sound, JD McPherson's raucous retro-rockabilly, joyful Afrobeat grooves of Seun Kuti & Egypt 80, and epic return of punk pioneers Babes in Toyland. Headliner indie icons Modest Mouse will cap off the weekend.
Follow Rock the Garden on Facebook, on Twitter and text "garden" to 677-677 for SMS updates.
Tickets
Broadcast
We are broadcasting live from Noon until 3pm both days from Rock the Garden
We are recording Rock the Garden and will rebroadcast sets ("Rock the Garden Again") from each day on June 30th and July 1st.
Set times
Saturday, June 20
2:00 p.m. - gates open
3:45 p.m. - thestand4rd
4:30 p.m. - Lucius
5:45 p.m. - Courtney Barnett
7:15 p.m. - Conor Oberst
8:45 p.m. - Belle & Sebastian
Sunday, June 21
2:00 p.m. - gates open
3:45 p.m. - The Ghost of a Saber Tooth Tiger (with Sean Lennon)
4:30 p.m. - JD McPherson
5:45 p.m. - Seun Kuti & Egypt 80
7:15 p.m. - Babes in Toyland
8:45 p.m. - Modest Mouse
Weather
Rock the Garden will be held rain or shine. However, staff reserves the right to cancel the event or part of the event due to severe weather. No umbrellas are allowed into the event.
Getting to Rock the Garden: Walk, Bike, Bus!
If you live in the area, please walk, bike, or take public transportation:
Bike racks bike with parking for 500+ bikes and a Nice Ride bike sharing station will be located on Hennepin Avenue.
Metro Transit bus lines: 4, 6, 12, and 25 serve the Walker.
Parking
Paid event parking is available in the Dunwoody Institute lot. The Vineland Place underground ramp and Parade/Minneapolis Sculpture Garden lots are reserved for VIP ticket holders and are closed to the general public.
Accessibility
Rock the Garden is accessible to all visitors. For more information, contact us as 612.253.3555 or access@walkerart.org.
Free Hydration
Bring your empty water bottle and enjoy refreshing cold water throughout the Rock the Garden concert grounds provided by Tap Minneapolis.
Special Member Benefit
Walker Art Center and Minnesota Public Radio members: Bring your member card to receive a free Rock the Garden 2015 gift for being a supporter!
Details
This event will be filmed, photographed, or recorded by the Walker and/or 89.3 The Current. Ticket holders consent to appear in this documentation and its future use by the Walker and 89.3 The Current.
No outside food or beverages allowed in the event. Only empty water bottles will be permitted.
No umbrellas, lawn furniture, coolers, or pets are allowed. Blankets and strollers are allowed.
No professional photography or audio recording equipment allowed. No outside soliciting. No guns allowed. All bags subject to search.
Lead sponsors
Media partner
Official beer
Supporting sponsors
VIP Skybox sponsor
Bike Corral sponsor
On site sponsor
The Minneapolis Sculpture Garden is a project of the Walker Art Center and the Minneapolis Park & Recreation Board.
Rock the Garden is proud to be a zero-waste event in partnership with Eureka Recycling.
Related Stories
A practical guide to Rock The Garden Because there is so much Rock the Garden activity to keep track of, we've compiled a practical guide to resources needed for either (or both!) days of Rock the Garden.
1 Photo
Rock the Garden 2015

(Walker Art Center

)