Houndmouth perform in The Current studio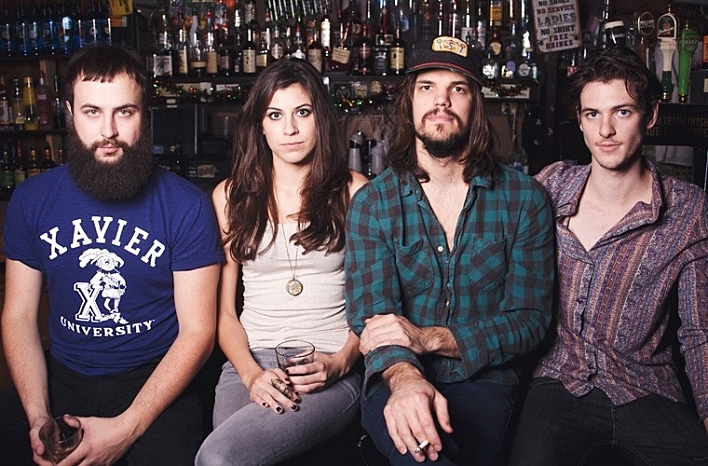 Recording late at night in a house with "paper-thin windows" led to a band name for a four-piece band from New Albany, Ind. "There were two dogs next door, Hakeem and Aleijowon," says Matt Myers of Houndmouth. "They would bark all through the night. Occasionally we'd do a low guitar solo and you could hear these dogs in the background, and Shane would say, 'There's too much hound mouth on that track'."
The name stuck, and the band began playing out in the music scene in nearby Louisville, Ky. "At the end of the day, you need a music scene," Myers says. "You've got to have a scene close by; Louisville was that city and they took us in, and it's been really nice."
Now touring heavily in support of their forthcoming album, Little Neon Limelight, Houndmouth played a sold-out show at the Turf Club in St. Paul on Saturday night. The next day, Houndmouth — Myers, Shane Cody, Katie Toupin and Zak Appleby — came in to The Current for a live session hosted by Mac Wilson.
Here are some other key quotes from the interview:
On highlights of their recent tours:
Katie Toupin: "Playing the late-night shows was pretty cool — playing Letterman and Conan, opening for the Alabama Shakes was pretty awesome."
On the variance in audiences over their recent tour dates:
Matt Myers: "We played a couple shows before [the Turf Club on Saturday], and the crowds were insanely drunk on a Thursday and Friday night, and then we came here for a Saturday night and we were expecting the same thing, but it was actually really nice and chill and everybody was super respectful … which is great!"
On having multiple lead singers in the band:
Matt Myers: "It's great because we don't individually have to write as many songs, so we can focus on writing one or two songs that we really like. Everybody writes separately and brings them to the table."
On the Louisville, Ky., music scene:
Katie Toupin: "Coming from a smaller city helped us immensely. If we were in Nashville or something, it would have been really easy to have been covered up by all the music going on. … [Louisville is] really supportive of new music in general. If there's a new band, people will go out and listen, and not with their arms crossed like in some other music cities, so that's pretty great."
Songs Performed
"Black Gold"
"Sedona"
"My Cousin Greg"
All songs from Houndmouth's forthcoming album, Little Neon Limelight, out March 17, 2015, on Rough Trade Records.
Hosted by Mac Wilson
Produced by Derrick Stevens
Engineered by Michael DeMark and Henry Ingber
Web feature by Luke Taylor
Resources
---
comments powered by

Disqus