Selma: The Roots Run Deep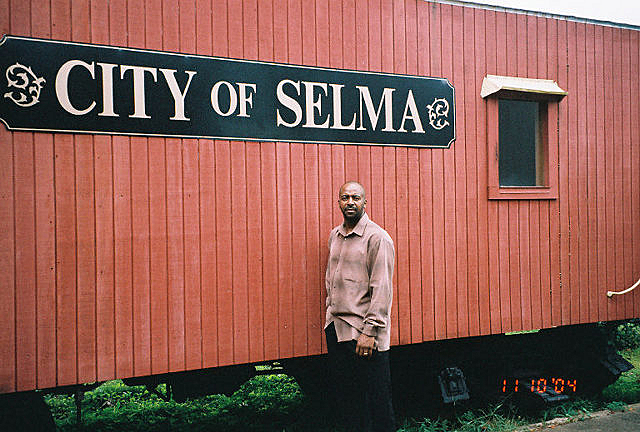 Listen Feature audio

Mar 8, 2015 Listen to all 10 tracks:
The Roots featuring TV on the Radio - Ain't Gonna Let Nobody Turn Me Around / Soundtrack For A Revolution
Mahalia Jackson - I've Been Buked
Sam Cooke - A Change Is Gonna Come
The Golden Gospel Singers - Oh Freedom!
The Staple Singers - Freedom Highway
James Brown - Say It Loud, I'm Black and I'm Proud
Public Enemy - Fight The Power
Bob Dylan - Death of Emmett Till
Sounds of Blackness - Optimistic
Marvin Gaye - What's Going On
I'm Derrick Stevens, production manager at 89.3 The Current, and I want to tell you a story:
I'm the youngest of six children born to Daniel and Elizabeth Stevens of Selma, Alabama, and my parents' parents spent the majority of their lives living in Selma. My mother and father married in 1955 and raised four children in Selma before heading northeast to New York City in 1962, adding my sister and me to complete the family.
As a kid, I remember taking summer vacations down to Selma to visit my grandmothers, Willie Lee & Leila Mae. I would soak up their firsthand accounts of the civil rights struggles the black residents of Selma had to deal with, and one thing that stuck with me is that my grandmothers were never bitter. Unfortunately, both of my grandfathers were already deceased, so I never had the chance to hear their words, but my grandmothers were able to fill in some blanks and because of that, I know the type of men my grandfathers were, and that shapes the man that I am.
I've always loved that li'l ole town, and I have so much appreciation and admiration for the people of Selma. I still have family there; my grandparents and my father are all buried in Selma and its surrounding counties. Selma is in my blood, and my blood is in Selma.
It is my honor to share my testimonial, and it will be an experience of a lifetime for me to take part in the 50th Anniversary of the historic Selma-to-Montgomery march, with the re-enactment march taking place on March 8 — my birthday! How cool is that?
I'll share pictures from my journey to Selma when I get back. In the meantime, you can listen to some of my favorite civil rights songs in the playlist or by watching the videos I've gathered for you below.
The Roots featuring TV on the Radio - Ain't Gonna Let Nobody Turn Me Around / Soundtrack For A Revolution
Mahalia Jackson - I've Been Buked
Sam Cooke - A Change Is Gonna Come
The Golden Gospel Singers - Oh Freedom!
The Staple Singers - Freedom Highway
James Brown - Say It Loud, I'm Black and I'm Proud
Public Enemy - Fight The Power
Bob Dylan - Death of Emmett Till
Sounds of Blackness - Optimistic
Marvin Gaye - What's Going On
Resources
1 Photo
Derrick Stevens at the board in MPR's Maud Mood Weyerhaeuser Studio.

(MPR photo/Luke Taylor

)
---
comments powered by

Disqus