BORNS performs live in The Current studio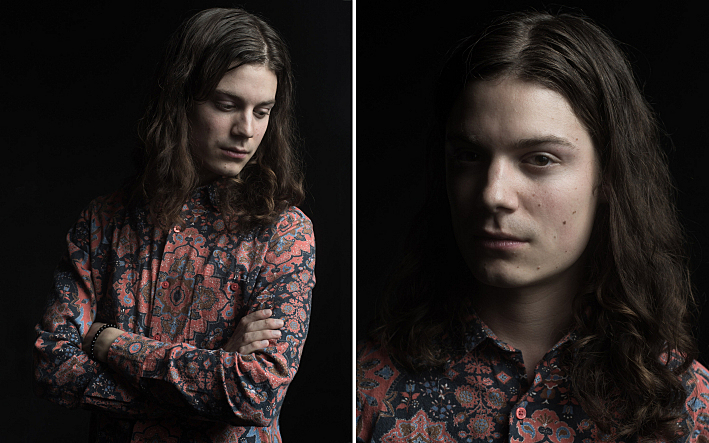 Ahead of a sold out gig at the Triple Rock Social Club with Handsome Ghost, BØRNS stopped by The Current studio to chat with host Mary Lucia and to perform tracks off his debut EP Candy, plus a special Lesley Gore cover.
After high school, BØRNS' Garrett Borns moved to New York with a handful of demos he had been working on back home in Michigan (he now lives in a treehouse east of the Los Angeles hills). While he was couch surfing in Harlem, he realized his craft as a solo artist; he wanted creative control but still wanted to collaborate with other artists.
Joined by pianist Lauren Perez and 12-string guitarist Connor Doyle, BØRNS performed an acoustic version of Lesley Gore's "It's My Party." When BØRNS learned the Quincy Jones-produced track on guitar he truly recognized how brilliantly written it was. The band has been performing it live ever since, long before her passing last month.
Listen to the full in-studio to hear Garrett and Mary chat about his visual art, Jeff Buckley and his early magic career (stay tuned for a special card trick video starring BØRNS and assistant program director Lindsay Kimball).
Songs Performed
"10,000 Emerald Pools"
"Electric Love"
"It's My Party" (Lesley Gore cover)
"10,000 Emerald Pools" and "Electric Love" are off BØRNS debut EP, Candy, out now on Interscope Records. "It's My Party" is off Lesley Gore's 1963 debut album I'll Cry If I Want To.
Hosted by Mary Lucia
Produced by Lindsay Kimball
Engineered by Mike DeMark
Web feature by Leah Garaas
Guests
7 Photos
BORNS' Garrett Borns with pianist Lauren Perez performing live in The Current studio

(MPR / Nate Ryan

)

BORNS' Garrett Borns with pianist Lauren Perez performing live in The Current studio

(MPR / Nate Ryan

)

BORNS in The Current studio

(MPR / Nate Ryan

)

Connor Doyle with a 12-string guitar performing live with BORNS in The Current studio

(MPR / Nate Ryan

)

Connor Doyle with a 12-string guitar performing live with BORNS in The Current studio

(MPR / Nate Ryan

)

Pianist Lauren Perez performing with BORNS live in The Current studio

(MPR / Nate Ryan

)

BORNS performing live in The Current studio

(MPR / Nate Ryan

)
View 6 more photos