The Current's Rock and Roll Book Club: Jon Bream's 'Dylan: Disc By Disc'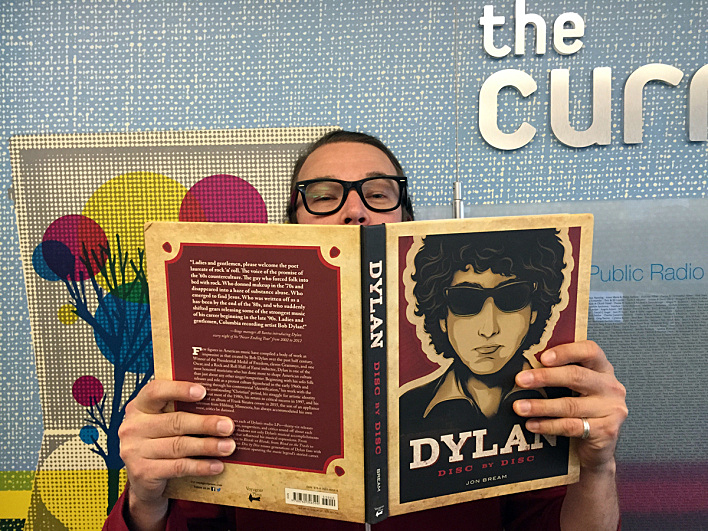 At The Current, we love music and we also love books about music. In partnership with MPR's The Thread, we've started a series called The Current's Rock and Roll Book Club. Each month, we pick a book about the music we love, and one of our staff members shares a hot take on the book. We hope you'll read along with us, and share your thoughts both in the comment section and via social media: #RockandRollBookClub.
This month, Bill DeVille writes about Jon Bream's new book Dylan: Disc By Disc. At Local Current, we're celebrating Minneapolis's new Bob Dylan mural by playing Dylan's songs from A-Z all day long on Thursday, September 10 on our stream of Minnesota music. That evening at 7:30 p.m., Bream will be at the Parkway Theater for a panel discussion about Dylan's discography and Bream's new book.
There have been literally hundreds of books written about Bob Dylan. Excluding Elvis, he's probably the most written-about musician of the last 100 years.
I consider myself a big Bob Dylan fan—but I'm far from a "Dylanologist"! Trust me, no matter how much or how little you know about Bob, Dylan: Disc By Disc is a fun read for music fans in general. Reading this book is like having a chat at the water cooler or the coffeeshop about a Bob Dylan album. It's an informal, fun book to read.
Dylan: Disc By Disc is written by Star Tribune music critic Jon Bream. The book makes you realize how just how many classic albums Dylan has in his arsenal. He has a pretty impressive body of work. As the title suggests, this is an album-by-album commentary on all of Dylan's albums—pairing up a couple of notable fans and insiders per album. They have a little chat, each discussion moderated by Bream.
You'll find some interesting nuggets in this book. Here are a few things that caught my eye.
- Grammy Museum executive director Robert Santelli mentions in the first chapter, on Dylan's self-titled debut, that nobody knew about Woody Guthrie like Dylan did. Santelli mentions he's seen Dylan's copy of the Guthrie book Bound For Glory—and it had notes in it. Dylan apparently read it like a textbook!
- Writer Anthony DeCurtis and folkie Suzanne Vega had a nice back-and-forth about Dylan's Freewheelin' album. Vega mentions she thinks "Girl From the North Country" was about Hibbing girl Echo Helstrom. Echo who? Everybody seems to know about every girl Dylan has ever known. Vega also says that "Masters of War" is still relevant today: "You can still apply it now, for any war, at any time." Amen, sister!
- The Times They Are A-Changin' inspired an interesting back-and-forth between singer Jonatha Brooke and Chicago radio host Lin Brehmer. Brehmer mentions that the songs on the album proved so prescient that if they were released today, people might think, "I'm not going to tweet about this, a little too controversial."
- Singer/songwriter Rodney Crowell is paired up with writer Anthony DeCurtis to discuss Bringing It All Back Home. Crowell mentions he and the lad down the street listened to "Subterranean Homesick Blues" 25 times in a row when it came out. While Anthony DeCurtis says that "It's Alright Ma (I'm only Bleeding)" reminds him of parts of Shakespeare. Crowell calls it one of the best albums ever made.
- The Highway 61 Revisited discussion features producer/songwriter Joe Henry and Bob's old buddy, harmonica player Tony Glover, who was able to set the table nicely as he was there for many of the sessions for the album. You get his insights like, "the guy playing the organ was doing like a maniacal sound, doing some of those octave swoops, it made me think of Vincent Price movies," on "Ballad of the Thin Man."
- For the Blonde on Blonde discussion, singer-songwriter Jason Isbell is joined by writer Geoffrey Himes, who says about "Leopard-Skin Pillbox Hat" that "one of the most effective ways to attack the rich and powerful is to make fun of them. That's the kind of hat Jackie Kennedy wore. It was the height of rich people fashion." Isbell says, "He's finally reached a point in his own life when he can see things more objectively, and he can point the finger at all sides at the same time."
- I learned via Holly George-Warren that Dylan offered "Lay Lady Lay" to the Everly Brothers and they turned it down. She also mentioned that Dylan looks like he could be a member of Mumford and Sons on the cover of Nashville Skyline—which musician Marshall Chapman suggests is the first Americana album.
- The Blood on the Tracks conversation features cultural critic David Yaffe and musician Kevin Odegaard, who played on the album (and will be at the panel discussion with Bream next Thursday). He mentions Dylan was everywhere on the sessions, even borrowing Peter Ostroushko's mandolin! Yaffe says the album had particular resonance in the '70s, "the decade of divorce."
Dylan: Disc By Disc will sit nicely on your bookshelf. Dylan himself might even like this book, because it's truly about the music. That conversation seems like the only one that journalists never want to have with him.
Related Stories
---
comments powered by

Disqus