Lana Del Rey on paranoia, Father John Misty, Nina Simone and 'Honeymoon'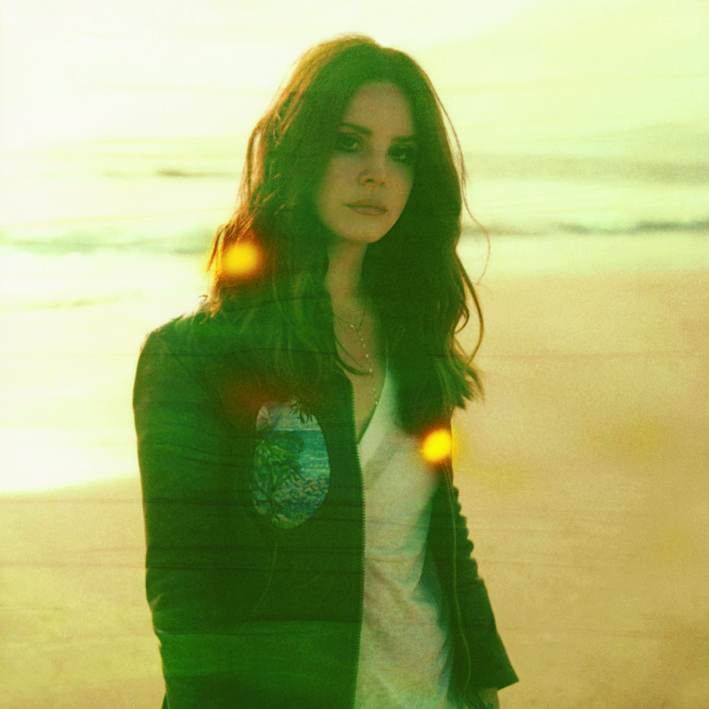 Riding on the success of her fourth studio album, Honeymoon, Lana Del Rey sat down for a chat with The Current's David Safar about glamorized paranoia and her love of Father John Misty and Miss Nina Simone.
David Safar: It was just last year that you released Ultraviolence. Was there a sense of urgency to get back into the studio?
Lana Del Rey: Yeah, a little bit, but I don't really know why. I think it's just a personal thing. I felt like I had a couple of songs that I had been working on while I was mixing Ultraviolence, which took a really long time. I just wanted to see if I could start making another record. I guess whenever you put out record I guess it's a good time to work on something new because you don't really have any pressure.
You're past your debut and your sophomore releases, you've worked with many different artists and you've toured. What made Honeymoon different?
I was glad to be past that second record. [laughs] It was fun. I worked with this guy that I love. He's been my producer for a really long time. His name is Rick Nowels. I got to go in [the studio] every day and see some things I had been working on or start something new. Early on I wanted to have [Honeymoon] to have a little bit of a noire feel so I loved the title track "Honeymoon." I guess it kind of loosened up a little bit as I went forward with songs like "Freak" and "Art Deco."
Rick Nowels has worked with everybody from Tupac to Madonna to Jamie xx. What's your connection to Rick and what does he bring to your music?
One of the reasons I like Rick so much is because a lot of producers, when they get into the studio with an artist, they want to challenge them or they want to break them down and build them back up again. I find that really unhelpful. Rick always says yes and he's really fluid. If I'm stuck with an idea lyrically and want to say, "Screw it!" and move on, he doesn't care. We move on to a new idea. He's very easy. He contributes a lot in terms of – I mean, he plays everything. All the keyboard parts, all the guitar. He's pretty amazing.
Each album of yours has a distinct narrative and you're able to adopt that narrative and thread it throughout the entire album. What was your intention with the narrative of Honeymoon?
I do love records that have a strong concept. The narrative for [Honeymoon], it was a tribute to Los Angeles and, because of the soundcaping — we had a lot of amazing strings — I think the mood was the narrative. It's a lot of descriptive pieces about driving at night or being in love, not being in love. Kind of the same old thing.
What is it about Los Angeles that's captivated you?
I love the weather. I'm here and it's 90 degrees today. It's really hot every day. I really love the hot weather. It has a good energy about it. I was in New York for a long time, maybe eight years. I was really enamored with New York. But I didn't ever meet many people that I got to make music with or collaborate with. Here, there's just so many cool artists. There's Emile Haynie who has been my producer, whom I love. Neil Krug, who's such a great photographer. My sister's here. Father John Misty's here a lot. There's a lot of artists that are coming here, so that makes it a lot of fun.
I didn't know you were a fan of Father John Misty. We play a lot of his music on The Current.
You do? I'm his number one fan. [laughs] Talking about a narrative, his songs really bring me back to why I started writing in the first place. None of the fancy stuff, it's just the story in each one of his songs. Is it called, "I Went to the Store One Day?" That song kills me, the way he puts things. I feel like he has all of his insecurities and all of his hopes flow so seamlessly throughout each song. And his voice is amazing. I've seen him live a few times. We went on tour together for a minute.
What was that like?
It was fun! He definitely brings the fun. He's really funny as you probably could imagine if you're a fan. And also just seeing him on stage is really great.
You've toured a bit but we haven't seen you in Minneapolis. What do you envision for touring on this new album, Honeymoon?
Well I definitely think I'm going to – I did do a U.S. tour this year but it was amphitheaters. Last year I did a smaller U.S. tour.
You played with Courtney Love, right?
I did, yeah! I played eight shows with her. Talk about a dream come true. She's pretty much everything you think she's going to be and a lot more.
You talked about Los Angeles and the intersection of arts. I know movies and film have been a huge influence on your work and they're a big part of everything that you do, especially your music videos. What's your vision for the videos of Honeymoon?
It started with an at-home VHS video I was doing for the song "Honeymoon." I was sitting on the hill and then a star bus went by and I panicked for a minute – he got it on camera. I was thinking how funny it was that I was worried that someone would see us filming. I started thinking about this idea for "High by the Beach," which kind of had a similar theme, like being afraid of being watched while you were at home. I guess there's a small sense of glamorized paranoia between those two. You haven't seen the full video for "Honeymoon" because I didn't put it out yet. I don't know if I will because I made it myself. And "Music to Watch Boys To" is just – I mean I don't really know if it has a lot of L.A. nostalgia in it but the set is lush and very noire because it's black and white. There's some similarities running through the videos.
The idea of paranoia and someone watching you comes through on "High by the Beach." Is that true in your life, too? Do you feel like people are watching?
I've had a couple situations where I wish there were not cameras there. Yeah, I guess it was inspired by that. It'd be weird to say that it wasn't inspired by that.
I want to ask you about some of the artists that have influenced Honeymoon and I want to start with T.S. Eliot, the American poet. You borrowed from him — credited him — for the interlude on the album. How did you discover his poetry, and how did it make it on to the album?
I originally wasn't going to use that little excerpt but I was looking up poems about time and timelessness. He has that line about "the still point of the turning world" and that's kind of where everything's real. I loved that because I feel so often that I'm trying to get everything to just feel like it's moving and to feel new. But I always feel really caught up in a real stillness and I always kind of wonder if that's what it feels like in the great beyond or wherever.
In death?
Yeah. Or beyond.
The other artist you pay tribute to on Honeymoon is Nina Simone. You close out the album with "Don't Let Me Be Misunderstood." Can you talk about the decision to include that song and to include it as the last song on the album?
On Ultraviolence last year I did a cover of "The Other Woman" and I wanted to do another cover to wrap up this record. "Don't Let Me Be Misunderstood" is definitely one of my favorites that she sings. Melodically it's probably my favorite and the message, I like that too. Just a soul whose intentions are good.
Guests
Related Stories
Lana Del Rey performs in The Current studio Lizzy Grant's Lana Del Rey persona may be new to the broader world, but she's been singing for years and even released an album prior to 2012's already controversial "Born To Die." With her quick rise-to-fame came stringent criticism, throngs of battling publications looking for their next angle, and a warring music community.
Theft of the Dial: Lana Del Rey She has one of the best-selling albums of the year. She performed on SNL. Now Lana Del Rey is taking over The Current.
Album Review: Lana Del Rey, 'Ultraviolence' Let's stop thinking so hard about Lana Del Rey's image for a minute and listen to her music, because it doesn't get much more honest or soul-baring than on her new record, 'Ultraviolence'.