Today in Music History: Paul McCartney recorded Unplugged for MTV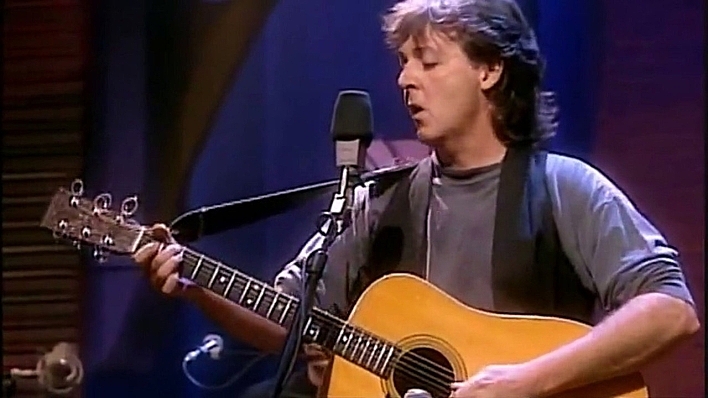 History Highlight:
Today in 1991, Paul McCartney recorded his Unplugged concert for MTV, where he performed such Beatles songs as "Here, There and Everywhere" and "And I Love Her". Unlike other artists who appeared on the show with acoustic instruments plugged into amplifiers, McCartney's played the show with all instruments actually unplugged. Microphones were placed close to the instruments to pick up the sound. The performance was released as an album: Unplugged (The Official Bootleg).
Also, in:
1975 - A year and a half after its initial release, Lynyrd Skynyrd peaked at number 19 on the Billboard Hot 100 Singles Chart with "Free Bird", which became the band's anthem.
1975 - The Carpenters went to No. 1 on the U.S. singles chart with their version of The Marveletts' 1961 hit "Please Mr. Postman"
1978 - Joy Division made their live debut when they played Pips in Manchester, England.
1983 - The Allman Brothers Band bassist Lamar Williams died of lung cancer age 34. He joined the band in 1972 after the death of original bassist Berry Oakley.
1986 - Dire Straits reached number seven on the Billboard Hot 100 Singles Chart with "Walk of Life", their final top ten single in the U.S.
1992 - U2 peaked at number nine on the Billboard Hot 100 Singles Chart with "Mysterious Ways" which was their fourth top ten single in the U.S.
1999 - The Rolling Stones kicked off their "No Security Tour" at the Oakland Arena. This was their first arena tour in twenty years.
2006 - Motley Crue received a star on the Hollywood Walk of Fame for their achievements in music.
2011 - A former Miss Canada finalist became the first person in the world to graduate with a Masters degree in The Beatles.
Birthdays:
Etta James was born today in 1938.
Robert Finch, singer with KC and the Sunshine Band is 62 today.
Gary Tibbs, bassist for Roxy Music is 58 today.
Alicia Keys is 35 today.