Today in Music History: Buddy Holly's first recording session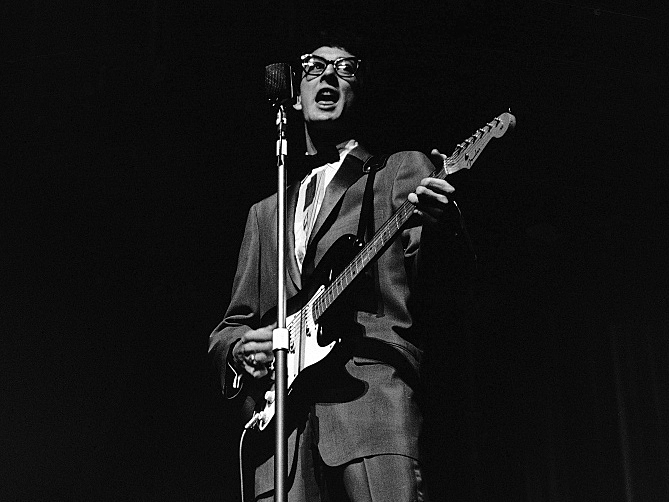 History Highlight:
Today in 1956, Buddy Holly's first recording session for Decca Records took place in Nashville. Holly began his career as an opening act for Elvis Presley, performing with him three times in 1955. Formerly focused on country western music, Holly shifted entirely to rock and roll. He tragically lost his life while en route to a show in Moorhead when his plane crashed, killing Holly, Ritchie Valens, the Big Bopper and the pilot in a tragedy later referred to as "The Day the Music Died". During his short career, Holly wrote, recorded, and produced his own material and is often regarded as the act that defined the traditional rock-and-roll lineup of two guitars, bass, and drums.
Also, in:
1962 - Bishop Burke of the Buffalo, New York, Catholic Diocese prohibited the dance of the devil, "The Twist". It couldn't be danced, sung about or listened to at any Catholic school, parish or youth event. Later in the year, "The Twist" was also banned from community center dances in Tampa, Florida.
1963 - The Rooftop Singers started a two-week run at No. 1 on the U.S. singles chart with "Walk Right In", a No. 10 hit in the U.K.
1965 - During a Rolling Stones tour of Australia and New Zealand, guitarist Keith Richards had his shirt torn off after 50 fans invaded the stage during the gig at The Town Hall in Brisbane.
1974 - Ringo Starr went No. 1 on the U.S. singles chart with his version of the Johnny Burnette 1960 hit "You're Sixteen".
1980 - Prince made his TV debut on American Bandstand.
1991 - Queen had their second U.K. No. 1 with "Innuendo". At 6 minutes 30 seconds, it exceeded their epic "Bohemian Rhapsody" by 35 seconds.
2003 - Billy Joel was airlifted to hospital after his car smashed into a tree.
2008 - Alicia Keys was at No. 1 on the U.S. album chart with her third album As I Am.
Birthdays:
Lucinda Williams is 63.
Eddie Van Halen, guitarist for Van Halen, IS 61 today.
---
comments powered by

Disqus