New Belgium and The Current team up for intimate Micro Shows performance series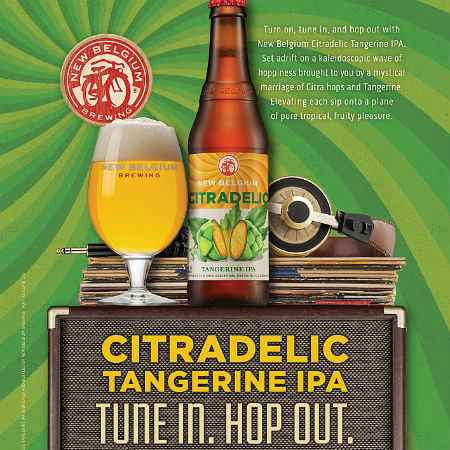 The Current is bringing you an unprecedented chance to see great shows in intimate venues, and get a first taste of a New Belgium brewery's latest offering.
To celebrate the release of New Belgium's Citradelic Tangerine IPA, we're teaming up to host three shows in February and March. At each show, you'll be able to see outstanding artists in a room much more intimate than you might experience at a ticketed event. Plus, you'll get to try New Belgium's latest beer. And the only way in is to win.
Citradelic Tangerine IPA is 6.0 ABV/50 IBU; a kaleidoscopic wave of hoppiness brought to you by a mystical marriage of Citra hops and Tangerine.
Micro Shows Presented by The Current and New Belgium Brewing Company
Sunday, Feb. 21
Marian Hill
The Club Room at Red Stag
Evening show
Friday, Feb. 26
Frank Turner
Turf Club
Happy hour show
Friday, March 4
Jack Garratt
Weisman Art Museum
Happy hour show
Back in December, Ben Folds performed a private, intimate show at the Turf Club for 200 lucky listeners of The Current. Micro Shows will be a similar experience.
Enter The Current's Micro Shows VIP Giveaway
Use this form to enter The Current's Micro Shows VIP giveaway between 9 a.m. CDT on Friday, Jan. 29 and 11:59 p.m. CDT on Monday, Feb. 15, 2016.
Three (3) winner3 will receive two (2) VIP passes to all three announced Micro Shows, New Belgium beer, plus swag from The Current and New Belgium.
Prize retail value: Priceless
We will contact the winners on Tuesday, Feb. 16, 2016. Winners must accept by 10 a.m. CST Wednesday, Feb. 17, 2016.
You must be 13 or older to submit any information to American Public Media. The personally identifying information you provide will not be sold, shared, or used for purposes other than to communicate with you about things like our programs, products, and services. See Minnesota Public Radio's Terms of Use and Privacy Statement.
This giveaway is subject to Minnesota Public Radio's 2016 Official Giveaway Rules.
Resources
1 Photo
Ben Gibbard performing for a private audience of The Current listeners at Icehouse in Minneapolis

(MPR / Nate Ryan

)