Martin Courtney embraces the collaborative solo approach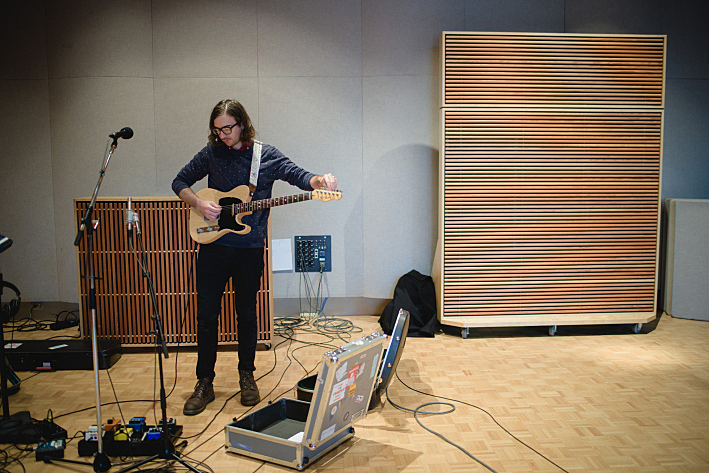 "Touring a lot with my other band, Real Estate, plays a lot into it," Martin Courtney says about the inspiration for his song, "Northern Highway," a track off his new solo album, Many Moons. "In my head, I was thinking about being in Canada and on the road, just trying to paint a picture for myself."
Fresh off a show at the 7th Street Entry in Minneapolis, Courtney stopped by The Current's studio to chat with Bill DeVille and to play some songs from his new solo effort — an album that came about during a gap in Real Estate's workflow. "We had just finished our most recent record but it hadn't come out yet," Courtney recalls, "so there was a bunch of time, and Jarvis [Taveniere, of the band Woods] and I had been talking about doing stuff together. We actually had jammed some stuff in the past, like earlier in 2013, and later that year, we finally decided to start recording things."
Many Moons was the result of Courtney and Taveniere's collaboration. Releasing it as a Martin Courtney solo project was necessitated by lack of a better band name. "This was always just a project between Jarvis and me," Courtney says. "Jarvis produced it and played bass on it and some guitar, and Aaron [Neveu] played drums on most of the record. So it's definitely a group effort … It sort of ended up making sense to have it be a solo record, and it's kind of really hard to come up with a good band name, so yeah, that's what we ended up doing."
Listen to the complete session to hear more about Martin Courtney's musical trajectory, including his influences, his work on a Guided by Voices tribute album and why he's dreading the 50th anniversary of the Summer of Love.
Songs Performed
"Northern Highway"
"Awake"
"Airport Bar"
All songs from Martin Courtney's album, Many Moons, out now from Domino Recording Company.
Hosted by Bill DeVille
Produced by Derrick Stevens
Engineered by Michael DeMark and Sasha Druva
Web feature by Luke Taylor
Guests
Resources
Related Stories
The Current's Guitar Collection: Martin Courtney, Martin 000-28 Martin Courtney was looking to have a more acoustic-guitar-driven band on his solo effort, 'Many Moons.' Thanks to an arrangement between Real Estate's management company and Martin Guitar, Courtney was able to purchase a new acoustic guitar directly from the company. He describes it in the latest addition to The Current's Guitar Collection.
Real Estate perform in The Current's studio In town to play a gig at the Fine Line in Minneapolis, five-piece Brooklyn, N.Y., indie rockers Real Estate stopped in to The Current's studio to play some songs off their album, 'Atlas', and to chat with The Current's Mark Wheat.
The Current's Guitar Collection: Martin Courtney of Real Estate Real Estate front man Martin Courtney's sea-foam green Fender Stratocaster certainly catches the eye. Courtney tells us how it also caught his ear.
10 Photos
Jarvis Taveniere plays bass with Martin Courtney in The Current studio.

(MPR photo/Nate Ryan

)

Doug Keith tunes his guitar before performing with Martin Courtney in The Current's studio.

(MPR photo/Nate Ryan

)

Jarvis Taveniere (left) and Doug Keith (right) in The Current's studio.

(MPR photo/Nate Ryan

)

Jarvis Taveniere in The Current's studio with Martin Courtney (at right).

(MPR photo/Nate Ryan

)

Martin Courtney performs in The Current's studio. Bassist Jarvis Taveniere is in the foreground.

(MPR photo/Nate Ryan

)

Doug Keith plays lead guitar with Martin Courtney in The Current's studio.

(MPR photo/Nate Ryan

)

Aaron Neveu plays drums with Martin Courtney in The Current's studio.

(MPR photo/Nate Ryan

)

Aaron Neveu playing drums with Martin Courtney in The Current studio.

(MPR photo/Nate Ryan

)

Martin Courtney performs in The Current studio.

(MPR photo/Nate Ryan

)

Martin Courtney performs in The Current studio.

(MPR photo/Nate Ryan

)
View 9 more photos