Don't Let's Start
They Might Be Giants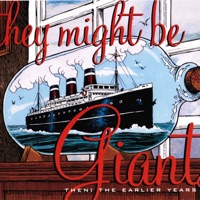 Last Played
Album
They Might Be Giants
Other songs on this album
Other songs by this artist
89.3 In-Studio Performance

Apollo 18

Factory Showroom

Flood

Glean

Here Come the ABCs

Here Comes Science

John Henry

Left Of The Dial

Lincoln

Many Hands: Family Music for Haiti

MTV 120 Minutes Live

No!

The Else

Then- The Earlier Years

They Got Lost

Why Does The Sun Shine?

Why Does the Sun Shine?
---
Please note that our catalog only lists songs that we've set up within our system; not every track from an album is displayed. You may request a song that's not in our catalog by using our request form. You may also suggest a song be added to our catalog by contacting The Current.
---
Album art and preview audio provided by iTunes, related artists provided by EchoNest.