Yeah Yeah Yeahs with Perfume Genius at the Armory in Minneapolis on Saturday, June 3.
The Current's Presale
The Current is pleased to offer Cross Currents subscribers a Yeah Yeah Yeahs presale on Thursday, Feb. 9, from 10 a.m. to 10 p.m. (the public on-sale opens Friday at 10 a.m.). Subscribe to Cross Currents — The Current's weekly newsletter — by midnight Wednesday, Feb. 8, to receive details about this week's presale for Yeah Yeah Yeahs.
You must be 13 or older to submit any information to Minnesota Public Radio. The personally identifying information you provide will not be sold, shared, or used for purposes other than to communicate with you about things like our programs, products and services. See Terms of Use and Privacy.
Yeah Yeah Yeahs
It could only be called alchemy, the transformative magic that happens during the Yeah Yeah Yeahs' most tuned-in moments in the studio, when their unique chemistry sparks open a portal, and out comes a song like "Maps" or "Zero" or the latest addition to their canon, "Spitting Off the Edge of the World" — an epic shot-to-the-heart of pure YYYs beauty and power. "It's really awe-inspiring to watch the process of Karen's melodies and lyrics just coming to her, right there," says guitarist Nick Zinner.  "Like, 'what the fuck, where did that come from?' When it strikes her, it's the most incredible thing."
"The look on Nick's face when that happens," Karen O says, with a laugh, "it's primo, man. I know I'm onto something because I can tell it's hitting him somewhere in his soul. We've been doing this together so long, and there are moments when the song comes from God-knows-where, and it feels like there's a change in the air quality, in the atmosphere, like when it's about to thunderstorm."
A thunderstorm of a return is what the legendary trio has in store for us in 2022, with the release of Cool It Down, their first new music since 2013's Mosquito. Their fifth studio album is an eight-track collection, and an expert distillation of their best gifts that impels you to move, and cry, and listen closely and is bound to be a landmark in their catalog.
They never expected it to be so long between albums, and they certainly had stayed busy: There was a tour for their 2003 debut album, Fever to Tell that was re-issued in 2017; Karen released an album with Danger Mouse (Lux Prima, 2019) and co-composed the score for the animated film Where Is Anne Frank?; Nick made an album with his hardcore side-project Head Wound City, scored Films, and collaborated with artists including Phoebe Bridgers, Amen Dunes and Songhoy Blues; drummer Brian Chase started his own label Chaiken Records.  Karen and Brian both became parents in recent years. 
The band had even begun talking about new music back in early 2020, but then the world stopped. "I was having dreams, as I'm sure many people were during the early part of the pandemic and lockdown, of places I'd been," Karen says. "Dreams of cities  we've toured in the last twenty years together, whether it's Byron Bay or Paris morphed with Mexico — my brain was taking me to all these places. And I felt, for the first time, 'what if we don't get to do it again?' That thought had never crossed my mind before and I really felt it profoundly during the pandemic: I realized I'd taken for granted that we'll always be able to go out on the road and play shows, that we'll always be able to make more music when we want to. And having gone through the collective trauma of what we experienced, I really wanted to get in a room together and jam, and see what our subconscious was going to unleash after all that time."
She and Nick got together in spring of 2021 to give it a try. "We started playing music and it just came flooding out of us," Karen remembers. Their longtime collaborator Dave Sitek ("basically a fourth member of the Yeah Yeah Yeahs, at this point") had shared some tracks he'd set aside, including the framework for "Spitting Off the Edge of the World," and Karen connected with it right away. "When I heard the opening line, it felt like a waterfall," she says. "[David] Bowie came to mind immediately. Sitek was actually friends with Bowie, and it felt like he was tuning into that frequency of artistry. And so when I was writing the lyrics and the melody, that's who I was trying to tune into, as well. Because I've never tried to evoke Bowie before. But he's gone now, and there's a big, gaping hole." And when she imagined another voice joining hers on the tune, the idea to invite Perfume Genius's Mike Hadreas felt obvious. "Mike really has a bit of Bowie in him," she says. "He was literally the first and only person that came to mind for it." 
Perfume Genius also co-stars alongside Karen in the visual for "Spitting," as an avenging angel limo driver to her desert rebel queen. The visual was directed by another longtime YYY's collaborator, Cody Critcheloe (aka Ssion), who designed the artwork for Fever To Tell and also directed Perfume Genius's amazing "Queen" video.
Karen explains that the lyrics for "Spitting…" reflect on the state of the environment, and the need for honesty about the damage we're doing to the Earth. "We're all experiencing this climate crisis through a system which is broken and not really addressing it," she says. On "Spitting…," she reframes the topic as a personal conversation with her son about the world he's inheriting. "I see the younger generations staring down this threat, and they're standing on the edge of a precipice, confronting what's coming with anger and defiance," she says. "It's galvanizing, and there's hope there."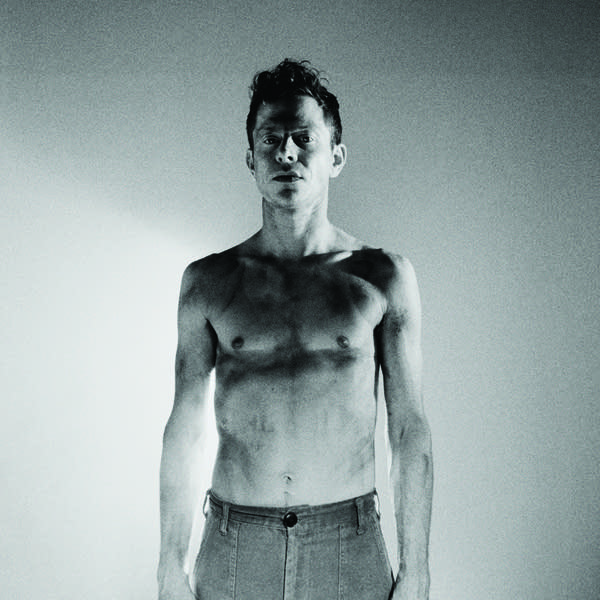 Perfume Genius
Perfume Genius is the moniker of artist Mike Hadreas. Hadreas grew up in Seattle, WA and started his music career in 2008. He released his debut album Learning in 2010 via long-time label home Matador, and it instantly caught the attention of critics. "The songs on Hadreas' full-length debut are eviscerating and naked," said Pitchfork, "with heartbreaking sentiments and bruised characterizations delivered in a voice that ranges from an ethereal croon to a slightly cracked warble." These descriptors became the hallmarks of Perfume Genius – Hadreas' unique ability to convey emotional vulnerability not only lyrically, but with his impressively nuanced vocals.
His following album, Put Your Back N 2 It was released in 2012 and continued to build both his audience and critical acclaim. 2014's Too Bright, exhibited a massive leap forward in both production and confidence. Co-produced by Adrian Utley of Portishead the album featured the stand-out single, "Queen." Inspired by "gay panic," the track quickly became a queer anthem and a powerful statement of being. Hadreas performed the song on Late Night with David Letterman.
In 2017, Perfume Genius released the GRAMMY-nominated No Shape, an album that would crystalize his fanbase world-wide and bring mainstream awareness to his art. The record was produced by Blake Mills (Fiona Apple, Alabama Shakes). "If you listen to the four Perfume Genius albums in chronological order, you can hear Hadreas healing himself in real time, moving toward an emancipation that seems, suddenly, to have come to pass," said The New Yorker. "The center of his music has always been a defiant delicacy- a ragged, affirmative understanding of despair. No Shape finds him unexpectedly victorious, his body exalted." Over the course of the campaign he appeared on multiple late-night television shows and graced the cover of The Fader.
Perfume Genius' music has played a central role in a number of films and television including The Goldfinch, The Society, 13 Reasons Why, Booksmart, and Eighth Grade. He has collaborated with artists including Christine And The Queens, Sharon Van Etten, Weyes Blood, Cate Le Bon, Anna Calvi, King Princess and more. Hadreas has also collaborated with brands like Prada and W Hotels on special projects. His albums have been nominated for a GRAMMY Award and a GLAAD Media Award and have topped numerous Decade-end lists including Billboard's, Pitchfork's, Crack's, Paste's, and more.