Friday night was a big one for Caroline Smith, who brought her much-anticipated new soul band to First Avenue's stage to play to her largest hometown crowd of the year. With her new album, Half About Being a Woman, out on the same day, the show symbolized the last step in her transition from cute indie-folk darling to bold and sexy R&B frontwoman.
So how was it?
If you want the short answer, I can tell you that Smith and her revamped band—which included her longtime Good Night Sleeps cohorts Jesse Schuster and Arlen Peiffer, plus keyboardists Charlie Smith and Elliott Kozel, guitarist Jake Hanson, and vocalists Ayo Awosika and Hannah von der Hoff—held the audience rapt, leaning heavily on the new material and infusing old favorites like "Denim Boy" with their more bass-driven, Stax Records-channeling soul sound.
But once we start to dig deeper into what was happening on stage Friday night, things get a little more complicated.
2013 has been a banner year for white artists embracing the "classic" soul sound that was pioneered in the late '60s and early '70s by Otis Redding, Marvin Gaye, Diana Ross and the Supremes, and other acts on the Motown and Stax Record labels. From Robin Thicke to Miley Cyrus to Justin Timberlake to Minnesota's own Har Mar Superstar, this resurgence of the blue-eyed take on black music has been leading many around the country to ask the question: at what point does cultural appreciation cross over into cultural appropriation?
All of which might sound a little heady for a recap of a show by a beloved local act playing what was obviously a celebratory show in her hometown. But it was difficult to ignore the elephant in the room on Friday night—especially when the evening opened with one of the only persons of color on the bill, Toki Wright, questioning why the alleged "gatekeepers" of the scene continue to ignore the music being made by the predominantly black community of artists living in North Minneapolis. And when Smith and her band took the stage, I couldn't help but think back to her interview with Chris Riemenschneider in the Star Tribune, in which she detailed how a one-month visit to the Harlem neighborhood of New York sparked her transformation into an R&B singer. Does spending a month living amid and engaging with black culture give a person the authority to adopt elements of that culture for their own creative and professional gain? Is this helping or hurting the separation between black and white artists in Minneapolis? Should we think about that, and should it matter to us?
Though we may like to think we're in a post-racial era, the fact is that we live and work in a scene that continues to be extremely segregated. I think the answers to these difficult questions often come down to whether or not the performer is authentic and sincere in their approach, and that's what I spent the majority of Smith's show wrestling with. As she tried and failed to twerk for her all-white crowd, then proceeded to play a fairly uninspired cover of Michael Jackson's "Rock with You," something felt downright uncomfortable about the presentation. But at other times, her new material sounded so vivacious and she and her band played so joyfully that it was hard not to get swept up in show's giddy momentum.
The MJ cover was especially unfortunate because it immediately followed her show's most disarming moment, which was a performance of the heartfelt and wrenching title track off her new album, "Half About Being a Woman." At her strongest, Smith can be an unabashedly honest and endearingly vulnerable performer one moment—as the curtain went up at the top of her set, she was so flattered and flabbergasted by the turnout that she could only beam and utter, "What the f***?"—and turn on a dime to become a sassy, confident frontwoman the next. She's certainly mastered every hand gesture and hip shake in the Beyoncé playbook, effortlessly working the crowd into a tizzy as her bandmates took turns soloing under the spotlight. And she has wisely enlisted the help of other powerful female vocalists (including Lizzo, who couldn't make this show due to being on tour with that other hot Minnesota soul artist of the moment, Har Mar Superstar) to help her ditch the ever-present quiver in her singing voice and find a stronger, brassier tone.
A big theme on Smith's new record is female empowerment, and on that note her performance delivered in spades. One of her most charming characteristics is how aware she is of her own awkwardness, and even the twerking incident couldn't throw her off her game as her infectious positive energy emanated out into the room. When Smith leaned into the more feminist messages on her new album, she truly was able to transcend the racial overtones and offer up a message that was universal, and unifying.
Not to turn this into a State of the Union-style write-up, but something I found inspiring at this show, and at Har Mar's show at First Ave, and at the Hip Hop Harambee block party last weekend is that there does seem to be a movement happening here in the Twin Cities toward consciously integrating various scenes and communities. Toki Wright has been at the forefront of this movement for a long time, and even the idea that he and Smith are sharing bills and working on music together (she will appear on his new Pangaea album) symbolizes something greater than two artists finding each other in a busy scene.
And that's absolutely something worth celebrating.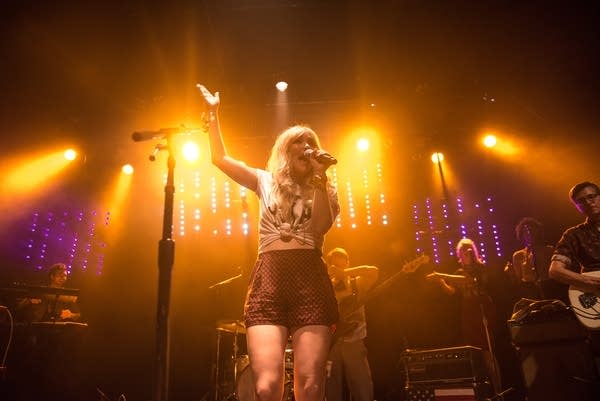 [image]