If you turned on MTV sometime between November 1989 and whenever the station stopped showing music videos, chances are you're familiar with the Paula Abdul video "Opposites Attract," which finds the pop star tap dancing and dueting with a rapping cartoon named MC Skat Kat. What you might now know, however, is that the rapping parts of "Opposites Attract" were actually recorded here in Minnesota by a local DJ and MC named Derrick "Delite" Stevens—and that not only is Derrick still involved in the music business, but he works right here at the Current.
Derrick has kept a low profile in recent years, and while many of us at the Current know about his secret past, it's not something that Derrick discusses very openly or very often. So it was an extra special surprise when Mary Lucia featured "Opposites Attract" as her "No Apologies" track today, and then followed it up with an interview with Derrick himself.
Their conversation sheds some light on what has become the stuff of urban legend—who is MC Skat Kat? And how did a radio DJ from Minneapolis get picked to co-star with a top-selling pop artist on one of her most successful tracks?
Listen to Derrick and Mary chat right here, and read a transcript of the interview below.
Mary: I'm telling you, this is the stuff of urban legend. People guessed, 'Who is MC Skat Kat?' They thought it was Will Smith...
Derrick: They thought it was Romany Malco, the actor, who actually wrote the MC Skat Kat record. They also thought it was an old-school rapper—they had everybody doing MC Skat Kat's voice except for me.
Mary: Ok, how did this come about? What were you doing in your career when you got approached to do this project?
Derrick: I was working at a community radio station, KMOJ, in Minneapolis, and Paula's producer, Oliver Lieber—
Mary: Of Lieber and Stoller?
Derrick: Yes—well, his father is Lieber. Oliver Lieber happened to hear me on the radio, and it wasn't even a song, it was my voice, I was doing a break, and he says, 'I love your voice! Do you rap?' And I was like, 'Yeah, I do rap.' And he was like, 'I'm doing this remix of Paula Abdul's "Opposites Attract," we're going to record it out at Paisley Park in a couple of weeks, and I'd love to have you come in and be on the record. And the rest is history.
Mary: Did they explain to you the whole concept of MC Skat Kat, and the video and everything?
Derrick: Yes. Yes, they pretty much had it all set out before they brought me in to play, and they had the video all set up, so they already knew what they were going to do with the animation.
Mary: Ok, so how much time from when they approached you until you laid down the tracks?
Derrick: Probably two weeks. And it was probably three weeks after that, that the video was on MTV.
Mary: And the video was huge! That video was everywhere.
Derrick: Yeah, that video was huge.
Mary: I mean, there isn't a person alive that doesn't know that song—and not just that song, but that video. And the fact is—I don't know if it was one of the first videos that had an animated character in it, but it definitely stands out in people's minds.
Derrick: It definitely was one of the first videos that had a cartoon cat as the lead character. And the video became so popular that we actually went back into the studio and we did an MC Skat Kat album, which we released probably a year after "Opposites Attract." But because of the fact that it was a cartoon cat, and it was a rapper, people didn't really take it seriously. Radio really didn't get behind it. But MTV played the hell out of the video.
Mary: And that's incredible. So everyone wants to know: Did you meet Paula Abdul? Was she cool?
Derrick: I did meet Paula Abdul several times. Was she cool? [long pause] She's Paula. Let's just put it that way.
Mary: I can just imagine her manager pitched her, 'Hey, we've got this idea for this song, there's going to be this animated cat singing with you,' and she was probably like, 'Yeah, yeah, yeah, whatever. But you know, this is a huge thing, and every time I come into work—we work together every day—and I'm always laughing because I pick up all these different magazines, and every day there's something. I swear, if you had a Google alert on your phone for every time MC Skat Kat comes up in a conversation, either on a TV show or in a magazine article—people are always talking about you.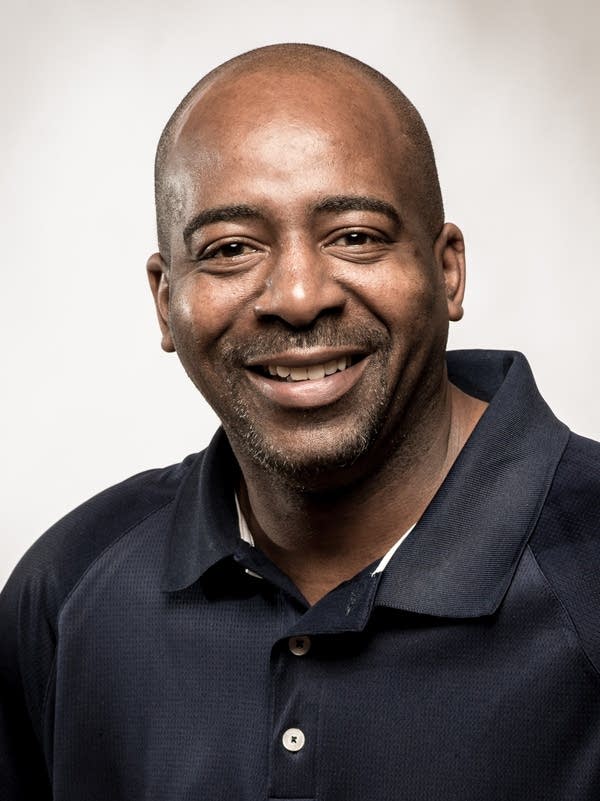 Derrick: I cannot believe it's been almost 25 years and MC Skat Kat is still going. So I'm trying to figure out now how I can make some money off of this thing. [laughs]
Mary: Let's put our heads together. How can we resurrect the Skat Kat legacy? Because it is truly something that people of a certain age will remember more than the song, more than Paula, quite frankly, more than her tap dancing. More than anything else they remember you, and the rap, and the cat, and the fact that we work with you—I was trying to remember, when you first started working here did you tell people, or did you keep it on the down low?
Derrick: I actually kept it on the down low, but Steve Nelson, who was the program director, he kind of knew about it and he was the one who brought it to my attention. And I said, 'Oh yeah, you can tell a few people.' And the next thing you know, the whole company knew I was MC Skat Kat.
Mary: And then you guys went and did karaoke at a bowling alley a couple of years ago, and you and Jill Riley got up and did "Opposites Attract."
Derrick: Yeah, Jill Riley played Paula and I did my MC Skat Kat, it all came right back. I had a great time doing it, too.
Mary: Did anyone take video of that?
Derrick: Yes, but I also told them that if they put that video out, they were going to have some problems.
Mary: Well that's right, you've gotta look out for yourself. So are we all clear, here, that I'm sitting in the room with MC Skat Kat right now? The MC Skat Kat? Not Will Smith, not some actor, not some comedian, not some joker wannabe. The original MC Skat Kat, Derrick Delite Stevens, who is one of my favorite people in the entire world.
Derrick: Thank you very much. And while I'm here, let me just give a quick shout-out to the Wild Pair, Marvin and Tony, who did the vocals on the track "Opposites Attract," and also to Oliver Lieber, who was the producer who put me on. I just want to say what's up to those guys.
Mary: And we're going to put our heads together and revamp that career, if it kills me, that's my project for 2014. Thank you, D!