Like a punk-poet beacon shining a bright light for all of us on this particularly kinetic International Women's Day, Patti Smith spoke, sung, spat, screamed, swore, swooned, and swayed through two hours of fiery performance that kept the Northrop Auditorium in a nearly continuous state of standing ovation.
For a show that began with the religion-questioning lyrics "Jesus died for somebody's sins, but not mine" (the first line of her 1975 debut, Horses, which she and her band performed in its entirety), is it strange to insist that Smith provided the weary crowd with something that damn near felt like a spiritual experience?
It was hard not to trace all the invisible threads that stitched this experience together: the hugely influential feminist artist uniting a multi-generational audience on Women's Day in Minnesota; the homeland of the famous songwriter she recently honored with an emotional performance at the Nobel Peace Prize ceremony in Stockholm, Sweden, Bob Dylan; and the late genre-defying pop icon who she clearly adores, Prince.
"This is friendly territory," she declared, glancing to the side of the stage where she had invited the folk artist Tony Glover of Koerner, Ray and Glover fame to sit and watch the show, and relaxing into a warm smile.
Much like the progression of the album Horses, Smith began her performance with an understated and serious approach, alternating between the singing and spoken-word portions of the album while the cover art glowed on a screen behind her. But the stoic presentation only lasted for a few songs; by the end of the LP's Side A, she made a show of picking up a copy of the record and squinting at the track listing to see what came next. Seemingly against her own will, she was suddenly cracking jokes and telling stories about the most notable songs of her career.
Before "Break it Up," she hesitantly said, "This is, for lack of a better phrase, best as an audience participation song. Doesn't that sound so lame? I could have telepathically just made you sing along... but I hate to waste that power."
She talked about writing it with Tom Verlaine of Television in memory of Jim Morrison, and dreaming about Morrison breaking free from a marble statue to spread his wings and fly on "to his next adventure." She talked about writing "Elegies" in honor of Jimi Hendrix but having to update it over the years to include countless lost friends, and wove in tributes to her late husband Fred "Sonic" Smith, David Bowie, George Michael, and Prince. And she talked about the complexities of celebrating International Women's Day, saying "We salute everyone who marched today, everyone who took to the streets, and everyone who couldn't, but felt it in their heart."
"I know I shouldn't be working today," she added, "but Horses is beyond gender."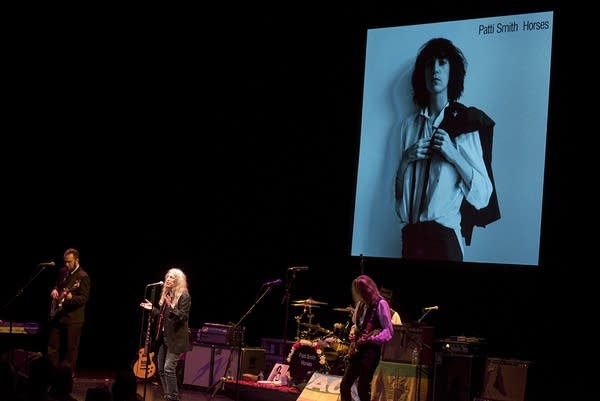 The more she talked, the more ferocious her performance became. By the end of Horses and especially the explosive "Land," she had become untethered from her spot in front of the microphone and was dancing around uninhibited, limbs dangling, fists flying through the air. Occasionally she would spit onto the stage like a boxer, rumpling up her hair as she wound up into a cyclical chant of "Horses! Horses! Horses!" and spelling out "W-O-M-A-N, do you know how to pony?!" All the while her band churned and churned, anchored by original Patti Smith Group bandmates Lenny Kaye on guitar and Jay Dee Daugherty on drums, plus her son, Jackson Smith, on bass and Tony Shanahan on keys.
After Horses the band segued into a sort of greatest-hits set, with each song getting its own dedication: "Dancing Barefoot" was "for the girls," "Ghost Dance" was for "the brothers and sisters of Standing Rock," and a cover of "When Doves Cry" needed no introduction or explanation, and had all four tiers of the sold-out Northrop audience riveted.
Originally recorded for the compilation Land (1975-2002), Smith's rendition of "When Doves Cry" was so particularly jaw-dropping because she had completely made it over in own style; portions of the song, like an additional verse expanding on the courtyard scene, were delivered in spoken word, and her mournful cries of "How can you just leave standing, alone in a world so cold?" and the gentlest "coo, coo, coo" during the song's final chorus wound up and punched squarely in the gut. To hear it live in Minneapolis, this year, felt like a gift.
Another highlight in the later portion of the performance was the song "Citizen Ship," which Smith dusted off for the first time in decades and souped up with additional emphasis on the song's anti-wall, pro-refugee message. She had to start the song twice, joking that she was "just trying to relive my triumph in Stockholm," but the second time crescendoed into such a spine-chilling climax that you'd think she'd been playing it every night for years.
And of course there was the evening's grand finale, a double feature of "People Have the Power" and an encore performance of "My Generation" that gave Smith the opportunity to open up and let loose once and for all. "I hope I live 'til I get old," she screamed, pointing out that "Donald Trump is 70... but so f***ing am I!!"
An electric guitar appeared from side stage and was hung around Smith's neck as she declared "this is the weapon of my generation," lowering it in front of an amp for maximum feedback before plucking off its strings one by one and shrieking through the squalor. "Now is the time for us to misbehave," she said. "We must misbehave in a loving way."
See also: Patti Smith talks to Mark Wheat about touring Horses and her Bob Dylan tribute
Patti Smith at Northrop set list:
Horses
Gloria
Redondo Beach
Birdland
Free Money
Kimberly
Break it Up
Land
Elegie
Dancing Barefoot
Ghost Dance
When Doves Cry
Citizen Ship
Because the Night
People Have the Power
Encore
My Generation
Additional photos by Leslie Plesser: