The name "creeping charlie" commonly refers to a perennial evergreen that grows purple flowers that's both an invasive species and a resilient wildflower. That dichotomy intrigued Julia Eubanks, founder and singer-songwriter for the Twin Cities-based band Creeping Charlie. People perceive the plant's essence based on their individual experiences, and Eubanks wants her music to do the same – to create "ear worms" that burrow into listeners' brains while expanding their perspectives.
Eubanks began playing guitar in her youth when her father introduced her to the instrument, but didn't dive into deeper songwriting until her years at Occidental College in Los Angeles. Her emotional challenges from that time are detailed on her first EP, Asymmetrical – released in June of 2020. The Creeping Charlie project first felt established when she began playing live shows in 2021. Julia's younger sister Esmé Eubanks grew up playing guitar, but taught herself bass to add embellishments to the group's melodies. Drummer Jack Malone is a longtime friend of the Eubanks' father, and guitarist Harry Miles met Julia through mutual friends and joined to add more detailed string work. 
With musically engaged parents, the sisters began attending live shows when they were young. They have an enthusiastic "Built to Spill family," which may explain Julia's '90s indie rock influences. There are shades of Sonic Youth, the Strokes, Mazzy Star, Nirvana, Death Cab for Cutie, and Metric. But the band doesn't resort to mimicry. If there's anyone who the band wants to sound like, it's Creeping Charlie. 
Julia Eubanks still writes all lyrics, song structures, and chord progressions, but now has collaborators to increase instrumental layers and depth. Gathering with the band in their cozy south Minneapolis practice space, Malone explains, "We just bring our own unique style into that structure, which makes it original for all of us, even though it's [Julia's] original song." And Miles thinks of himself as "the sprinkles on top." The "really edgy sprinkles," Julia jokes.
The sisters' instrumental talents wouldn't have been possible without the guidance and lessons from Mike Michel of The Orange Goodness at Lake Harriet House of Music. Michel's intellectual, international music perspective inspired Julia to look at music in an unique way. "[Lessons] would just cleanse anything that was in your body. You'd immediately feel better leaving that room." 
Word of Creeping Charlie has spread over the Twin Cities music scene as quick as the evergreen creeper. On Friday, Jan. 20, they will play First Avenue's Best New Bands of 2022 show. James Taylor, an experienced booker at First Avenue, explains that the show's selection process doesn't have an application or formal rules. Their team simply reflects on what they've observed at venues over the past year. And bands aren't only recognized for what they've done up to this point – they're artists who hold promising prospects in 2023.
It's all about supporting the local music community and setting bands up for success. "We're expecting [the chosen bands] to have a big year with them coming up. So, we want to sort of acknowledge that and set them up for a strong year," Taylor says. 
The team aims to book a lineup that's as musically diverse as possible. Joining Creeping Charlie will be Brotherhood of Birds, Harlow, killusonline, Mike Kota, Obi Original, and Raffaella. First Avenue identified three or four bands with styles similar to Creeping Charlie that they loved in 2022, but the quartet stood out  – partly because of the personal nature of Julia's songwriting.
Their debut album, How to Kill Creeping Charlie, arrived in December of 2021. When songwriting, Julia articulates intimate emotions with transparency, and it's exhilarating for her to wonder how others will perceive her words. Esmé respects the complexity in her sister's songwriting, interpreting her words as description of feeling rather than explicit storytelling. "You have to read between the lines to understand what subject matter [she's] talking about… It's not necessarily disclosing all of [her] personal experiences," she explains.
Creeping Charlie
5 of 5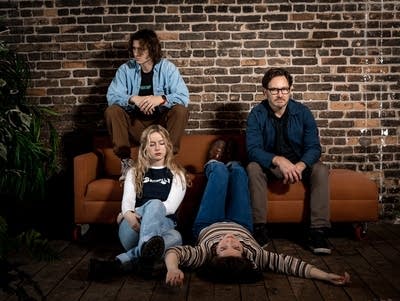 1 of 5
2 of 5
As Julia continues to write, songs have escalated in drama and branched out in both sonic directions. The singer is widening her instrumental landscape, whether that's more melodic balladries or heavier rock, and the beginning of that trend can be heard on How to Kill Creeping Charlie. The album begins with an aggressive edge on Eubanks' combative commands in "GTFO." The second half sinks into moments of introspection on songs like "when it rains in LA." And on "roquentin," existential contemplation seeps through the words, "Did Christianity, I bought crystals, tried astrology / But nothing really does it for me." 
According to Miles, the band's upcoming material will steer into a grungier aesthetic. That sonic evolution is something First Avenue booking assistant Krishna Mishra has observed at their shows. "You really feel this grungier side to their music live that's just so fun and timeless," he said in an email.
On stage, Julia Eubanks carries a guitar with the words "weapon of mass construction" on the body. Creativity is her self-defense mechanism, and standing in front of a crowd fills her with adrenaline. "The more I play, the less scared I get, and I feel like I'm always kind of addicted to that vulnerability," she says. Mishra has noticed this increasing confidence saying, "They have this chilled-out stage presence where all the energy is in the music." The band is aiming to ramp up the energy and give showgoers a cathartic feeling and memorable tidbits that they can hum in their heads on the way home. 
At a recent show, an unleashed song called "Picture Diver" brought one of Miles' friends to tears. Miles recalls his friend saying, "I closed my eyes and started crying while it was playing because I thought it was the most beautiful thing I've ever heard." It's a five-minute song that swells and finally bursts into noise near the end. "And he was like, 'When that moment hit it, it broke my heart into pieces.'" That reaction is exactly what this band hopes to evoke.
In December of 2022, Creeping Charlie held a residency at Amsterdam Bar and Hall to play every Thursday evening. It was hard not to smile while people danced, jumped, and embraced throughout the final night of the residency. The elder Eubanks invited a total of 13 artists she admires to join the bills. Malone emphasizes that Julia respects musicians and "wants to promote people that are good people first and foremost, and then good musicians second." 
A notable musician who the band has played alongside is Shamir, the genre-abundant Vegas-turned-Philadelphia artist who invited them to open a few Midwest shows on his 2022 tour last July. The band considers Shamir and Julia's first meeting "a lore." When the singer interned at the United Nations in New York City in the fall of 2021, the bassist recommended she check out Caroline Kingsbury, who would open for Shamir in a Brooklyn nightclub. Julia danced fiercely during Shamir's set, and he took notice and approached her after the show. The two exchanged social media handles, and six months later, she received a surprise email invite to the tour. The short experience on the road, with four stops over five days, was the "exact amount of chaos and routine," featuring days with the same structure around new people and new places.
Thinking about the future, Julia Eubanks knows that creating music is fundamental to her happiness, and her dedication doesn't hinge on others' attention. Yet, over the course of the Amsterdam December residency, she received multiple messages from people telling her that the music has changed their lives. It's easy to get caught up in the Spotify numbers, but being reminded that the music resonates with people hits on a deeper level. 
Unveiling new music at shows and recording demos, Creeping Charlie is in a growth phase. The band's supportive surrounding of listeners, showgoers, and the Eubanks' parents are what the singer is most thankful for. She lands on one final thought: "It's about the art and the people, and I think I'm just really, really grateful that people connect with it."
Creeping Charlie play First Avenue's Best New Bands of 2022 show on Friday, Jan. 20, along with Brotherhood of Birds, Harlow, Obi Original, killusonline, Mike Kota, and Raffaella