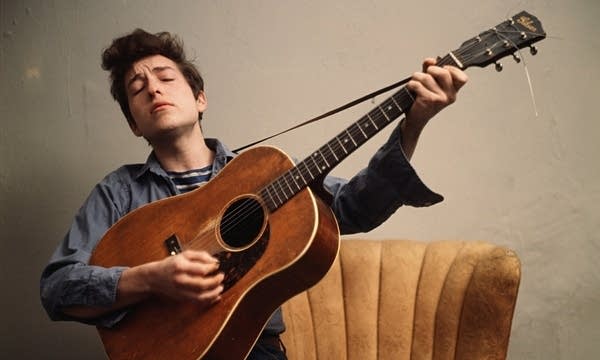 History Highlight:
Today in 1963, Bob Dylan began recording "The Times They Are A-Changin" in a two-day session at Columbia Recording Studios in New York City. It is one of Dylan's signature tunes - considered one of the greatest protest songs in history and a classic of 20th century popular music. The song was ranked No. 59 on Rolling Stone's 2004 list of The 500 Greatest Songs of All Time. The song has been covered by many different artists, including Nina Simone, Josephine Baker, the Byrds, Peter, Paul and Mary, Tracy Chapman, Simon & Garfunkel, the Beach Boys, Joan Baez, Phil Collins, Billy Joel, Bruce Springsteen, and Burl Ives. 
Today In: 
1940 - Ellie Greenwich is born Eleanor Louise Greenwich in Brooklyn, New York. One of the most successful songwriters of the '60s, her co-writes include "Leader of the Pack" and "Be My Baby." 
1961 - Dion started a two-week run at No. 1 on the U.S. singles chart with "Runaround Sue." 
1962 - A 12-year-old named Little Stevie Wonder recorded his first single for Motown Records. It was called "Thank You For Loving Me All The Way." 
1976 - The band Chicago started a two-week run at No. 1 on the U.S. singles chart with "If You Leave Me Now." 
1978 - "Mother" Maybelle Carter, one of the founding members of the pioneering country-folk group The Carter Family (including June, who later wed Johnny Cash), died at the age of 69. 
1982 - The Damned released their album titled Strawberries, packaged with a Strawberry-smelling lyric sheet. 
1989 - Nirvana played their first-ever European show when they appeared at Newcastle's Riverside Club in the northeast of England. 
1991 Rage Against the Machine play live for the first time with a show at California State University, Northridge, opening with "Killing In The Name," which is still an instrumental. 
1995 - Def Leppard gave themselves a place in the Guinness book Of World Records, by playing three gigs in three continents in 24 hours. The shows were in London, England; Vancouver, Canada; and Tangier, Morocco. 
2001 Incubus release their fourth album, Morning View, named for Morning View Drive, the road they lived on in Malibu while making it. The lead single is "Wish You Were Here," inspired when lead singer Brandon Boyd was looking out on the Pacific Ocean. 
2002 - Kanye West was involved in a car crash after he fell asleep at the wheel while driving home from a recording studio in West Hollywood. No other cars were involved in the incident, which left West with his jaw fractured in three places. 
2006 My Chemical Romance release their wildly popular third album, The Black Parade, which was recorded during the band's stay at the notoriously haunted Paramour Mansion in Los Angeles. 
2007 Robert Plant and Alison Krauss's Raising Sand debuts at #2 in America. Plant, 59, turned down a Led Zeppelin reunion tour to focus on the project. 
2016 - Dead Or Alive lead singer Pete Burns died of a heart attack at age 57. Known for the 1985 hit "You Spin Me Round (Like A Record)," Burns estimated that he had 300 plastic surgeries in his lifetime. 
2019 - The tracklist for Coldplay's forthcoming album was exclusively announced for the first time in a classified advert in the North Wales Daily Post. The ad appeared alongside items for sale including a fridge freezer and a bale of hay, and below a Welsh Government public notice. Coldplay has strong links to North Wales, with the band's guitarist Jonny Buckland having grown up in Pantymwyn, near Mold. The band had been drip-feeding details of their new double album Everyday Life with a series of hints. 
2020 - American country music singer and songwriter Jerry Jeff Walker died of throat cancer age 78. He wrote 'Mr Bojangles' a hit for The Nitty Gritty Dirt Band in 1970. Since then Walker's song has been recorded by many popular artists, including Garth Brooks, Chet Atkins, Jim Croce, Jamie Cullum, John Denver, Neil Diamond, Bob Dylan, Billy Joel, Elton John, Don McLean and Dolly Parton. 
Birthdays: 
Freddie Marsden of Gerry And The Pacemakers was born today in 1940. 
Greg Ridley of Spooky Tooth and a founder member of Humble Pie was born today in 1947. 
Michael Burston of Motorhead was born on this day in 1949. 
Robert Trujillo of Suicidal Tendencies is 59. 
Country singer Dwight Yoakam is 67. 
Alfred Matthew Yankovic, better known as "Weird Al" is 64. 
Highlights for Today in Music History are gathered from This Day in Music, Paul Shaffer's Day in Rock, Song Facts and Wikipedia.