A mystery woman at the top - The Chart Show, April 18, 2013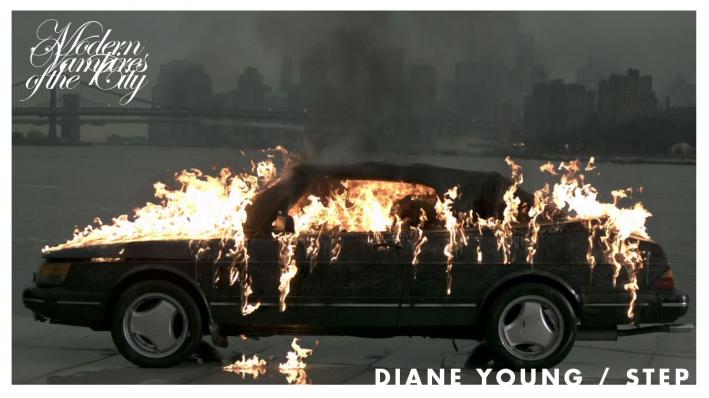 Who is Diane Young? She's the subject of the Number One! Or is she? Do you hear "dying young" too? Poetic license in the middle of National Poetry Month?
The YYYs slip despite their well-reviewed Coachella show and CD of the Week status—"sacrilege" indeed! D-Mode are again in heaven, moving up on the news that they will grace the Grandstand stage at The Fair on August 27th. I'm already looking forward to summer even though spring isn't here yet! Don't forget Macklemore will be there too on Aug 31st!
Cloud Cult are the one new entry solidifying the success of their new Love. Tickets are still available for their April 28th gig at First Ave. Leagues will be in Friday for an in-studio session on the evening shift and a gig at The Cedar Cultural Center. Jim James, who just held on to #20, will be talking to The Morning Show Friday at 7:30 a.m. before playing his first sold-out solo show on Sunday.
Remember: support your local record retailer on Saturday!
| TW | LW | Wks | | The Current Chart Show |
| --- | --- | --- | --- | --- |
| | | | Artist | Song |
| 1 | 3 | 4 | Vampire Weekend | Diane Young |
| 2 | 1 | 6 | Yeah Yeah Yeahs | Sacrilege |
| 3 | 6 | 6 | Dawes | From A Window Seat |
| 4 | 2 | 5 | Tame Impala | Feels Like We Only Go Backwards |
| 5 | 7 | 5 | Phoenix | Entertainment |
| 6 | 9 | 10 | Macklemore and Ryan Lewis | Thrift Shop |
| 7 | 12 | 4 | Divine Fits | Like Ice Cream |
| 8 | 8 | 9 | Cold War Kids | Miracle Mile |
| 9 | 4 | 7 | Iron and Wine | Lovers' Revolution |
| 10 | 11 | 9 | Eels | New Alphabet |
| 11 | 15 | 2 | Atlas Genius | If So |
| 12 | 10 | 6 | The Postal Service | A Tattered Line Of String |
| 13 | 19 | 4 | Depeche Mode | Heaven |
| 14 | 16 | 3 | Little Green Cars | Harper Lee |
| 15 | X | 1 | Cloud Cult | Good Friend |
| 16 | 14 | 2 | Local Natives | Heavy Feet |
| 17 | 20 | 7 | Leagues | Spotlight |
| 18 | 18 | 4 | BOY | Waitress |
| 19 | 17 | 2 | Junip | Line Of Fire |
| 20 | 13 | 3 | Jim James | A New Life |