First Watch: Low, 'Plastic Cup'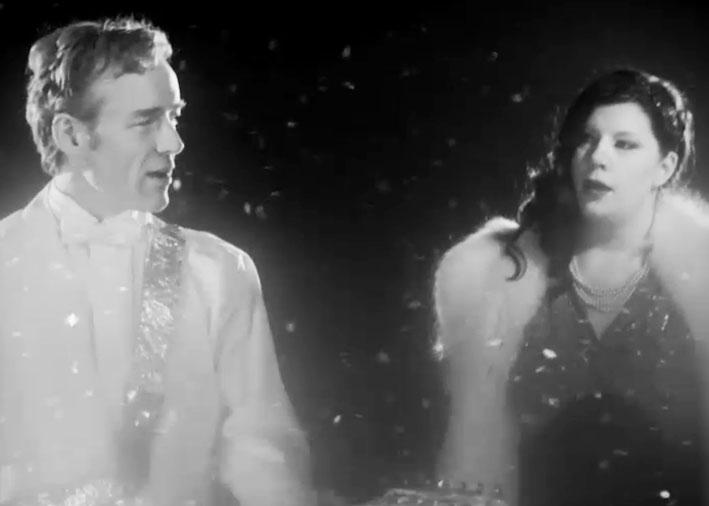 "Plastic Cup," the moody opening cut to Low's latest album, The Invisible Way, recalls a friend's substance abuse, a lifetime of dependence on others and a soul-crushing future of pointless drug tests. But in a strange new video for the song, director Ryley Fogg takes those themes in a dark and curious direction. Creepy, hooded figures intercut with black-and-white images of the band performing in period costumes.
It takes a while to realize that the alien creatures seen in the video are actually massive giants. And the band is playing inside a glitter-filled snow globe. Frontman Alan Sparhawk sneers sarcastically and rolls his eyes through every line, before the band breaks into a kaleidoscopic dance, shot overhead, like something out of a Busby Berkley film.
"I have known director Ryley Fogg since we were in a band together in college called 3D Psycho Paisley," Sparhawk tells us via email. "The video imagery draws heavily on the look of the first 'talkies,' taking the band thru a psychedelic, alien encounter from outside our little sparkly world."
Low performs Saturday, June 15th at Rock the Garden.
Copyright 2013 NPR. To see more, visit http://www.npr.org/.
Related Stories
The Current Sessions™: Duluth indie veterans Low perform at the Fitzgerald Theater Low are minimalists in every sense of the word. Every note, every rise and fall in dynamic, every snippet of between-song banter is intentional, and measured. The Fitzgerald Theater was an ideal setting for the band's poignant show on Saturday, March 23. Enjoy audio from the event.
Low performs in The Current studios It takes a long time for any band to leave a substantial mark on the music world, and for Minnesota, there's only a handful of artists for each decade that we can say measure up. It's safe to assume we can now add Low to that list as the band celebrates 20 years together, as well as the release of their most acclaimed album yet "The Invisible Way."
Album Review: Low - The Invisible Way Low are celebrating a few landmarks with their latest album, The Invisible Way: It's the Duluth trio's 10th studio recording, and it marks their 20th anniversary as a band.