Win passage aboard The Weezer Cruise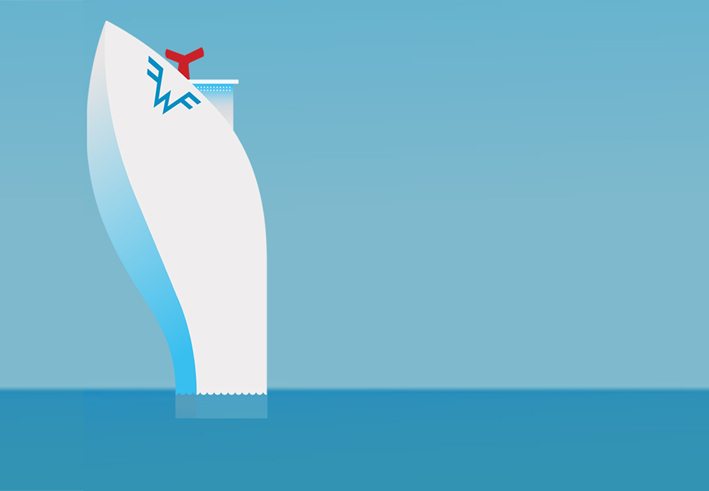 Let's face it, February isn't the best time of the year to be in Minnesota. It's the fourth month in a six month winter; it's that month when you're starting to lose your zen-like calm over making it past the January hump.
The Current wants to help. We've teamed up with The Weezer Cruise to provide passage for one lucky winner (and a friend) to join Rivers Cuomo, Pat Wilson, Brian Bell, Scott Shriner and more than a dozen other awesome bands on a cruise from Jacksonville, Fla. to the Bahamas and back again from Feb. 13-17, 2014.
How to win
Four times per day (from Nov. 11 through Nov. 15, 2013) our on air hosts will tell you during which hour we will post the Weezer Cruise logo on thecurrent.org. It's no ordinary logo, though. It is a link to an audio password read by Pat Wilson of Weezer. The first listener to call in to (651) 989-4893 and correctly recite the password to an on air host will win two signed limited-edition posters, (see below) and be entered into a random drawing with the other 19 qualifiers to win passage aboard The Weezer Cruise in an Ocean View cabin for two.
The cruise departs Feb. 13, 2014 from Jacksonville, Fla. (Note: grand prize does NOT include airfare to/from Jacksonville, Fla. See Official Rules for more details.)
We'll stack up the password time/dates as we identify winners. Remember, we're posting 4 passwords Monday Nov. 11 through Friday, Nov. 15, 2013.
Password 1: 11/11/2013 9:43 a.m.
Password 2: 11/11/2013 12:15 p.m.
Password 3: 11/11/2013 5:31 p.m.
Password 4: 11/11/2013 8:50 p.m.
Password 5: 11/12/2013 8:24 a.m.
Password 6: 11/12/2013 1:10 p.m.
Password 7: 11/12/2013 3:39 p.m.
Password 8: 11/12/2013 6:55 p.m.
Password 9: 11/13/2013 7:35 a.m.
Password 10: 11/13/2013 10:28 a.m.
Password 11: 11/13/2013 4:44 p.m.
Password 12: 11/13/2013 7:30 p.m.
Password 13: 11/14/2013 9:35 a.m.
Password 14: 11/14/2013 11:55 a.m.
Password 15: 11/14/2013 2:26 p.m.
Password 16: 11/14/2013 9:10 p.m.
Password 17: 11/15/2013 8:59 a.m.
Password 18: 11/15/2013 12:15 p.m.
Password 19: 11/15/2013 5:22 p.m.
Password 20: 11/15/2013 6:32 p.m.

Here's what awaits aboard the Carnival Fascination cruise ship:
Cruise Details
February 13- 17, 2014
Jacksonville, FL to The Bahamas
Band line-up
Weezer, Cat Power (private beach concert), Toro Y Moi, DIIV, The Cribs, Ash, Palma Violets, Holy F*ck, Bleached, Caveman, The Orwells, Ozma, Scott & Rivers, The Relationship, Adam Devine from Workaholics, and Doug Benson
Cruise ameneties
Accommodations onboard the Carnival Fascination (4-nights)
weezer Concerts - including a special private Island Beach Concert
A festival at sea with many more bands
Ports in Freeport & Nassau Bahamas
Private Island Beach party and Concert in Nassau
Q&A with weezer
Interactive weezer Game Show
Photo session for all guests with weezer
All Meals, Coffee, Tea, Iced Tea & Juices
24-Hour Complimentary Room Service & Pizzeria
Full Use of Ship Facilities: Two Pools, Whirlpools, Fitness Center, Casino, Library, Duty-Free Shopping & All Carnival Events
One-Hour Open bar Cocktail party
And much more...
Resources
Related Stories
3 Photos
Limited-edition Weezer poster / Blue Album

(Alec

)

Limited-edition Weezer poster / Pinkerton

(Alec

)

The Carnival cruise ship 'Fascination.'

(Courtesy Carnival Cruise lines

)
View 2 more photos