Now available: Schell's 'The Current' beer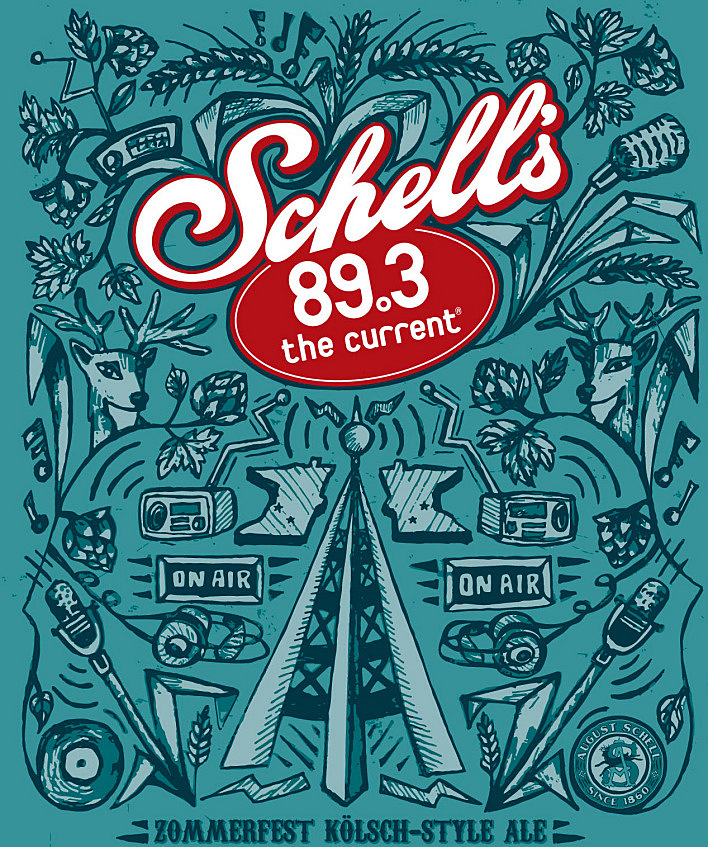 Great music lives here. So does great beer. That's why we teamed up with Schell's to create a sipping solution for your everyday soundtrack.

Noting that nothing pairs better with hot summer tunes than a cold summer brew, The Current is partnering with Schell's, the oldest family-owned brewery in Minnesota and maker of German Craft beer, to introduce a co-labeled Schell's The Current beer, available in May.

Schell's The Current beer is a limited edition of Schell's Zommerfest® seasonal offering, and will be available in 16-ounce "tallboy" cans at bars and in 4-packs at liquor stores throughout Minnesota wherever Schell's products can be found. It is a Kolsch-style ale, a light, smooth variation of German Craft.

"We know that many of our fans love craft beer, and we look at any partnership or promotion through the lens of our audience," said Jim McGuinn, program director for The Current. "Knowing what we know about our listeners, this is a natural fit."

A portion of the revenue generated from the sales of Schell's The Current beer will go back to The Current and the work it does to support local music.
Where to find Schell's The Current
The beer will start showing up in bars and liquor stores around the Twin Cities starting around the middle of May. We are unable to be more precise on the date; it depends on ordering, distribution and stocking of shelves. If you don't see it at your liquor store or bar, please feel free to suggest they order it from their distributors. Use Schell's Beer Locator to help locate a bar or a liquor store that is carrying the beer.
When you find it, share a pic with us! Post in the comments or Tweet along using #CurrentBeer.
The Current Beer release events
May 16: Psycho Suzi's, 6 - 10 a.m.
Musical Guest: J. Roddy Walston and the Business
Photos from the event
May 22: Amsterdam Bar and Hall, 3 - 6 p.m.
Musical Guest: The Cactus Blossoms
More details
May 28: Longfellow Grill, 3 - 6 p.m.
Musical Guest: Frankie Lee
More details
June 4: Bayside Grille, Excelsior, 3-6 p.m.
Musical Guest: Gabe Douglas of The 4ontheFloor, performing a solo acoustic set.
More details
Win a VIP experience, courtesy of Schell's
Want some music to go along with your beer? You can download some or all of the tracks of The Current Beer EP by providing a little information.
The Current Beer EP features six songs recorded at The Current studios (or at First Avenue) from some of our favorite artists.
"Local bands and local beer are a great match," Program Director Jim McGuinn said. "We love that we can bring the two together. Through the downloads available at thecurrent.org and upcoming shows featuring these artists, we hope to continue to support our local music scene."
Actual Wolf - Thinking of You
Cactus Blossoms - Change Your Ways or Die (The Buffalo Song)
Caroline Smith - Bloodstyle
The 4onthefloor - Junkie
Frankie Lee - Country
Har Mar Superstar - Tall Boy
Sign up here to find out more about The Current beer, release parties and to download The Current Beer EP.
You must be 21 or over to get information about The Current beer. Any personally identifying information you provide will not be sold, shared, or used for purposes other than to contact you if you are selected, unless you selected "Yes" above. See MPR Terms of Use and Privacy policy.
Resources
2 Photos
Be among the first to try Schell's The Current beer.

(Schell's Brewery

)

The Current is partnering with the August Schell Brewing Company in New Ulm to create The Current Beer.

(MPR Graphic / Tracy Kompelien

)
View 1 more photos
---
comments powered by

Disqus