Album Review: Broken Bells, 'After the Disco'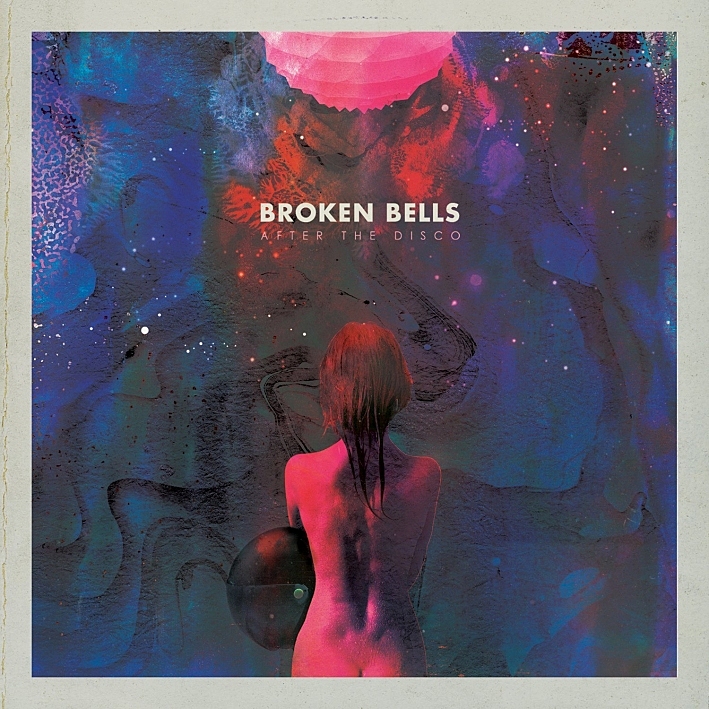 ...can't you see me floating — forwards, backwards...
Brian Burton (better known as Danger Mouse) and James Mercer of The Shins are back together as Broken Bells with a second full offering, After The Disco. The duo are on the top of their game, letting go of any former walls and perfectly blending their musical worlds together. The album makes you Billy Pilgrim, unstuck in time, skipping like a broken record through various musical genres, twisting and pulling them all together into a dystopic wasteland. I make After The Disco sound like a train wreck, and in less deft hands it would have been, but while Broken Bells sing about a lack of control, the music is entirely in their command.
Broken Bells could have easily been a one-off experiment, two friends in the mutual admiration society having some fun. The experiment, however, proved entirely fruitful — not just charting high and selling massively, but also garnering the duo a Grammy nomination (Mercer's second, Burton's sixteenth). The project originally allowed them both to stretch into slightly different genres — Burton breaking away from the hip hop world and Mercer pushing himself to stretch creatively out of his indie pigeonhole. With After The Disco, both musicians seem to have become more confident. If they were both tentatively dipping their toes into Broken Bells (their self-titled, 2010 debut release), they have now sunk to the dark and murky depths of the ocean. I mean that figuratively, of course, but musically there are echoes of this deluge, most clearly in "Lazy Wonderland," where the duo take you to "the ocean side" with wailing female background vocals mimicking a siren's call. And while Broken Bells was sonically clean and clear, the vocals in After The Disco are muddy and echo like they are coming in from a cup on a string. Reaching out from a time beyond that is strange and unknown.
So where are we? Well, let's start at the beginning: a "Perfect World", a space disco that sounds like the intro to Doogie Howser, M.D. as produced by Daft Punk. Some of that disco sticks around for "After the Disco," you get your synth and Bee Gees-esque falsettos in the choir, but there's also something messy and modern. James Mercer's vocals echo just a second behind, like he's chasing himself and a bit out of time. We jump into "Holding on for Life" with an eerie theremin intro that wouldn't sound out of place in a particularly chilling episode of Miami Vice. It's futuristic and retro at the same time, and so goes the rest of the album. Each song follows the footsteps of the prior, keeping something of the past and then adding in something new. Telling us in "Holding of for Life" that we "may belong to another time, but [we] have to carry on" or later in "The Remains of Rock and Roll" where we are asked, "can't you see me floating — forwards, backwards." I felt like I was in a Vonnegut novel, one song was one reality and then blink and suddenly I'm off in a new and more bizarre future with only instruments to give me clues as to where (and when) I might possibly be. Horns? Acoustic guitar? Piano and strings? Fuzzy guitar solos? Heavy drums? Andrew Bird-like whistling? It's all there and somehow it never seems like it's unnecessary or thoughtless.
So, what's the preoccupation? Control. A theme running through the album is the delicate balance between holding on and letting go. This is worked out lyrically in "Holding on for Life" (obviously), at the midway point "Control" saying, "nothings permanent in life, so it's useless to hold on so tight" and in the final number, "The Remains of Rock and Roll" where the answer seems almost clear "we can almost see the way to go." Musically this is done by holding onto and mutating the sounds of different eras in a careful act of control. The album is so sonically massive and thematically over-reaching that it could easily have fallen into the territory of overwrought hedonism. Luckily, After the Disco is in the hands of the man that melded Jay Z and The Beatles into a perfectly crafted work of art.
Danger Mouse's focus on mixing the old with the new in a way that plays off and accentuates both has never been more on point. And with James Mercer he found his perfect partner, a talented and game multi-instrumentalist who doesn't mind jumping into the deep end. After the Disco may be a trip into a scary end-of-times future world with unknown forces chasing you down, but like a great sci-fi novel, once it's over you want to start it all over again.
Resources
Related Stories
---
comments powered by

Disqus