On The Ball with Mark Wheat: World Cup Special Edition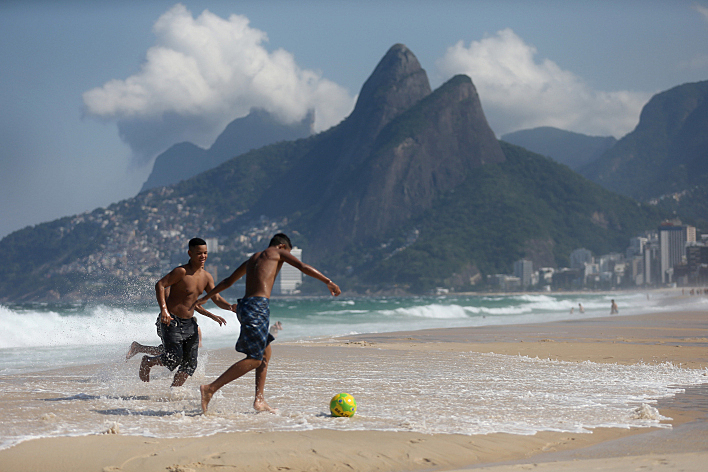 On the Ball with Mark Wheat is a Monday feature on The Current that celebrates the connections between music and soccer. Listen on Monday at 7 p.m., as Mark plays the music selection of the week.
Welcome to a World Cup Special edition of the footie blog. For the next couple of weeks, we'll comment on the tournament that starts on Thursday with a game featuring the hosts Brazil vs. Croatia.
As I warned our intrepid newsman Bob Collins last week: Prepare for a tsunami of soccer enthusiasm to sweep the planet. Four years ago it was estimated that 30 percent of the world's population was following the games; it will be more this year and significantly higher in the States, I feel, as the mainstream media has picked up coverage of the game throughout the last few years. I was pleasantly surprised to see Ronaldo on the cover of the NYTimes magazine yesterday. I was lucky, as I'm a fan of his — it could have been Neymar or Messi! (The special feature had 3 different covers). The pressure on all three of those superstars to do well, for different reasons, is enormous. If you're a neutral, it might behove you to pick one of them to win the title this time, but if you're Bob Collins, who is NOT a fan of the game, you can pick Iran, just to be controversial?!
Actually, that is not a bad pick, — although I'm sure Bob didn't know this — because Iran happen to be in the easiest group to get out of — Group of Life perhaps, as Messi's Argentina are the only fancied team in that group? Alternatively, the two nations I follow are both claiming to be in the Group of Death, i.e. the hardest to get out of and into the next round. Another sign of the emerging prominence of the sport is that ESPN magazine has done a great job of Americanising it by giving you a chance to fill in a bracket, just like Final Four fever!
USA have been designated members of the Group of Death, having to play Portugal, Germany and Ghana, but going by the latest FIFA world rankings England are in the actual Group of Death with Uruguay, Italy and Costa Rica. If you enjoy the statistical look at soccer you'll love the musings of the chaps at The Equaliser (note: a free subscription is required to view the stats).
USA's first game is next Monday, so in the next edition of OTB, we'll look more closely at their chances and catch up on the news so far. I will be at The Nomad World Pub in Minneapolis for that first USA game, checking in via phone on the air. Lots of bars around the city will be providing places to watch the games and if your local doesn't, suggest to them that they could! Here's a few more local guys who have made it easier for you to follow along even if your previous knowledge of the game is limited.
Curt and the 'Tap in' crew selected Rooney and Steven Gerrard as the key players for England. They're a couple of the seniors in a relatively inexperienced squad. We discussed Gerrard's marvelous season with Liverpool in OTB throughout the year, and just as he wanted to win the Prem because he's coming to the end of his career, this will definitely be his last chance at World Cup glory, and that could make a big difference. This is also Rooney's last chance to be the hero, too. In four years, he'll be past his prime. Some in England are already suggesting that he is already, including ex-teammate Paul Scholes! He's the team's talisman certainly, and at his best, could carry them to at least the semi-finals, but he's been injured recently and was not on top form when the season ended. Tournaments like this can produce magical performances from the greatest players, and to be considered as such on the world stage, I think Wayne knows that he has to do really well.
The expectations for the England team are always way too high just because they won it once in 1966 and hold a superiority complex because they invented the game. Perhaps having low expectations as a fan is the easier place to start, so I'm not expecting them to get out of the group. I think the key might be the younger players, especially in midfield, Lallana and Barkley. And if teams concentrate too much on Rooney and leave space for Sturridge (if he's picked), he could punish them and become the hero from the shadows as he was so much for Liverpool this year while Suarez took all the accolades.
Speaking of Suarez, he is injured, too, and so might not be at his best for Uruguay. And Italy have some key injuries too, so England could scrape through by default — we'll see. But the other team in the group are Costa Rica, who made it hard for Mexico and USA to qualify and with nothing to lose and no expectations, they could cause an upset. That's my one firm prediction for the next month: Someone who is NOT expected to do well, will. In fact, in some of the permutations of the draw. it's possible for an outsider nation to get through to the semi-finals — that would be fun. My only hope is that the football is good and the diving is kept under control.
Two friends who program Latino music for local community station KFAI, Raul and Pablo, did a great interview with me about England's group. Pablo is from Uruguay so it's an interesting chinwag, check it out:
For the musical link this week, we'll return to Wayne Rooney. He has the title of The Stereophonics album, Just Enough Education To Perform, tattooed on his arm, so it's been well-known that he's a big music fan. He released a Spotify World Cup album that has over 40 songs on!! Good to see a few Jake Bugg tunes in the mix too! Here's Rooney's playlist:
… And here's a video of Rooney's faves writing a song about their first visit to San Francisco:
What are your World Cup predictions? Which teams will advance out of the Group Stage? Share your thoughts in the comments section below.
Resources
Related Stories
---
comments powered by

Disqus