First Listen: 'Take the Last Train to Midway'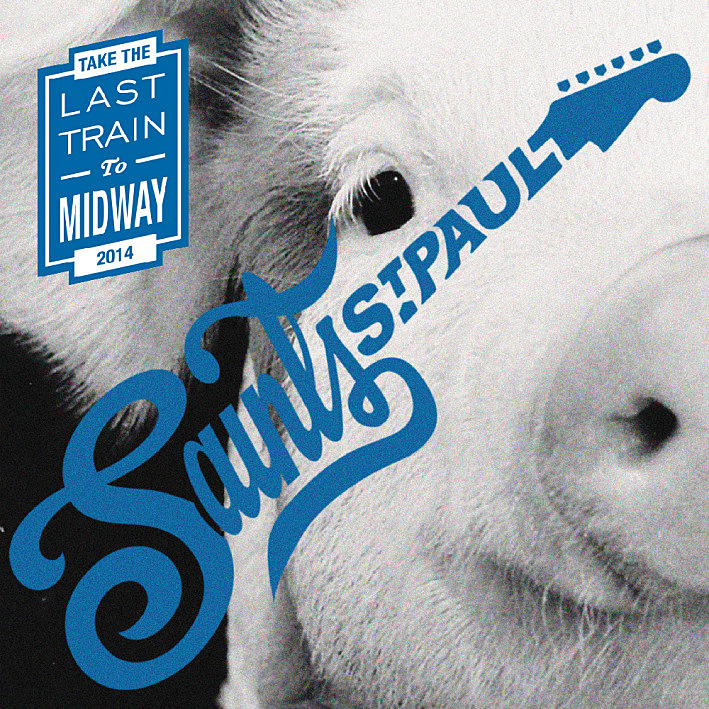 Listen Feature audio

Aug 12, 2014 Listen to all 8 tracks:
Frankie Lee, 'Saint Paul Baseball'
Chris Koza, 'Sing Loud'
Jillian Rae, 'Midway'
The 4onthefloor, 'Our Saints (Hey Hey Hey)'
Vibrational States, 'Last Train'
BNLX, 'Saints Theme'
Joey Ryan and the Inks, 'Greetings from Energy Park'
Lounge-asaurus Rex, 'Theme from Shaft'
"Train."
It's a familiar P.A. announcement to anyone who's attended a Saint Paul Saints game at Midway Stadium in St. Paul. The stadium sits alongside a busy freight-rail right-of-way, and passing Canadian Pacific locomotives are a common sight during games — each one acknowledged by the P.A. announcer.
The 2014 baseball season is the last the Saints will spend at Midway Stadium. Their new digs in St. Paul's Lowertown will open in 2015. As such, the Saints are commemorating the move with the release of Last Train to Midway, an eight-song collection of recordings by local artists. The record was co-produced by The Current and the Saint Paul Saints, and it was mixed at Organica Recording in St. Paul. The first 1,000 fans in attendance at Saturday's game against the New Jersey Jackals will receive a free copy of the album. The Current's David Campbell will also be at the game, hosting a live edition of Radio Free Current, taking your requests at the ball game.
Side A of Last Train to Midway opens with Frankie Lee's "Saint Paul Baseball," a loving, Americana-style tribute to diamond days in the capital city. Chris Koza's "Sing Loud" references crowd cheers and (rather slyly) the film, A League of Their Own. "Midway," by Jillian Rae, is a straight-up country number with fiddle fills and a solo, as well as the refrain that adorns the album cover. The 4onthefloor deliver a characteristically foot-stomping, amp-blasting, Southern-rock-tinged tune in "Here Come our Saints," Gabe Douglas's unmistakable voice leading the anthem.
Vibrational States lead off side B, with Beatles-esque (think "Day Tripper") guitars throwing out the first pitch as headlines about Midway Stadium's upcoming Replacements gig and the team's relocation to Lowertown provide the lyrical content. BNLX play "Saints Theme" in their layered, atmospheric style, all while giving fans plenty to hang onto as possible chants that can be sung from the stands. "Greetings from Energy Park" by Joey Ryan and the Inks is a bright, sunny, 60s-style pop song. And Lounge-asaurus Rex (local actor — and, full disclosure, MPR employee — Tom Reed) delivers a bang-up cover of Isaac Hayes' "Theme from Shaft" while capturing the Saints' spirit of un-self-conscious fun.
Stream the full audio of the album using the media player above.
Saints Ticket and LP Giveaway
Enter for a chance to win 1 pair of tickets plus a copy of the Last Train to Midway vinyl. Two winners will be drawn.
Winners must pick up tickets and vinyl at either MPR during business hours or at the MPR table on Saturday in front of will-call outside of Midway Stadium.
You must be age 13 or older to submit any information to American Public Media Group and age 13 or older to be eligible for this giveaway. Any personally identifying information you provide will not be sold or shared. See American Public Media Group Terms of Use and Privacy Policy.
This giveaway is subject to our 2014 Official Giveaway Rules.
Game info
Saturday, Aug. 16, 2014 at 7:05 p.m.
St. Paul Saints vs New Jersey Jackals
Value: $14 per ticket
Resources
Related Stories
---
comments powered by

Disqus