JD McPherson performs in The Current studio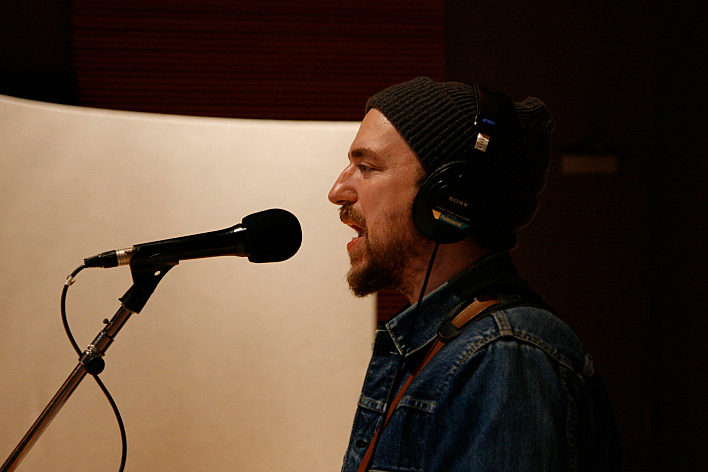 Listen Feature audio

Feb 14, 2015 Listen to all 4 tracks:
JD McPherson performs in The Current studio
JD McPherson - I Can't Complain (Live on 89.3 The Current)
JD McPherson - Let the Good Times Roll (Live on 89.3 The Current)
JD McPherson - Everybody's Talking 'Bout the All-American (Live on 89.3 The Current)
Asked why Minnesotans like his music so much, JD McPherson has a theory: "we all know that Minnesotans are very intelligent and sensitive, artistic people, with the highest level of taste," he says.
Just days after their latest record, Let The Good Times Roll, was released, JD McPherson and band — Jason Smay, Jimmy Sutton, Ray Jacildo and Doug Corcoran — stopped in to The Current's studio to play a live session ahead of their gig that night at First Avenue in Minneapolis.
Listen to the full interview to hear how McPherson, as a youngster growing up in Oklahoma, discovered music in the days before the Internet. And speaking of the Internet, McPherson shares his New Year's resolution of avoiding reading all Internet comments sections — and how he's succeeding at that resolution.
There's also talk about McPherson's first visit to Graceland (at age 5) and speculation on what David Bowie might be doing on Valentine's Day.
Songs Performed
"I Can't Complain"
"Let the Good Times Roll"
"Everybody's Talking 'Bout the All-American"
The first song is off JD McPherson's 2010 album, Signs and Signifiers; second and third songs are from McPherson's 2015 release, Let the Good Times Roll, out now on Rounder Records.
Hosted by Mary Lucia
Produced by Derrick Stevens
Engineered by Michael DeMark
Web feature by Luke Taylor
Resources
Related Stories
Five unforgettable 'United States of Americana' moments As the show celebrates its fifth birthday, 'United States of Americana' host Bill DeVille shares his top five in-studio memories so far, plus another highlight from the popular Sunday-morning roots-music program. Do you remember these?
JD McPherson performs in The Current studio In town to play a couple of gigs at the Turf Club in St. Paul, JD McPherson and his band stop by The Current's studio to chat with Bill DeVille and to play some tunes they're currently road-testing in the run-up to the release of their next album.
JD McPherson Live from The Newport Folk Festival JD McPherson provides a refreshing reminder that retro roots music isn't timid: His debut album, Signs & Signifiers, synthesizes blues and rockabilly and old-school rock 'n' roll with an unmistakable punk spirit. Here he performs as part of the 2013 Newport Folk Festival
9 Photos
JD McPherson performs in The Current's studio.

(MPR photo/Luke Taylor

)

Jimmy Sutton on bass with JD McPherson in The Current's studio.

(MPR photo/Luke Taylor

)

Ray Jacildo on piano and organ with JD McPherson in The Current's studio.

(MPR photo/Luke Taylor

)

Doug Corcoran on tenor sax with JD McPherson in The Current's studio.

(MPR photo/Luke Taylor

)

Jason Smay on drums with JD McPherson in The Current's studio.

(MPR photo/Luke Taylor

)

JD McPherson performs in The Current studio.

(MPR photo/Luke Taylor

)

Ray Jacildo on tom and keys with JD McPherson in The Current's studio.

(MPR photo/Luke Taylor

)

Doug Corcoran plays acoustic guitar with JD McPherson in The Current's studio.

(MPR photo/Luke Taylor

)

JD McPherson in The Current's studio.

(MPR photo/Luke Taylor

)
View 8 more photos
---
comments powered by

Disqus