News and Interviews
Watch the video for Doug Collins and the Receptionists' new single, "Drinkin' Again"
Minneapolis singer-songwriter Doug Collins and his band the Receptionists are gearing up to release their next album, Too Late at Night, on June 24. In the run-up to the album's release, they've dropped a single, "Drinkin' Again," together with a new video to accompany the song. You can watch the video in the player above.
Filmed on location at Palmer's Bar in Minneapolis, "Drinkin' Again" is, as the title suggests, a drinking anthem. Intercut with shots of the band performing on the Palmer's stage, director Eli Gardiner drops sloshy clips of a bartender's hands preparing drinks in pint glasses, and smiling patrons socializing by the bar, along with some neon signs and midcentury barroom novelties. In the course of the action, Gardiner also playfully blurs the lines of reality by having the band members appear as bar patrons while jumping back to shots of them as performers. 
Coincidentally, the video acts as a promotional tool for Doug Collins and the Receptionists' "Drinkin' Again" single-release party, which happens Friday, April 29, at Palmer's Bar in Minneapolis, the same location as in the video. Openers include Becky Kapell (who appears in the video as a bar patron) and the video's director Eli Gardiner. Palmer's Bar owner and manager Tony Zaccardi, a bassist who performs in the bands Romantica and Eleganza!, also has a cameo in the music video.
Palmer's Bar is a character all its own. With a history going back more than 100 years, it is a longtime landmark in Minneapolis's West Bank area, having played an important role during the 1960s folk revival, and was even a hangout for Bonnie Raitt when she was in the Minneapolis area to record her 1971 self-titled debut album. Palmer's Bar, under Zaccardi's management, continues to host live music several times a week.
Doug Collins and the Receptionists are Doug Collins (guitar, vocals), Charlie Varley (bass, vocals), Randy Broughten (pedal steel), and Billy Dankert, (drums, vocals). The track was co-produced by Collins and by Rob Genadek, who also mixed and mastered the release and who provides additional backing vocals.
External Links
Doug Collins - official site
Palmer's Bar - official site
Gallery
3 of 3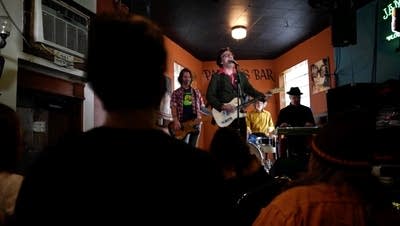 1 of 3
2 of 3