Monday night, 7th Street Entry hosted the album release of Southside-raised Joe Rainey Sr. Rainey has deep ties to the music of his Ojibwe roots, and isn't afraid to take traditional singing out of its usual context of the drum circle or powwow. The local singer — who has collaborated with the likes of Portugal. The Man, Bon Iver, and Chance the Rapper — teamed up with local prolific, eclectic musician and producer Andrew Broder, who performs under the name Fog among other pseudonyms, to create Rainey's debut album, Niineta.
Listening to the album alone, it is beautifully unexpected, lush, and jarring all at once. Rainey has been collecting samples of drum circles since he was a kid, and some of them make fuzzed-out appearances on Niineta, adding layers of texture and warmth. Working with Broder adds blips, scratches, and clipping to create a backdrop for Rainey's voice to soar, at times lament, and has the power to cut through a cacophony of building strings.
Could an album so expansive provide the same punch live? Rainey and Broder prove, in fact, that they can. The addition of visuals and lights added another tactile sensory layer to their performance, but not before Minneapolis showed off some of its up-and-coming Black, Indigenous, and People of Color (BIPOC) excellence to set the stage for a night of genre-expansive music.
Local DJ Plugs kicked the night off with throwback hits including chopped and screwed Michael Jackson and bouncy, dancey house music while the venue filled up with an eclectic multi-generational, multi-racial crowd. Promptly at 8 p.m., indigenous rapper The Don and DJ Big Joe took the stage. The southside rapper with husky vocals layered over thick beats wished her Grandma Leah a happy birthday mid-set. The crowd bobbed along, as The Don slowly turned up the energy and packed a fair amount of charisma into a 15-minute set.
Following The Don, Ness Nite quietly breezed onto the stage and launched into their set. The non-binary, multi-racial artist with the buzzed head and decked out in oversized everything was entirely captivating to watch. Though small-framed, armed with only their laptop, Nite commanded the stage.
Their airy vocals and introspective lyrics flitted over dreamy, wave-y beats at times reminiscent of Syd, Willow, Kehlani, and even a little bit of Solange. At one moment in the set, Ness sang, "You want to control my body, you want problems in my veins," which felt apt for the recent overturning of a certain landmark court case. After pausing to smile sweetly and call out The Don for her performance, their music resumed to a plucky beat punctuated by a pulse-like steady beat. From fast to slow songs throughout their set, Ness Nite entranced through it all.
Another DJ set from Plugs allowed for FPA, also known as Frances Priya Anczarski, and a backing band to set up on stage. Then, the only live band act of the evening commenced with a jazzier-leaning R&B tune sung in French, hearkening back to Anczarski's six years spent in France as a teen. The hypnotic, resonating guitar that at times felt pleading paired with Anczarski's soft, warbling vocals created a sense of solitude and earnestness throughout her set.
FPA demonstrated that there is intense power in the delicate. When performing the quiet storm of the song "Princess Wiko," the drums enveloped the room as thrumming guitar swept across the expanse of the entry. "I want you for eternity, don't care if you're not meant for me, I'll never say your name in peace, will it keep haunting me?" Anczarski sang questioningly, sending a chill up your reviewer's spine, the lovesickness palpable. A nearby audience member remarked on the band's dialed-in performance — these are skilled musicians FPA works with,  Patrick Horigan on keyboards and guitar, Jon Lindquist on drums, and DeCarlo Jackson on bass, and together they positively simmer. Their collective performance led to screams for an encore, which they politely declined shortly before Raines and Broder took the stage.
Drum machines glowed in the foreground as screens filled while a shower of static crackled. The drippy ticking of Broder's drum machine punctuated powwow drums as layers of Rainey's recorded samples cascaded over the crowd. Strobe lights flashed as lightning played on the screen as the drums could be felt pounding in the chests of attendees. A backlit Rainey's voice rose high and clear over climbing strings on "b.e. son" and the crowd whooped with approval. The crowd continued to meet the energy of the two talented performers onstage. Women could be heard lele-ing (the undulating cry often heard at powwows and the end of ceremonies and according to one attendee) and men cried out with approval as everyone jumped and bounced throughout the set.
Broder's synths, and drum machines produced staccato laser-like jets of sound, and thick, wet, pulsing rhythms over chopped pre-recorded drum circle beats and singing. At one point during "no chants" Rainey's singing ramped up, the sound abruptly dropped out, and then an electronic pulsing bounced everything back together. Later, beeps led into a crashing drumbeat that could be felt through the floor, as the low bass of drum circle singers kept the time while Rainey's melody rang out, vibrant, energetic. During "phil's offering," the background music could have been as at home in an industrial song with distorted, fizzed-out drums adding to the texture of the soundscape they created together.
The vast influence of the two talented and genre-explorative artists onstage was present. At certain points of the night, it was hard to tell if attendees were at a powwow or techno show. Any initial incongruence was shrugged off as the sounds of mechanical drums and the organic were married together to create something, fresh and new. It maintains the traditional in a way not previously heard, and something it seemed all those who attended hope to hear more of in the future. 
Joe Rainey's Setlist
b.e. son
Jr flip
Bezhigo
No chants
Easy on the cide
Turned Engine
Phil's Offering
Gallery
25 of 25
1 of 25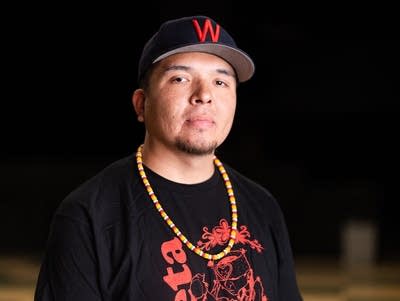 2 of 25