On Friday evening, Miya Folick sank into the muddy details of her bad habits and spiritual questioning on the 7th St. Entry stage. The Los Angeles-based artist's 2023 album, Roach, steers away from her previous work's fuzzy metaphors to blatantly air insecurities and reject the shame that often comes with uncensored accounts of everyday life.
Up first was Atlanta-based artist Babebee (they/them), who explained how their moniker originated from a Kirby meme in which the pink cartoon character points to a whiteboard with the words "I'm Baby." Yet, Babebee's stage presence didn't relate to the expression used to describe oneself as delicate. Standing front and center with a mic, they confidently performed many songs from an EP set to release in November. They played both peaceful melodies and pop-punk anthems backed by banging drums from the ever-grinning Mitchell Fraye. The artist met energetic pop songs, like the single "COME WITH ME," with gentle hand movements and chest pounding. Surprisingly, they list King Krule as an inspiration. Perhaps the English musician's influence will become clear upon the EP's release. "Is Minneapolis the East Coast?" they asked, unclear if it was a joke. The crowd laughed. 
A more serious atmosphere arose when the headliner stepped on stage. While Folick's lyrics are powerful, her texturized vocal fluctuations are just as gripping. Her perfectly raw tone began on the opening song, "Give It to Me,"  which the audience met with their own screams of "Oh!" as if surprised to hear Folick's screeches so immediately in the evening. "Your head / and my head / Your lungs and my lungs / Your fears and my fears / Your blood is mine," she sang, communicating sharp emotion that can only be fully consumed live. Folick's high-pitched vocals in "Bad Thing" seemed completely organic, and on "Nothing to See" she projected an all-encompassing choral release, glaring at the ceiling while singing, "Why did I do that? / Why did I do that? / Nothing has changed, I'm just sad and in pain / Said, I would never be desperate." 
The setlist included five unreleased tracks. "Gumby" found the band leaning into a folk aesthetic and creating simple drum rhythms and warped guitar sounds. In the steady-tone "Mid July," Folick referred to herself as "Just the kind of girl who loves to feel alive." Keyboardist Jacob Ungerleider joined Folick on vocals as she sang about self-loathing and closure on "Confetti," concluding with the words, "Now my heart doesn't hurt anymore." Folick didn't share the title of another unreleased track — a somber song about her first time driving through LA after her father's passing — an impromptu decision not noted on the paper setlists taped to the stage's floor. It's always enjoyable to get a sneak-peak into an artist's upcoming work. At the same time, Folick's catalog already includes a wide range of bewitching tracks that would have been exciting to see live.
A few songs felt quite different than their studio versions. The band — composed of Ungerleider, drummer Elias Quinn, and bassist Nnamdï, the Chicago artist who creates music under his own as well — transformed the music's spirit at times. "Get Out of My House" came off as less angry, and more celebratory at the Entry. The musicians sped up "Freak out," yet the song felt calmer with a more folky vibe.
Near the end of the show, Folick announced that she felt shy and didn't have much to say. However, that's not always the case. When playing in Denver two days prior, she shared a very intimate detail: she'd been having diarrhea. "We took a poll on why people thought I had diarrhea, but we still haven't figured it out," she said in a deadpan tone. The audience cracked up. She continued, "And then today I'm like, 'I just want to play the songs.'" The artist also gave a shout-out to some local businesses, including Northeast Tea House and Kramarczuk's Deli in Minneapolis. Ungerleider even sported a "headcheese" T-shirt from the restaurant where the band ate perogies and vegetarian stuffed cabbage. 
Folick closed with "Shortstop," a three-minute song that felt like 10 due to the repeated enticing lines: "If you don't smoke now / You'll be smoking / If you don't drink yet / You'll be drinking / If you don't dance free / You'll be dancing" as if yearning for human connecting and trying to persuade someone to meet up. There was no encore; the room's lights quickly turned on and overhead music began after the band left the stage. Folick doesn't seem like the type of musician who would act as though the show was over, wait for applause, then return. No level of concert normalities or expectations could overrule her authenticity.
Miya Folick
27 of 27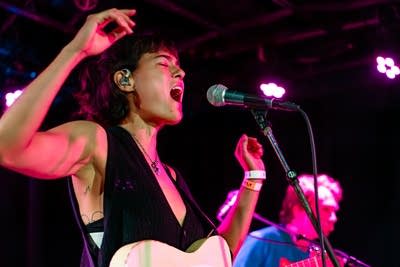 1 of 27
2 of 27
Babebee
15 of 15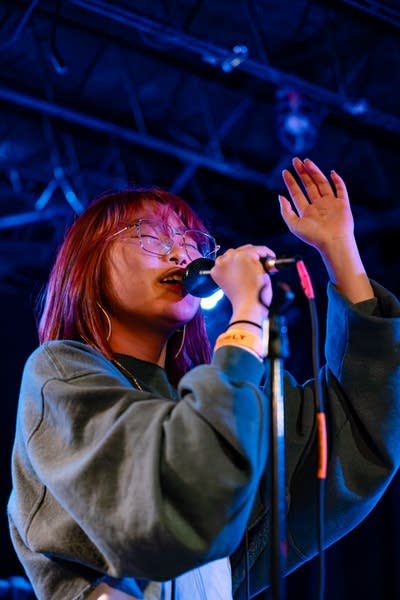 1 of 15
2 of 15
Setlist
Give It To Me
Cockroach
Gumby (Unreleased)
Freak Out
Unreleased song
Mommy
Bad Thing
Nothing to See
So Clear
Confetti (Unreleased)
Unreleased song
Mid July (Unreleased)
Get Out of My House
Thingamajig
Shortstop